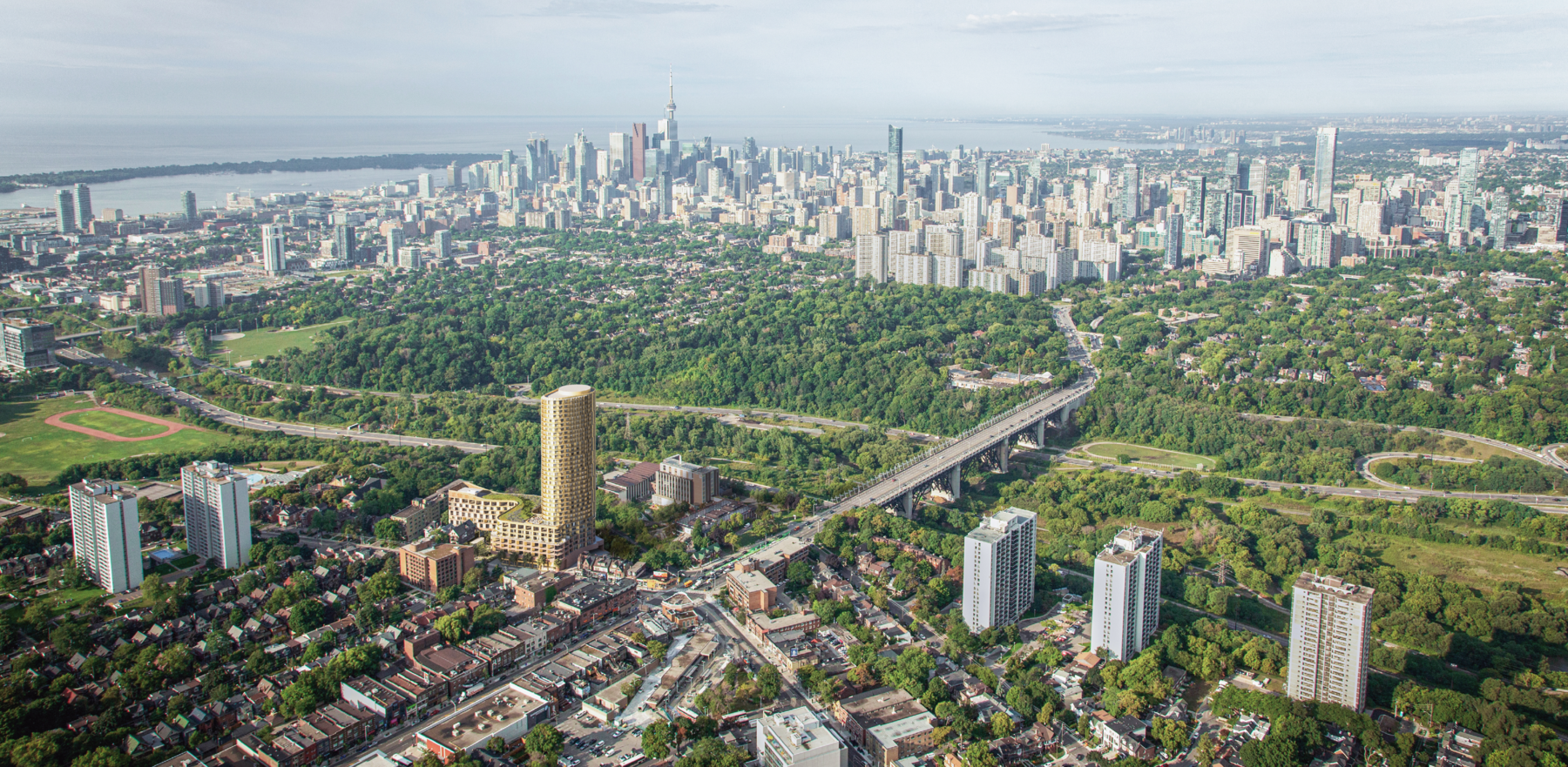 This mixed-use development adds critical density at a key Toronto intersection while enhancing public access to one of the city's most cherished natural assets: the Don Valley ravine.
The design for the Broadview + Danforth mixed-use project is a response to two Toronto-specific conditions: the urgent need for thoughtful intensification at prominent, transit-focused intersections and greater access to the lush landscape and sinuous ravine system that undergirds the city.
At an urban scale, the development lies at the heart of major transit, road, pedestrian, and cycling networks and atop a promontory that is a threshold to the Don Valley ravine — one of Toronto's greatest natural assets. At a street scale, the site represents a transition between commercial and residential uses and is currently host to a number of heritage homes.
We aspired to design a building, which adds much-needed density to this east-end community, that provides a harmonious backdrop for the existing structures and enriches the neighbourhood. Taking cues from the immediate architectural context, our design proposes an undulating brick façade to honour its surroundings and create a warm and welcoming southern edge that integrates meaningfully with the community. Significantly, the proposed building is set back from Broadview and raised on columns to create a generously scaled open plaza and gateway to the ravine, effectively re-establishing a public connection to this vital landscape at a significant urban node.
Sitting at the nexus of so much of what defines Toronto, Broadview + Danforth is a truly precedent-setting project that embraces the local fabric and natural conditions to project a coherent and connected future.
Images: Norm Li
Type
Multi-unit + Mixed-Use
Team
Counterpoint (Civil), Public Work (Landscape), Philip Goldsmith (Heritage), Pratus Group (Sustainability), Urban Strategies (Planning), BA Group (Traffic), SLR Consulting (Wind)