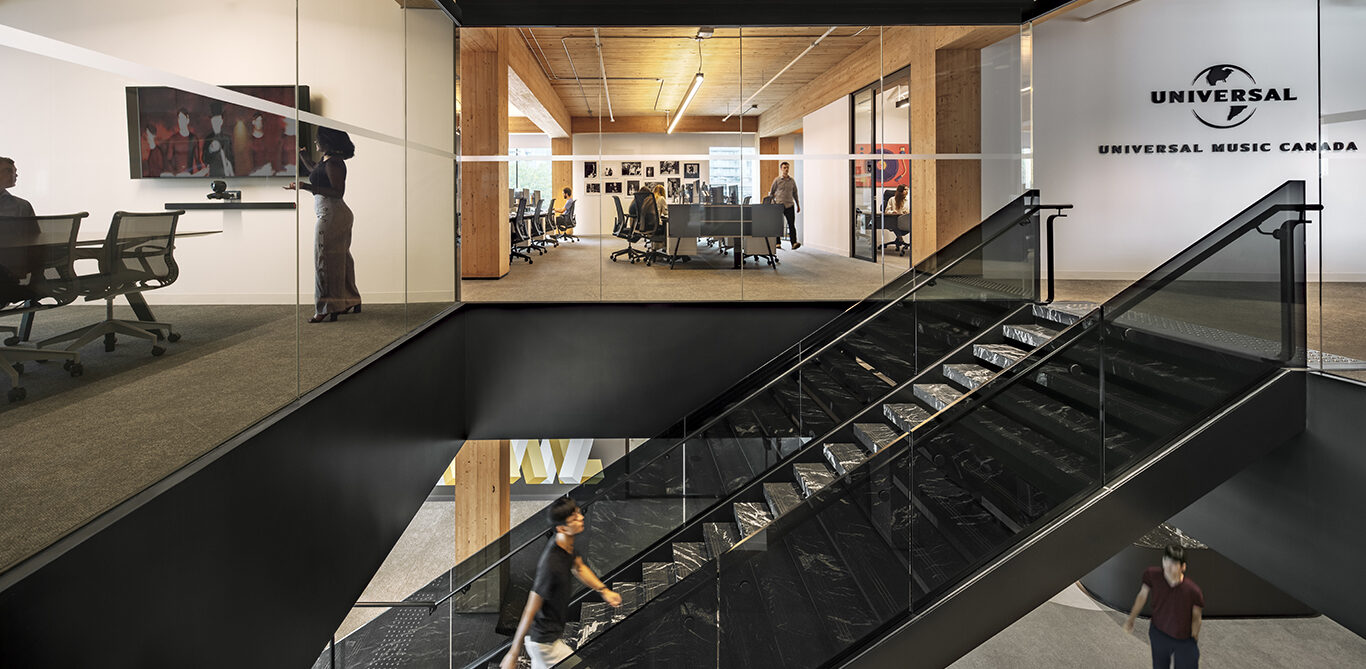 Designed to catalyze collaboration, imagination, and innovation, UMC's new creative campus is a flexible workspace that prioritizes natural light and furnishings and a multifaceted venue that supports artists, public-facing events, and industry partnerships.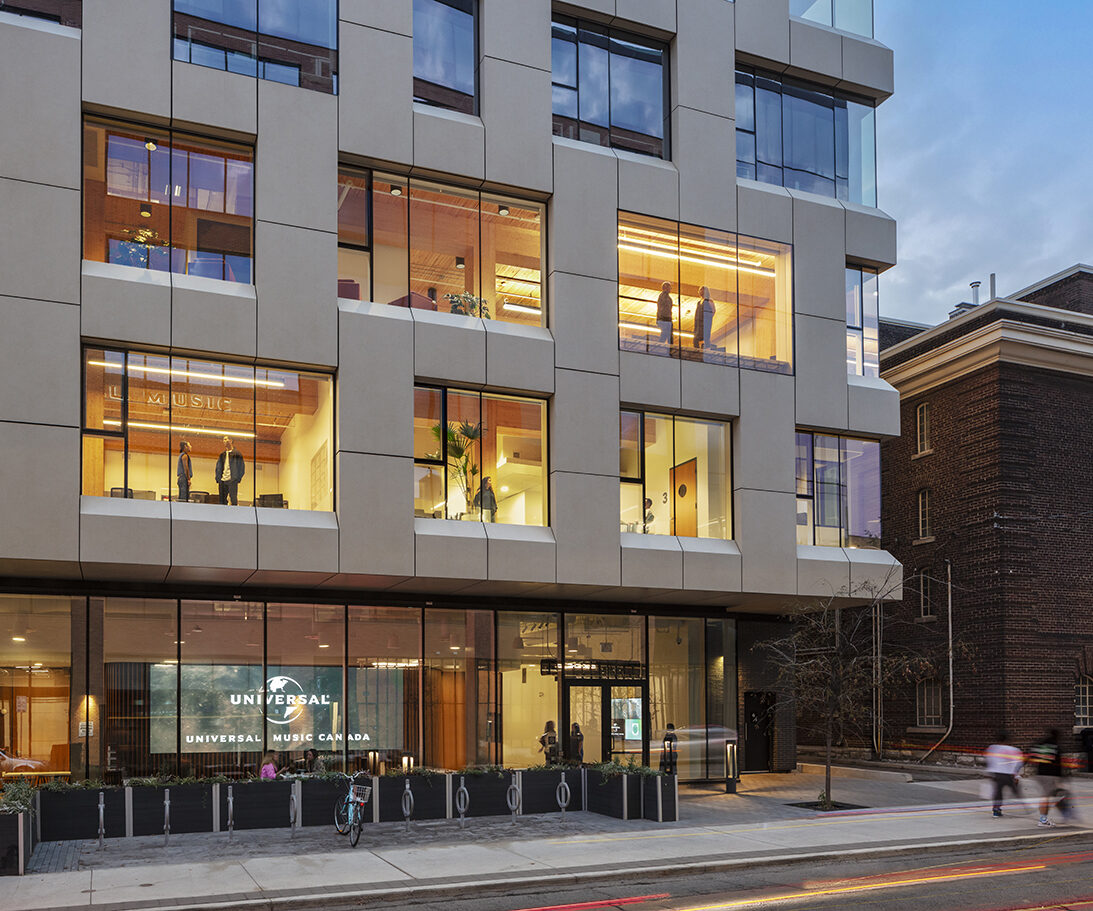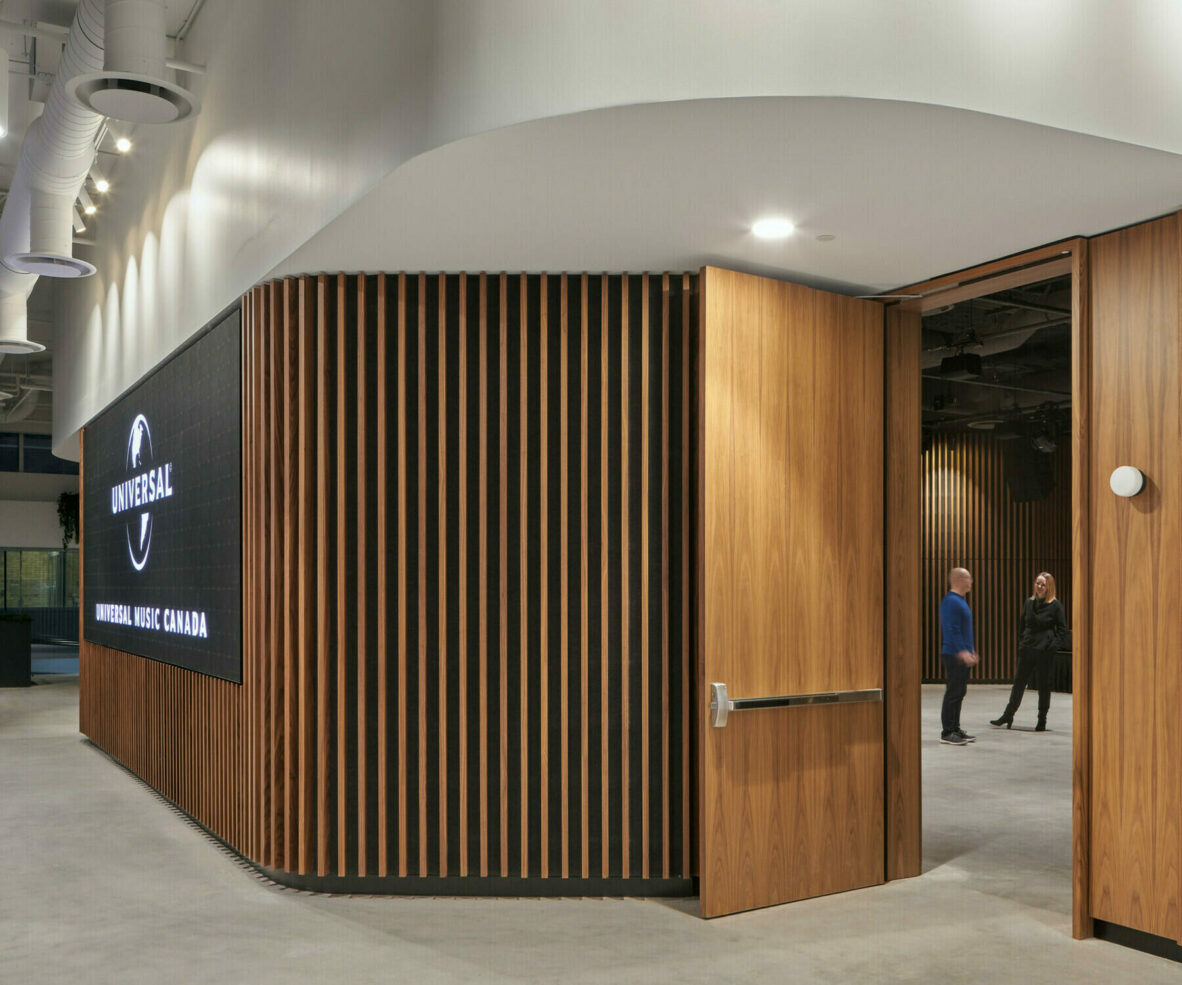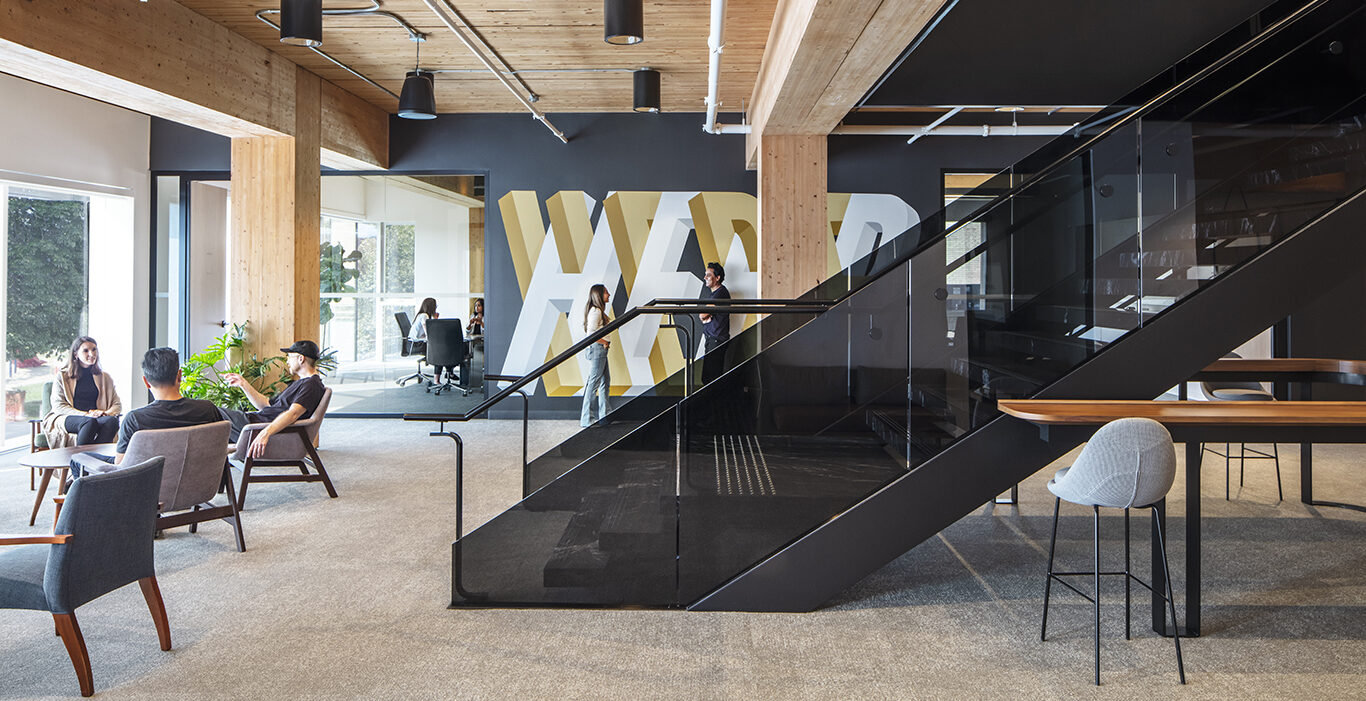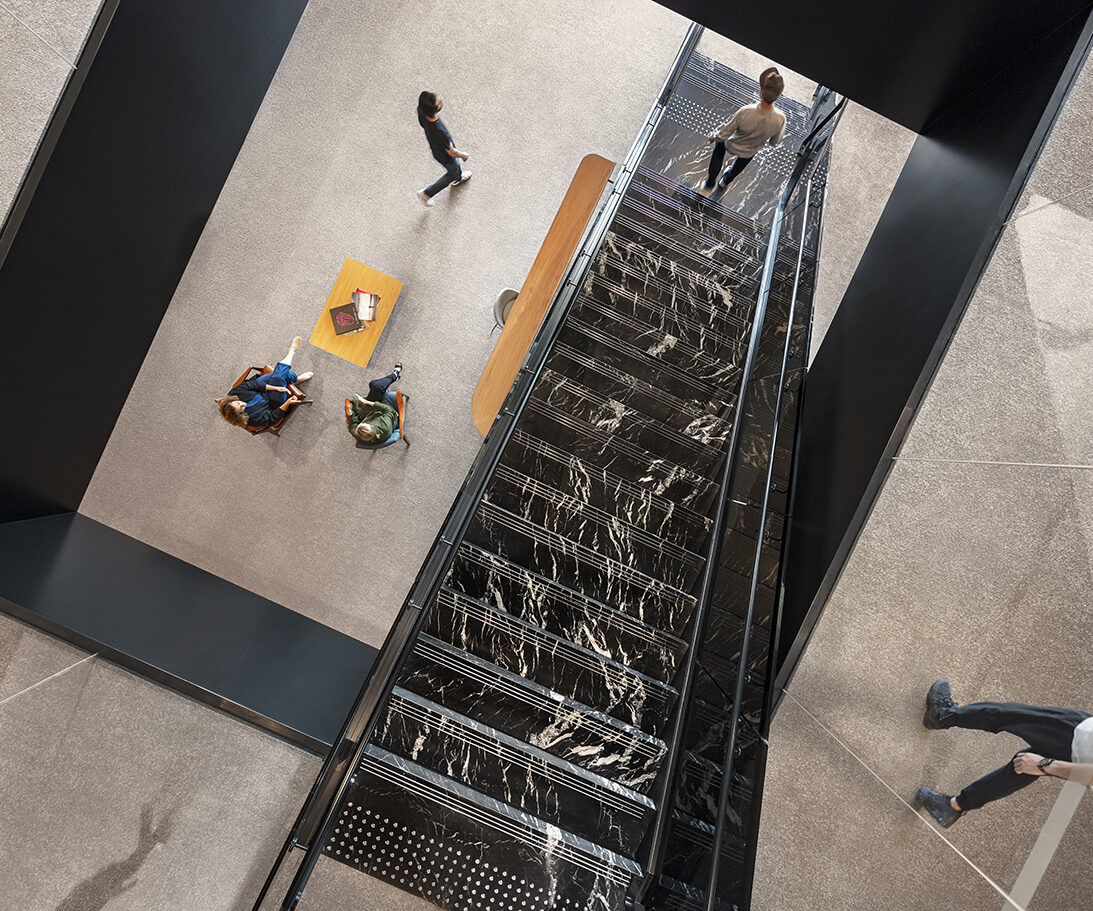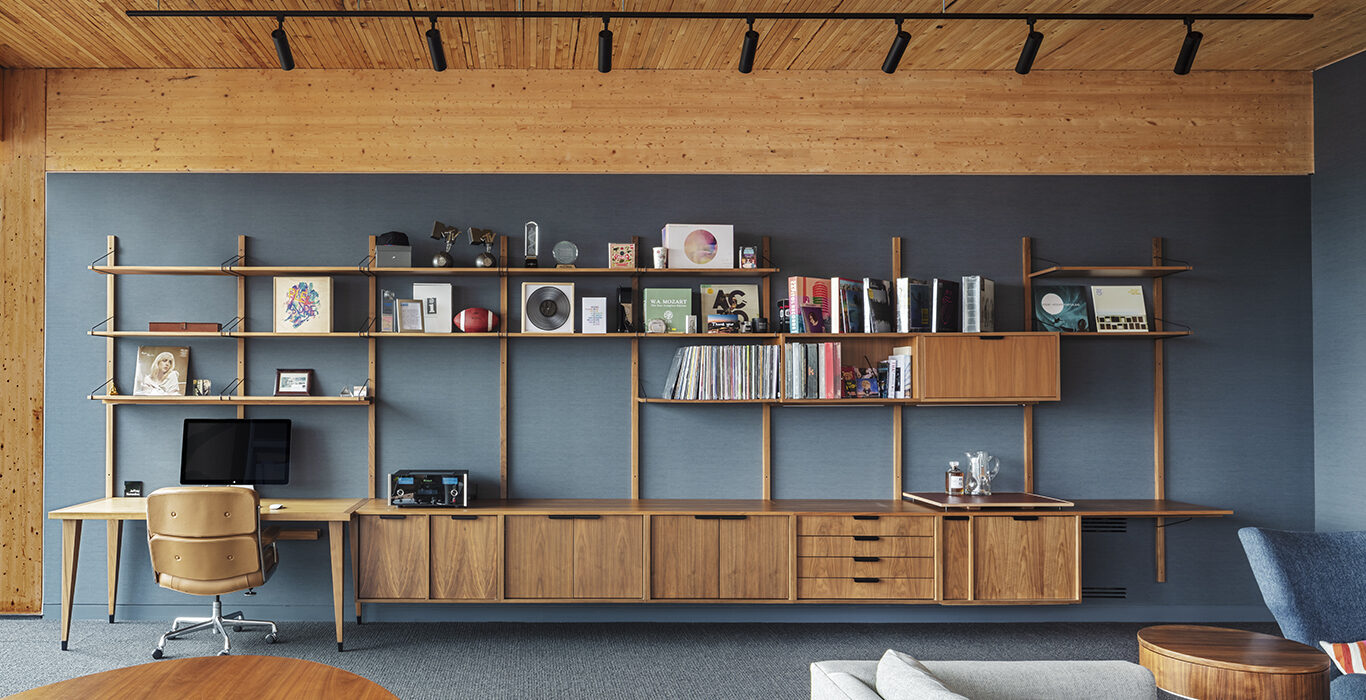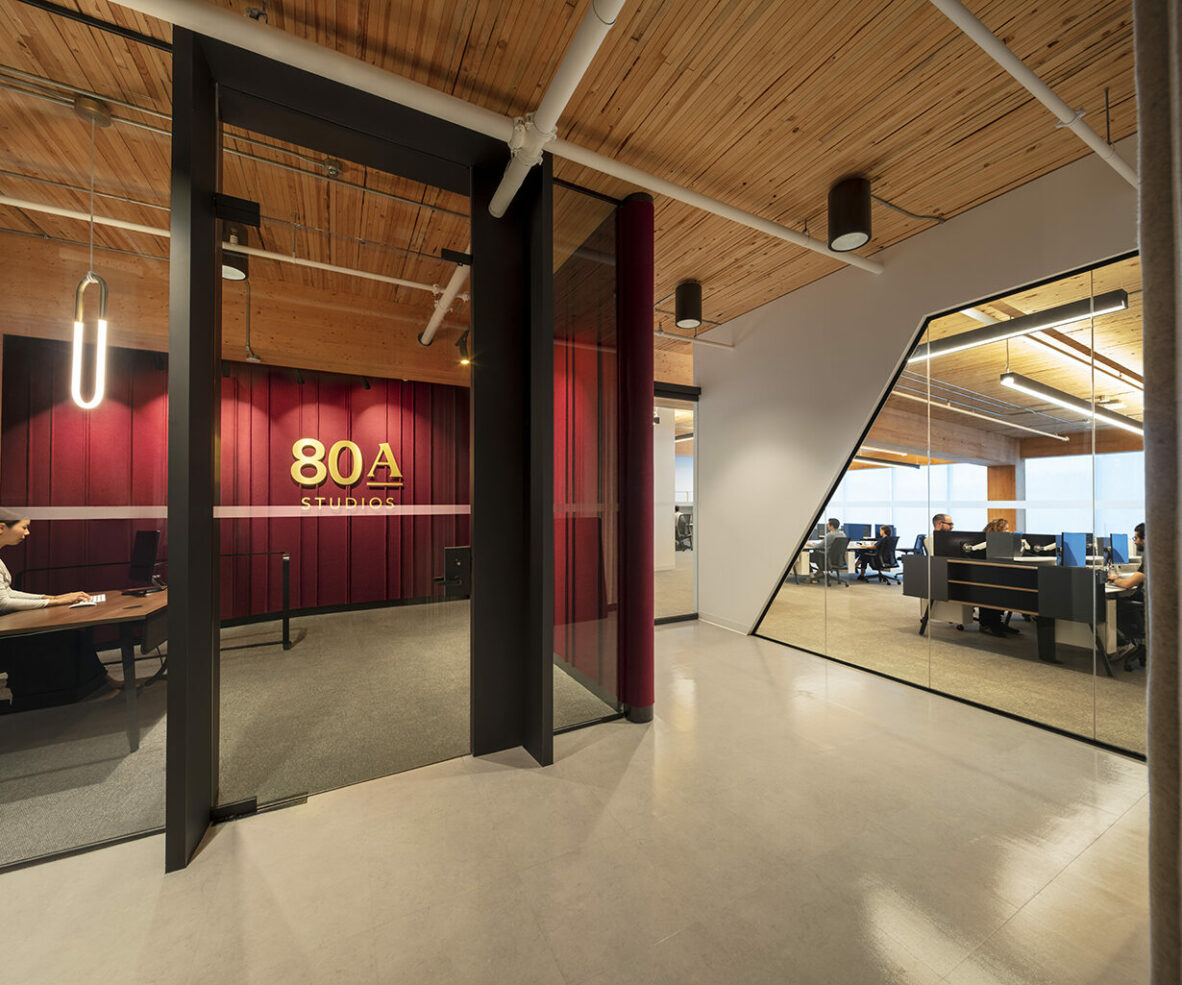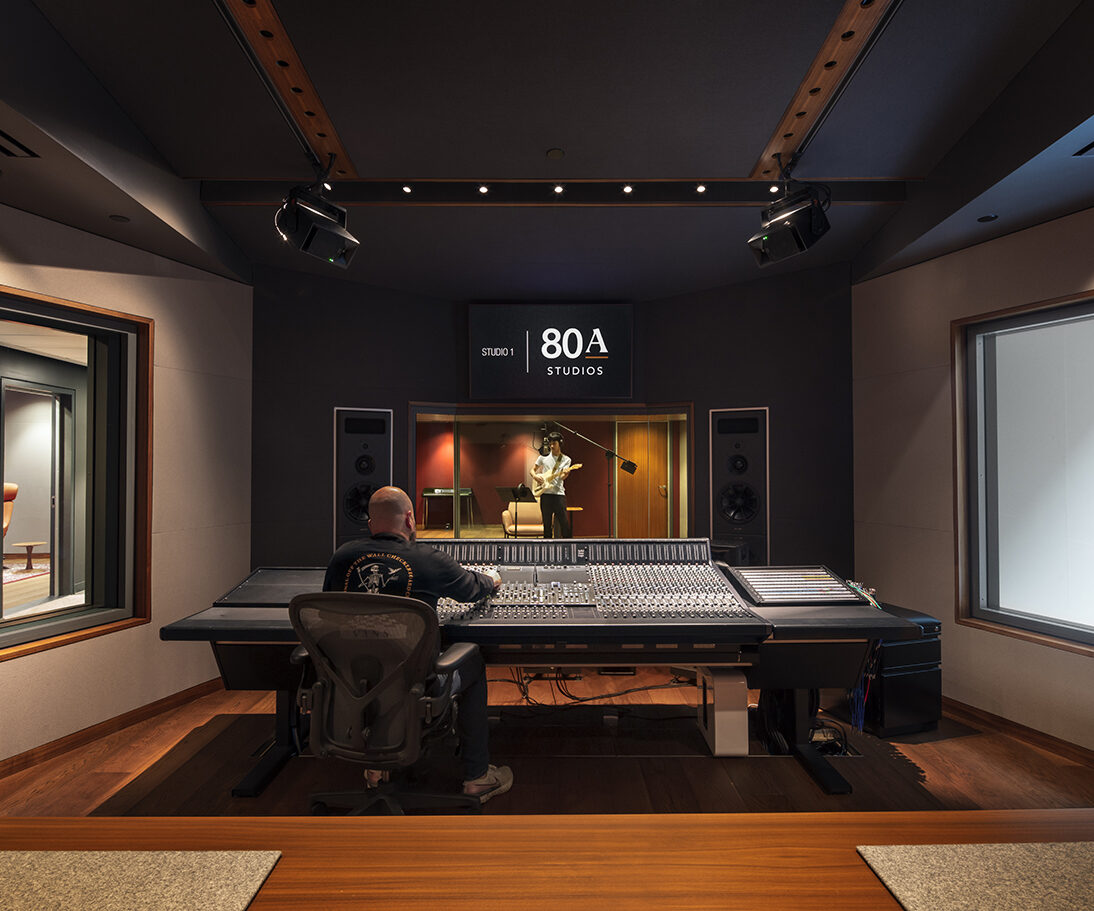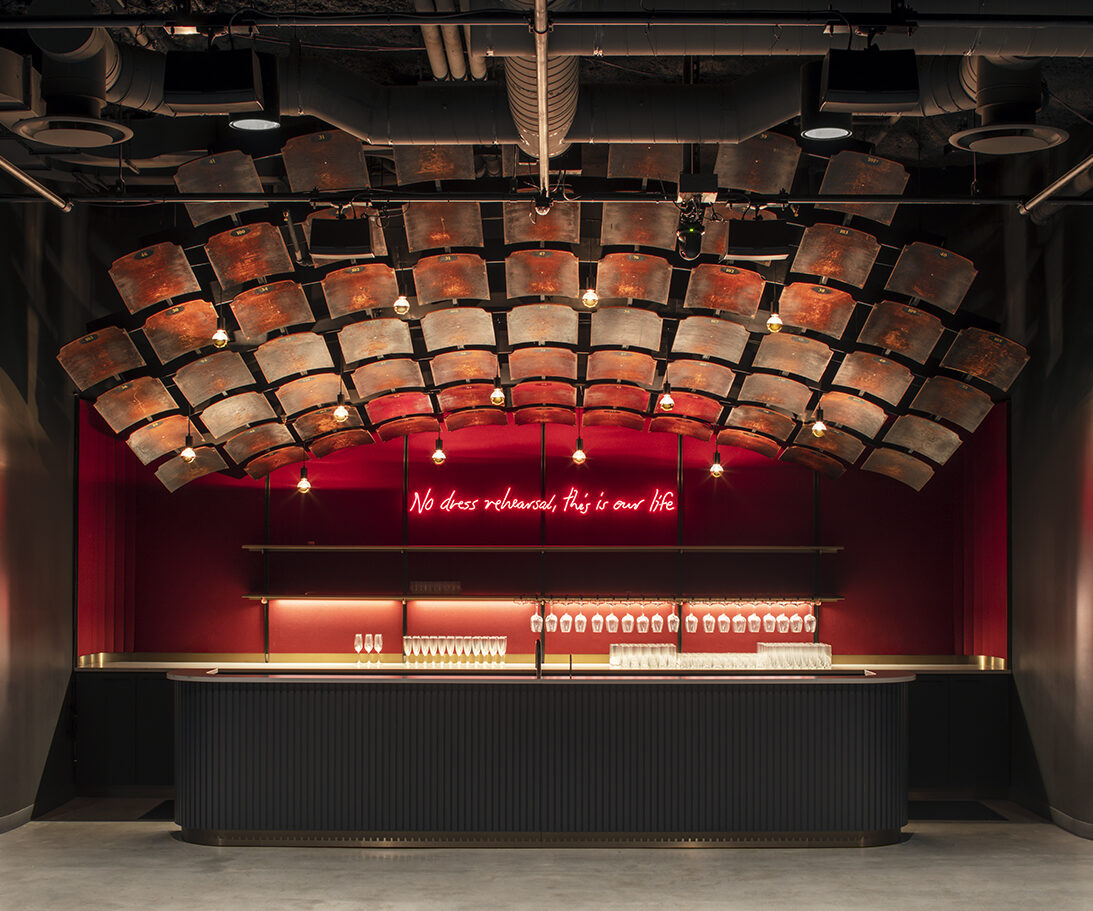 Universal Music Canada (UMC) tasked us with designing a campus unlike any other in the music industry. The new Canadian headquarters for this world-leading record label not only fosters a range of working styles and creative practices, but also integrates industry-related facilities across a 40,000-sf footprint, including state-of-the-art recording studios, a concert hall, a high-fidelity listening lounge, a creative agency, and a 40-seat boardroom. 
The ground floor, which includes a café/bar and slatted wood design, creates a welcoming and dynamic street presence and distinguishes this headquarters as the only Universal Music Group office in North America to be publicly accessible at grade. It also houses The Academy, an intimate, acoustically sophisticated performance venue for UMC artists to play, network, and broadcast their music. Audiences can order a drink under a signature ceiling installation — a canopy of vintage chair-backs sourced from Toronto's original Massey Hall — while contemplating an illuminated song lyric by one of Canada's most beloved bands, The Tragically Hip, rendered in late frontman Gord Downey's handwriting.
Maintaining public access to the building was one of the most exciting and challenging aspects of the project. To successfully blur the boundaries between fully public areas, public-facing but controlled access zones, and highly secure office and artist spaces required designing stringent yet discreet security measures and strategic circulation paths. The result is a cultural hub that offers unprecedented opportunities for interactions among fans, artists, and UMC staff at the base of an office building in the heart of Toronto's Liberty Village.
UMC's workspace is connected across two floors by a Nero Marquina marble staircase that enhances circulation options and promotes staff interactions. Introducing the new stair required surgical interventions to minimize structural impacts within the mass-timber building. We relied exclusively on new heavy timber beams to support the stair opening, executing a design that blends seamlessly with the base building architecture. 
A large "living room" at the foot of the stairs features an in-house coffee bar, informal work areas, and comfortable lounge seating. On the upper floor, warm walnut laminate millwork and collaboration tables help delineate the open floor plan and carve out multi-purpose areas for working group clusters. Superkül commissioned artist Kathryn Walter to design natural wool felt walls, a defining feature of the two-storey space. Felt is a durable finish that provides acoustic dampening — a strategic material in the context of a relatively open office plan. It also represents an aesthetic nod to the recording industry and music itself, as the thickness and spacing of the felt pleats vary, creating a rhythmic pattern.
The heterogeneous program demanded that we target varying levels of acoustic treatment and sound separation, as workstation areas sit adjacent to technical spaces that feature advanced audio systems, recording equipment, and isolation booths. To achieve rigorous sound mitigation requirements across the plan, we deployed everything from acoustic panels and wood slats to fabric-wrapped panels to robust gypsum board and wood panel partitions with vibration isolation. 
Images: doublespace photography, Andrew Rowat
Client
Universal Music Canada
Team
Smith & Andersen (Mechanical + Electrical), Pilchner Schoustal (Recording Studio), Vortex Fire (Code), mForm (Contractor), Ell-Rod (Millwork), Trillium (Hardware)