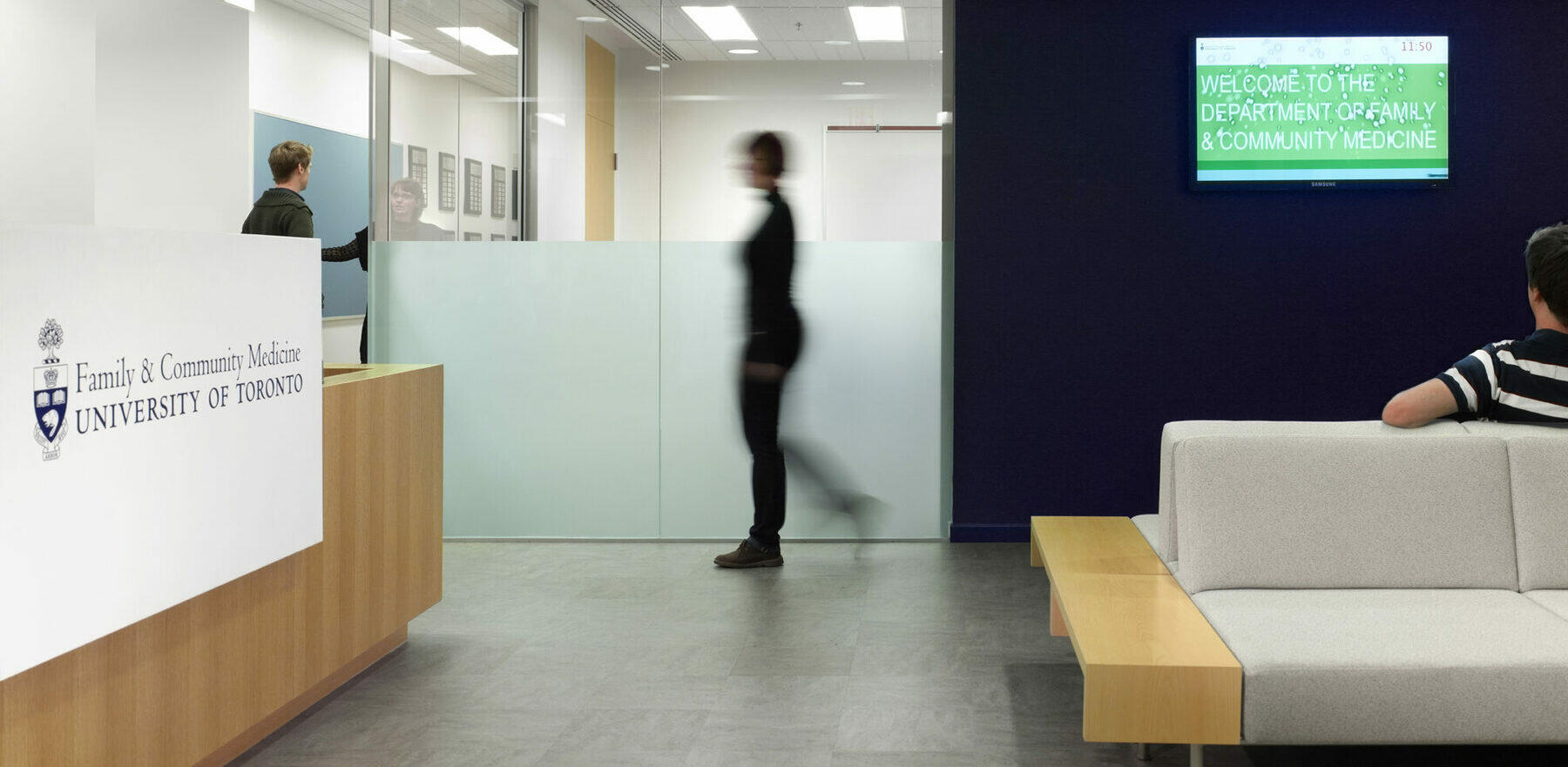 University of Toronto, Department of Family & Community Medicine
This 18,000-sf renovation project deploys simple design moves to achieve maximum effects and a fresh architectural expression of the Department's identity.
Our work for the University of Toronto's Department of Family and Community Medicine entailed renovating 18,000 square feet of existing workspace to create an efficient suite of offices, lounge spaces, and classrooms that promote well-being and amplify the Department's identity and visibility. 
Located at 500 University Avenue in an existing multi-storey office building that is home to various University departments, the Department of Family and Community Medicine was seeking a new home within the building, which entailed a complete renovation of the third and fifth floors.
The project features a variety of workspaces that promote collaboration, maximizes natural light and views, attenuates sound between acoustically sensitive areas, and establishes a clear and professional visual identity for the Department. We used sustainable and low-impact materials as much as possible as well as an integrated wayfinding and display scheme to improve circulation and animate the space.
Like all of our strategic renovations for the University of Toronto, which need to respect adjacent occupancies as well as the activities and time constraints associated with the academic calendar, this project required careful planning, phasing, and care. The work also required abating hazardous materials common to earlier eras of construction. 
Founded in 1843, the University of Toronto's Faculty of Medicine ranks among the top academic medical institutions in the world. Superkül is proud of our tenured relationship with the Faculty, having completed six renovation projects for the Faculty in the span of as many years.
Images: Shai Gil
Client
University of Toronto
Team
ENSO Systems Inc (Mechanical + Electrical), Entro (Wayfinding)