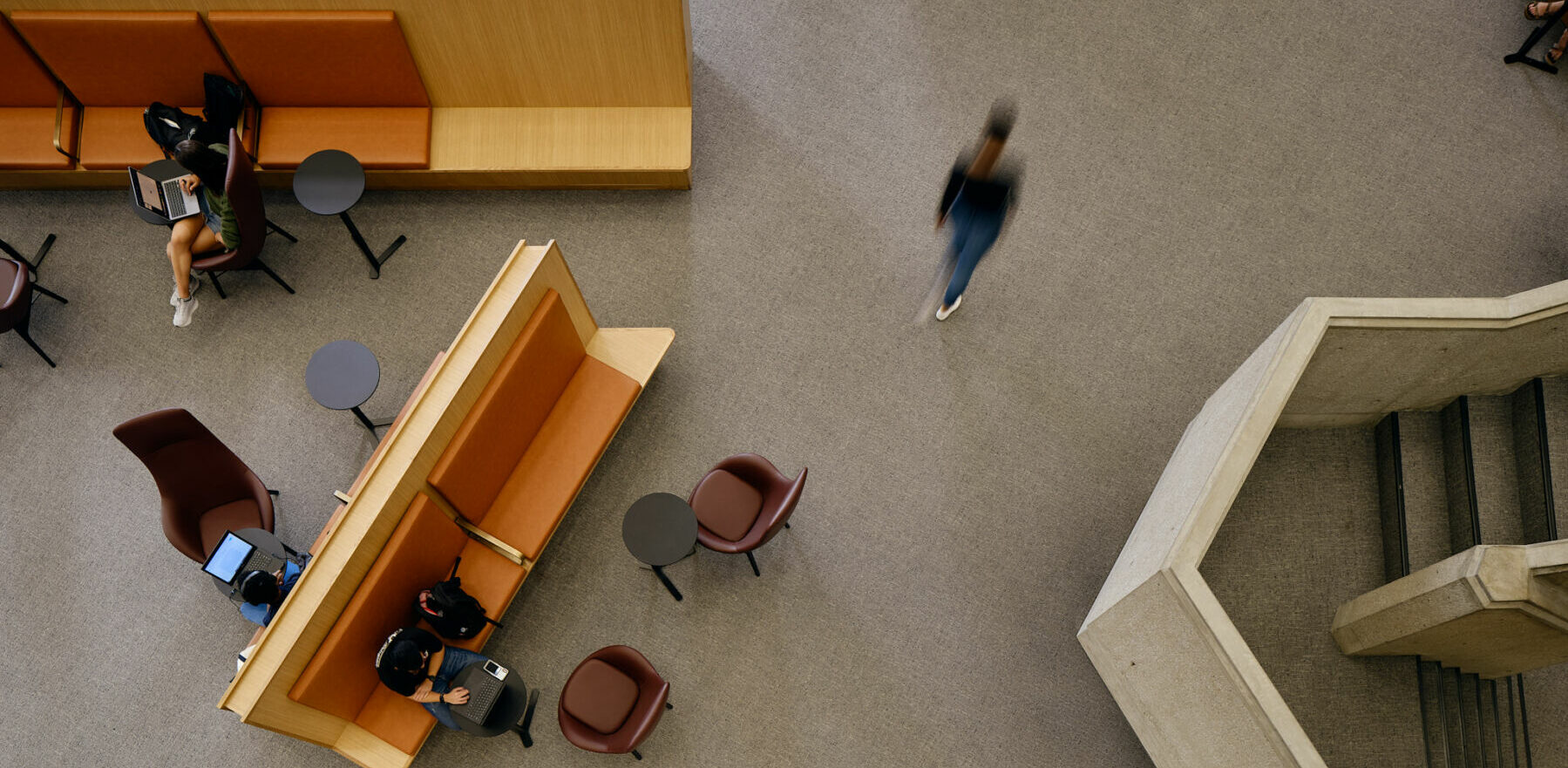 Robarts Library Reading Room
The revitalization of the Fourth Floor Reading Room in Robarts Library — one of North America's most significant examples of Brutalist architecture — transforms a hallowed, double-storey space into a graceful and inclusive learning commons designed to meet contemporary student needs and learning styles.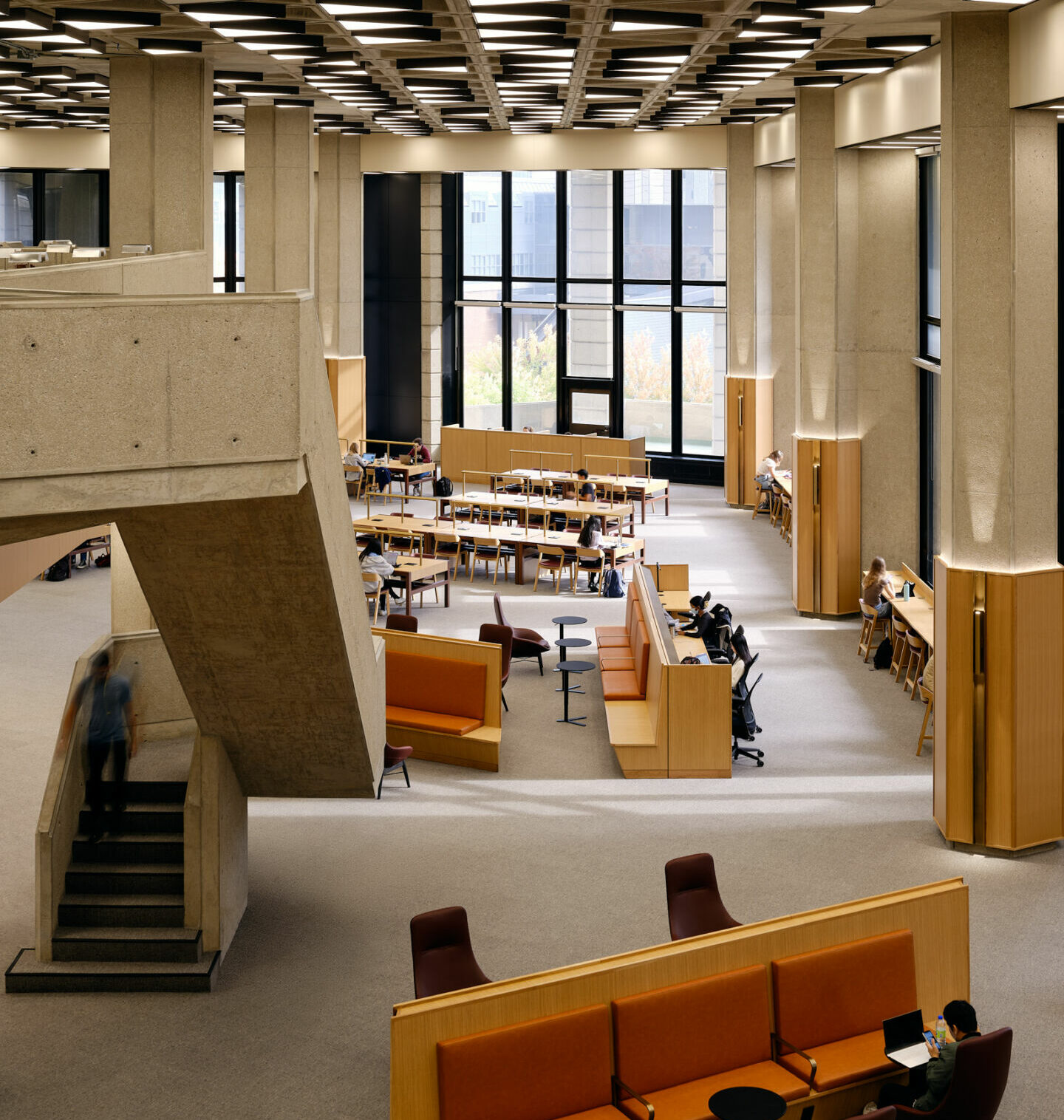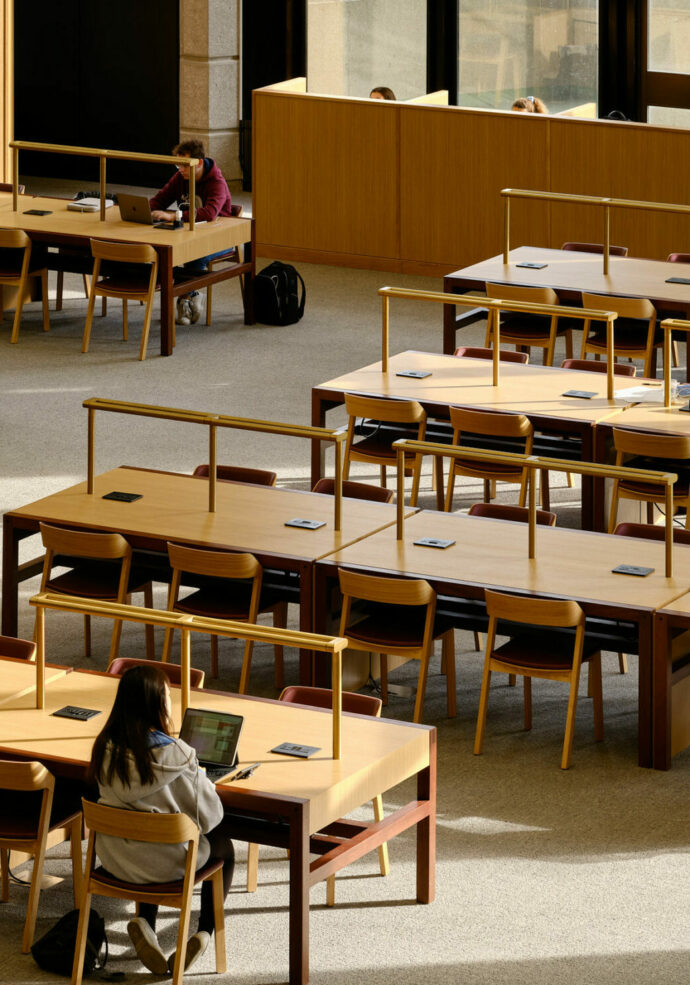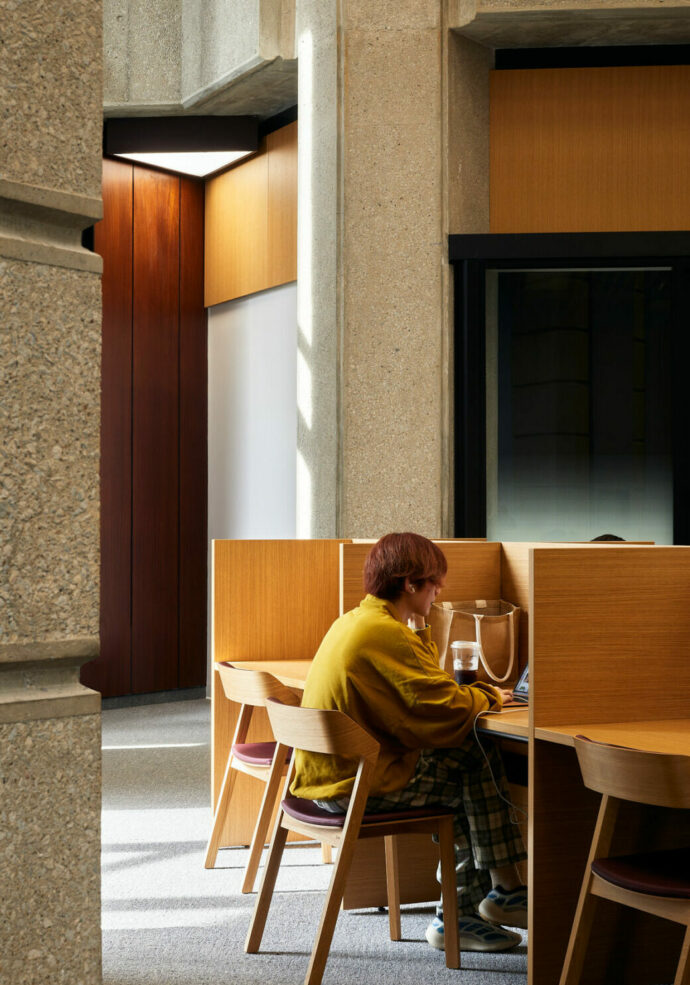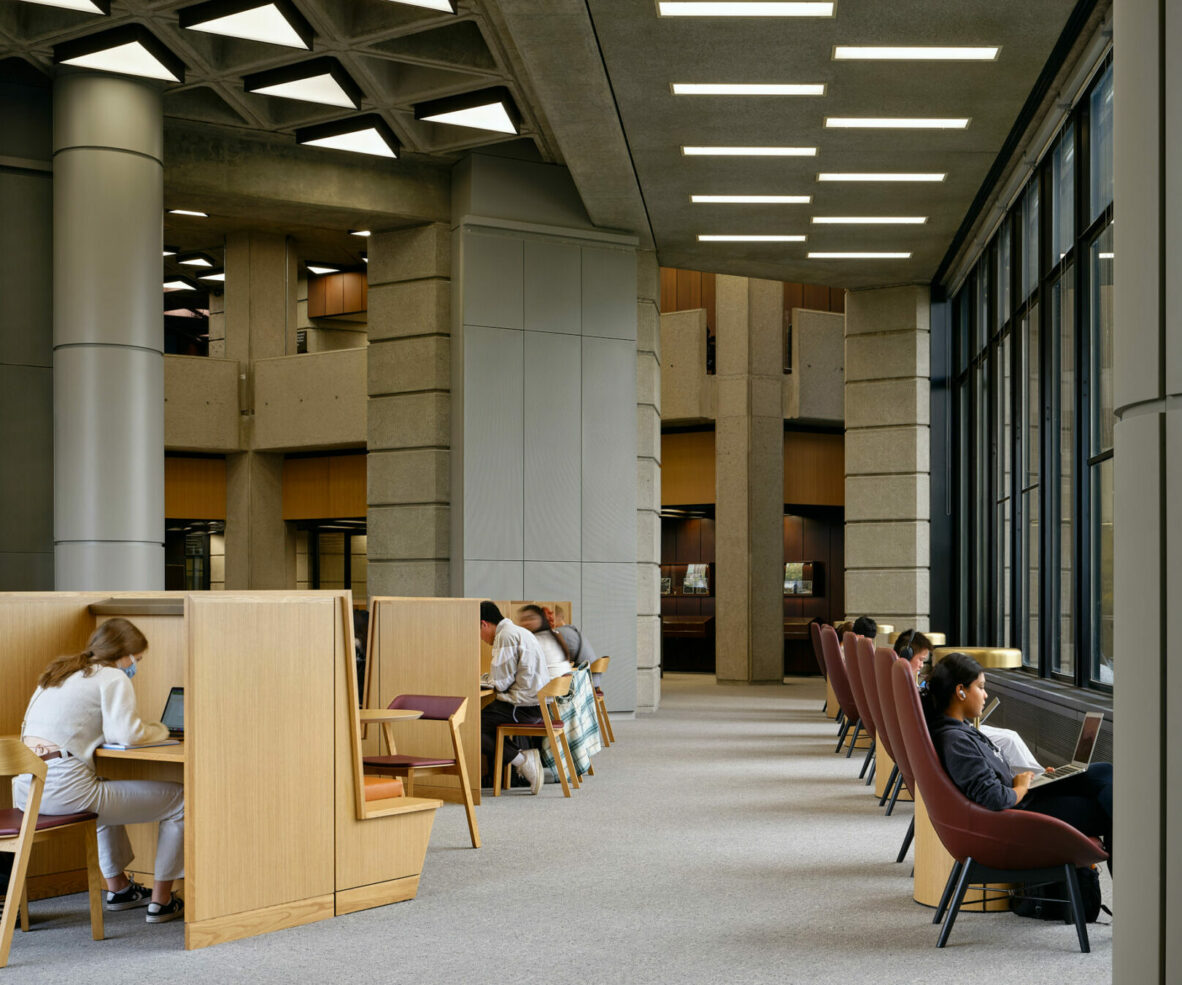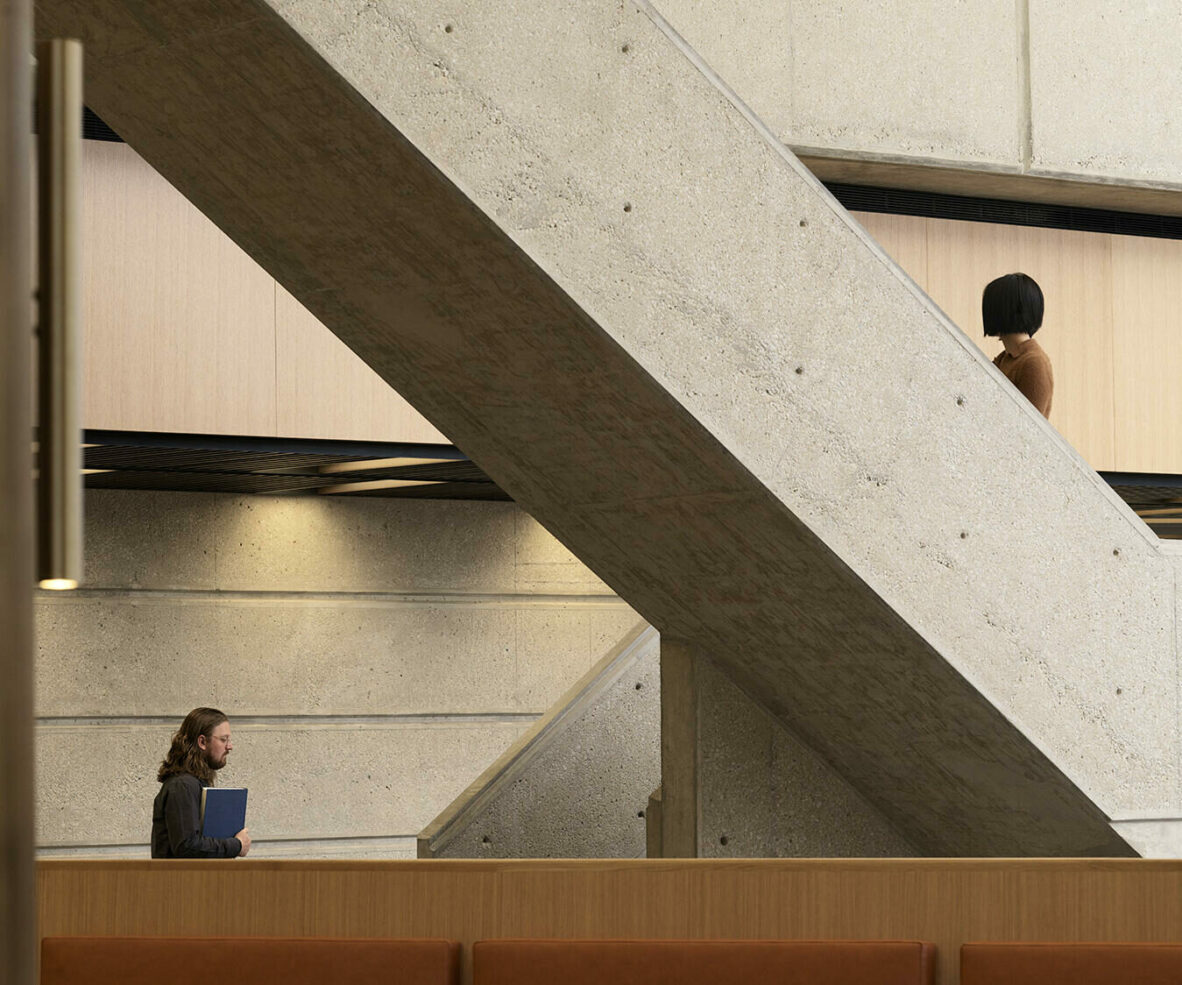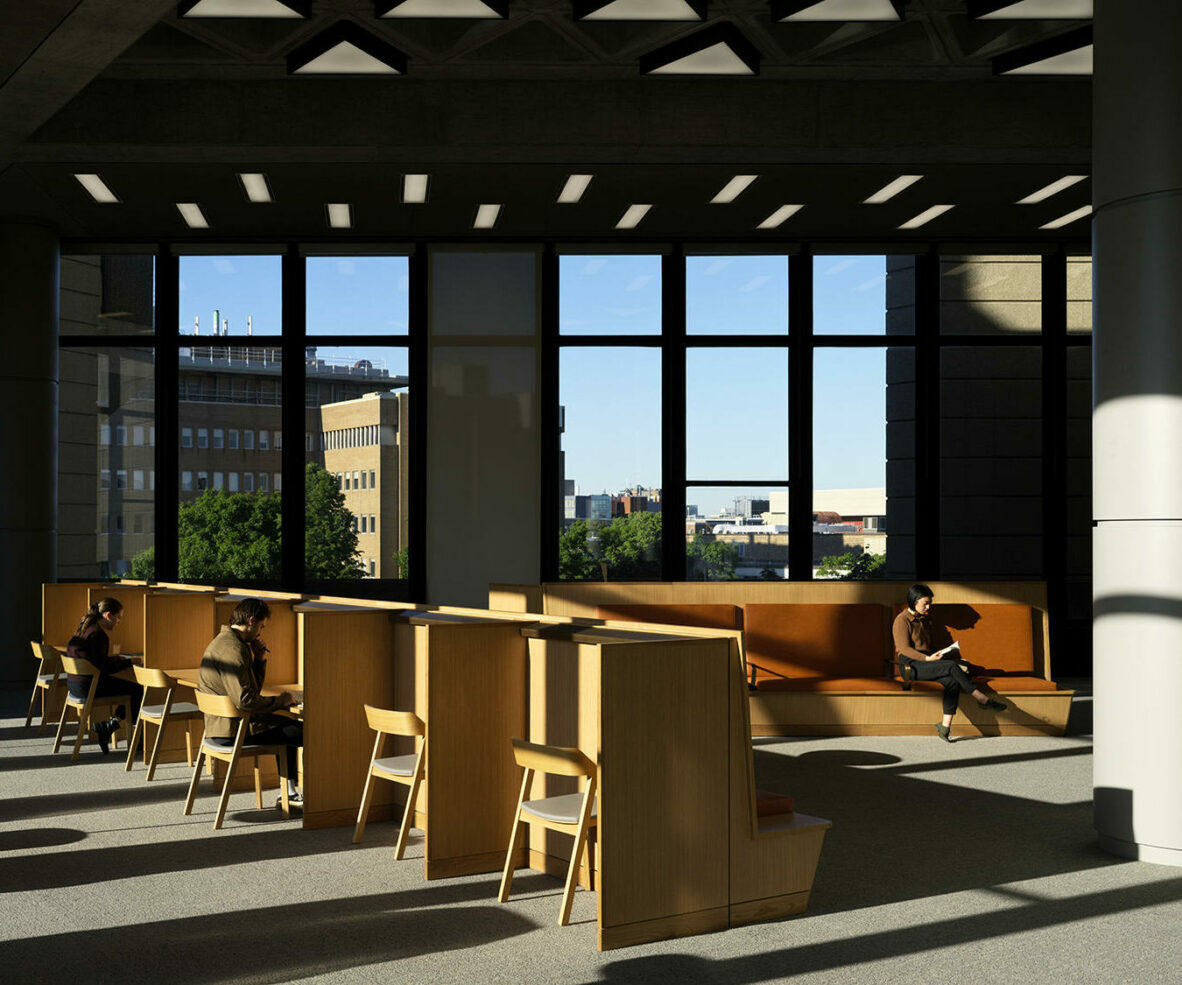 Opened in 1973, Robarts Library is the University of Toronto's main Humanities and Social Sciences library and remains a critical resource and refuge for students and faculty. It is both the largest individual library at UT and the largest academic library building in the country. 
In June 2020, Superkül won the RFP to renovate the Reading Room as part of the University of Toronto's larger Robarts renewal initiative. We were tasked with an ambitious goal: to convert the space into a superior contemporary environment for quiet study, collaboration, and digital scholarship in a manner that complements the building's exalted architectural language and supports accessibility, diversity, and wellness. Having conducted a comprehensive Feasibility Study + Concept Design for the Faculty of Information located in the Claude T. Bissell Building adjacent to Robarts, we leveraged our knowledge of the larger heritage-listed complex, including the various building conditions and systems, to accelerate our initial phase of work. 
Early analysis of the Reading Room's unique spatial and material qualities drove a responsive scheme focused equally on elegance and accessibility. The result is a linchpin space that connects past (the original Brutalist architecture) and present (the recently completed Robarts Common) through deliberate design elements in the context of a diverse program that accommodates a range of modalities and services: several quiet areas for individual study; multiple standing desks that prioritize accessibility; over thirty new digital stations; three new bookable consultation rooms; and two dedicated light therapy zones.
Deep inclusivity and high functionality were foundational considerations and shaped every aspect of the project. Inclusive study spots are distributed and integrated seamlessly throughout the space, allowing users to customize table heights, chair positions, and lighting to accommodate individual requirements and modes of learning. All materials and finishes were selected to meet AODA standards, while stairs, entrances, and paths of circulation exceed minimum barrier-free requirements. We also emphasized clear sightlines and intuitive wayfinding in a symmetrical layout to promote easy navigation.
With such a vast volume of space that remains relatively open, our team worked with the acoustic consultant to develop a sophisticated sound dampening scheme. We sourced high-performance perforated wood and metal acoustic paneling that blends in aesthetically with the interior architecture. The sound mitigation strategy allows students to occupy communal study tables and areas while simultaneously enabling a comfortable acoustic experience for individual study in the larger space.
To honour the distinctive geometry and materiality that make Robarts Library such a prodigious icon, we hewed closely to an overarching objective: create a robust and respectful design that honours the existing architecture and complements the library's other spaces. It was critical to introduce high-quality, durable materials and furnishings that not only reflect and amplify the legacy of this beloved campus facility, but also support a high volume of daily user traffic. We chose natural and durable materials to impart greater warmth in an otherwise expansive room dominated by concrete. Inspired by the library's heritage elements, our custom-designed bronze screens and details pay homage to existing motifs in a distinguished and affectionate celebration of history, education, and architecture. 
Images: Doublespace, Clarissa Bonet
Client
University of Toronto
Team
Entuitive (Structural), HH Angus (Mechanical + Electrical), Aercoustics (Acoustic), Marshall Murray (Cost), LRI (Code + Safety)