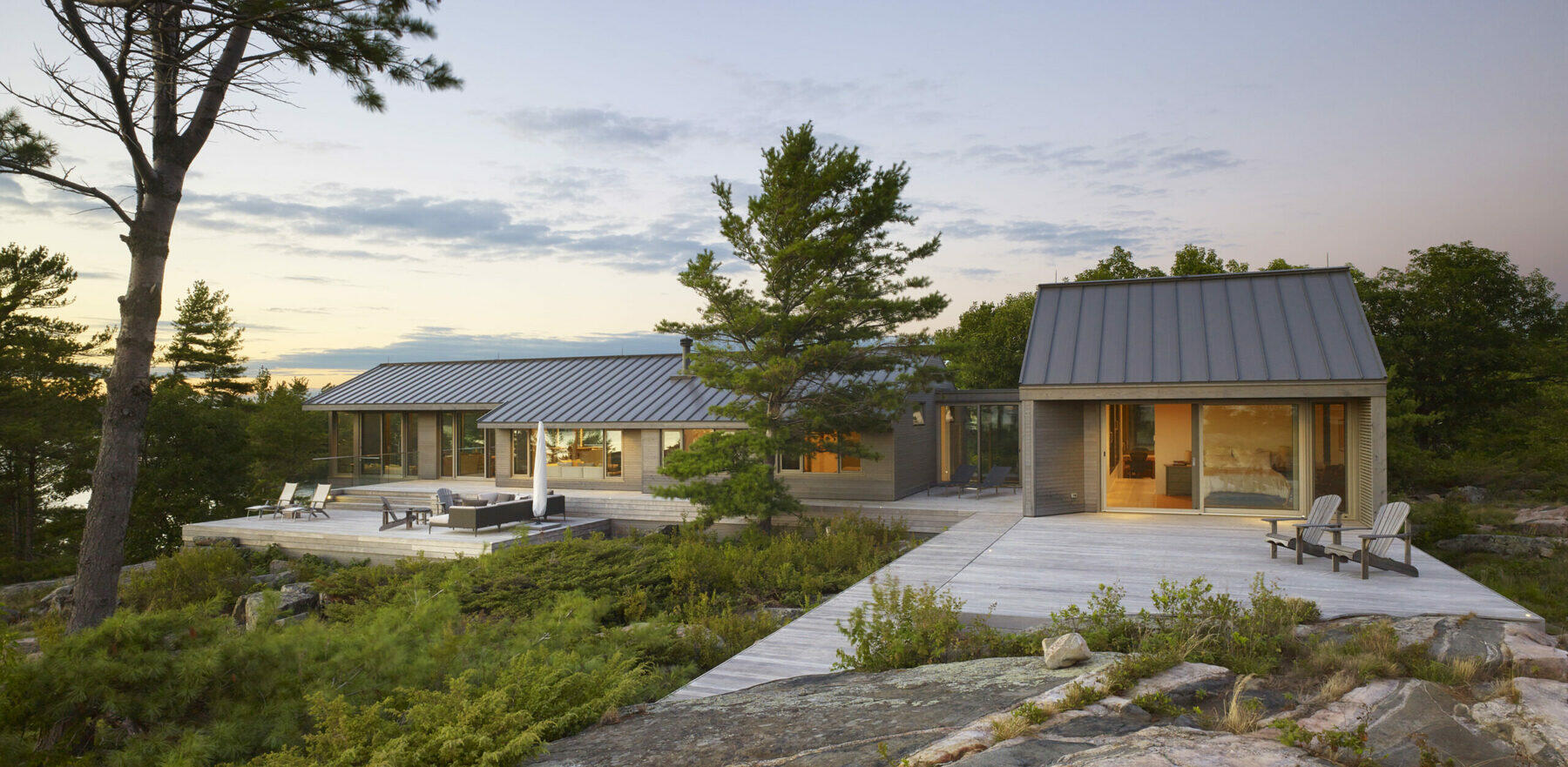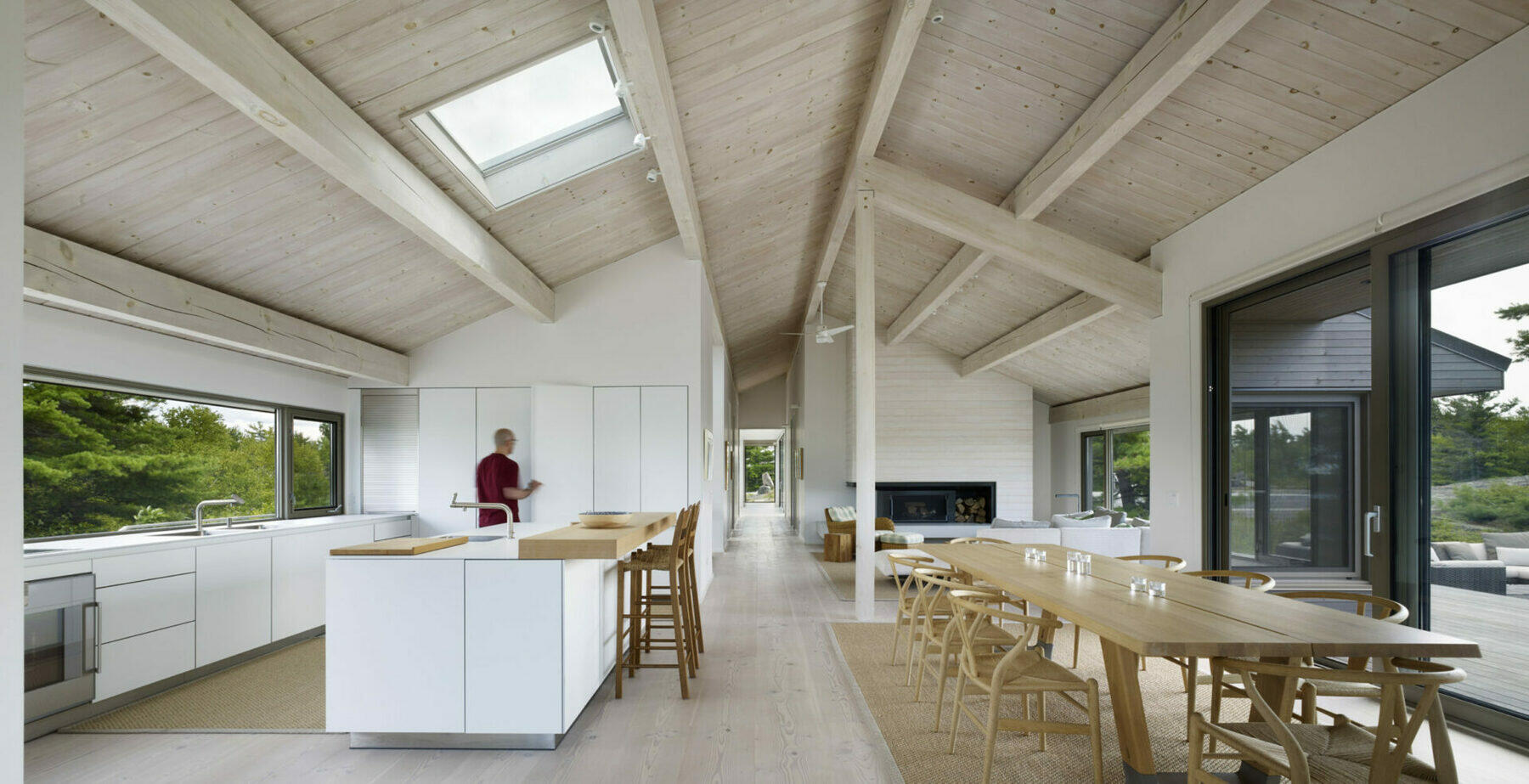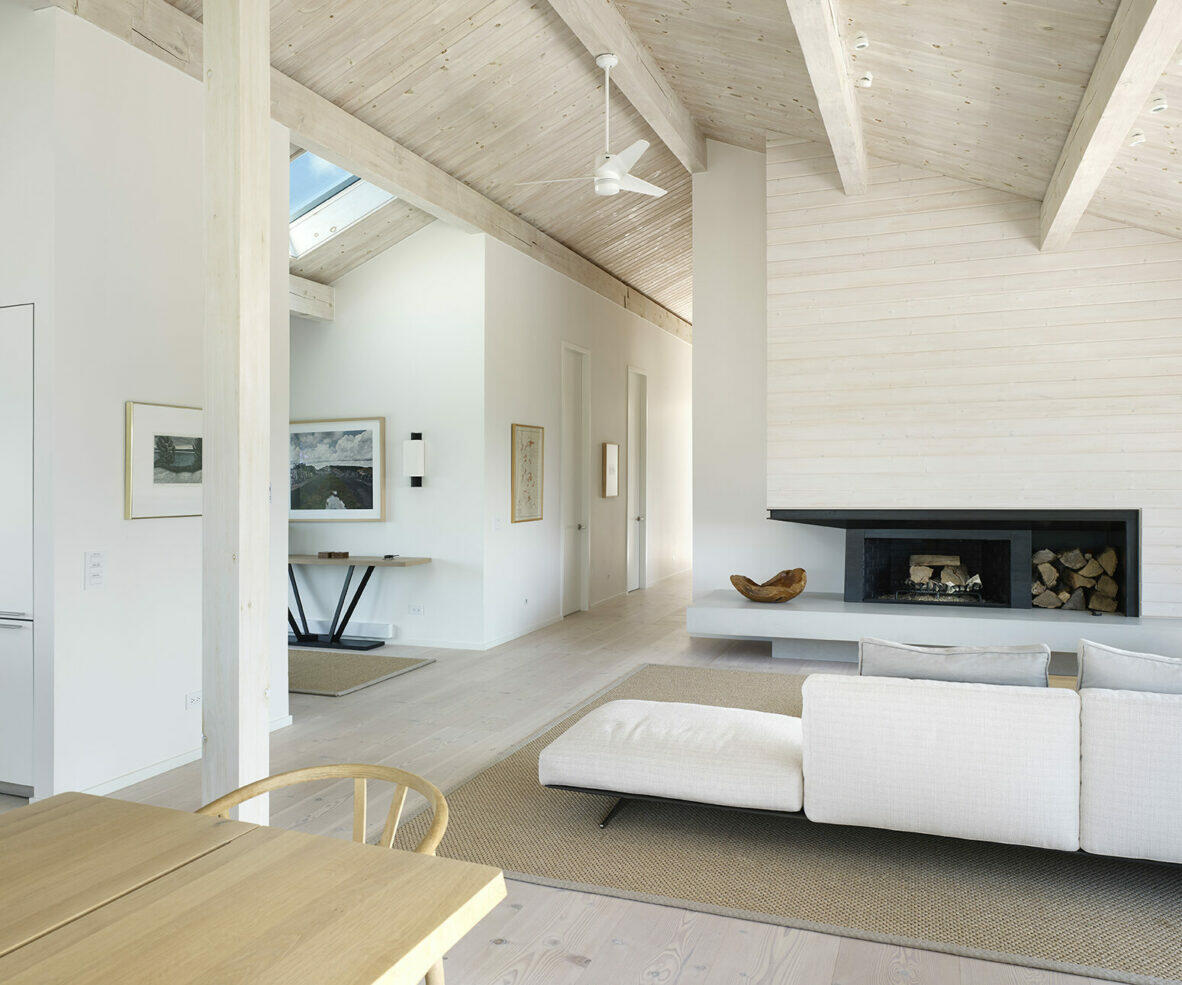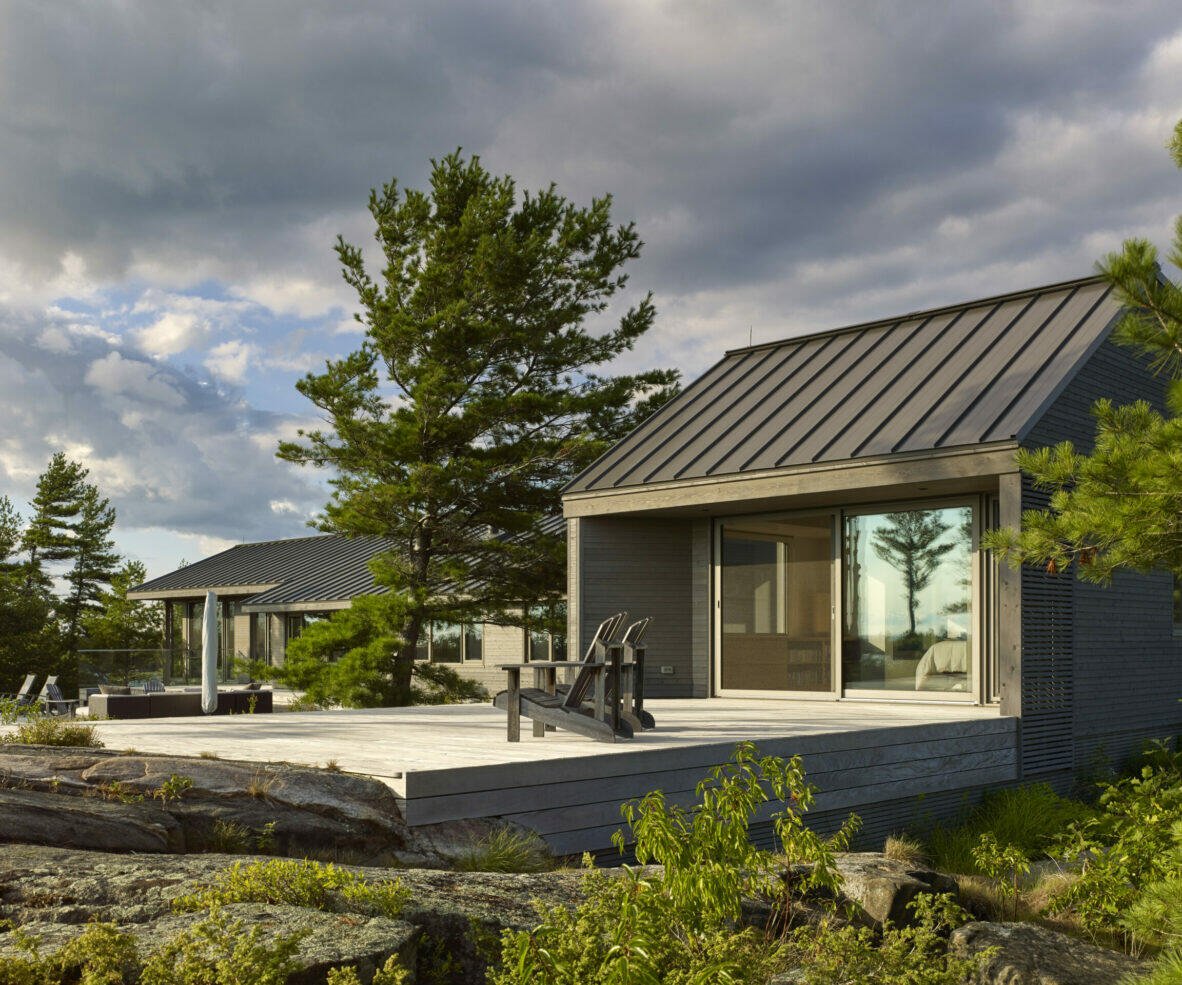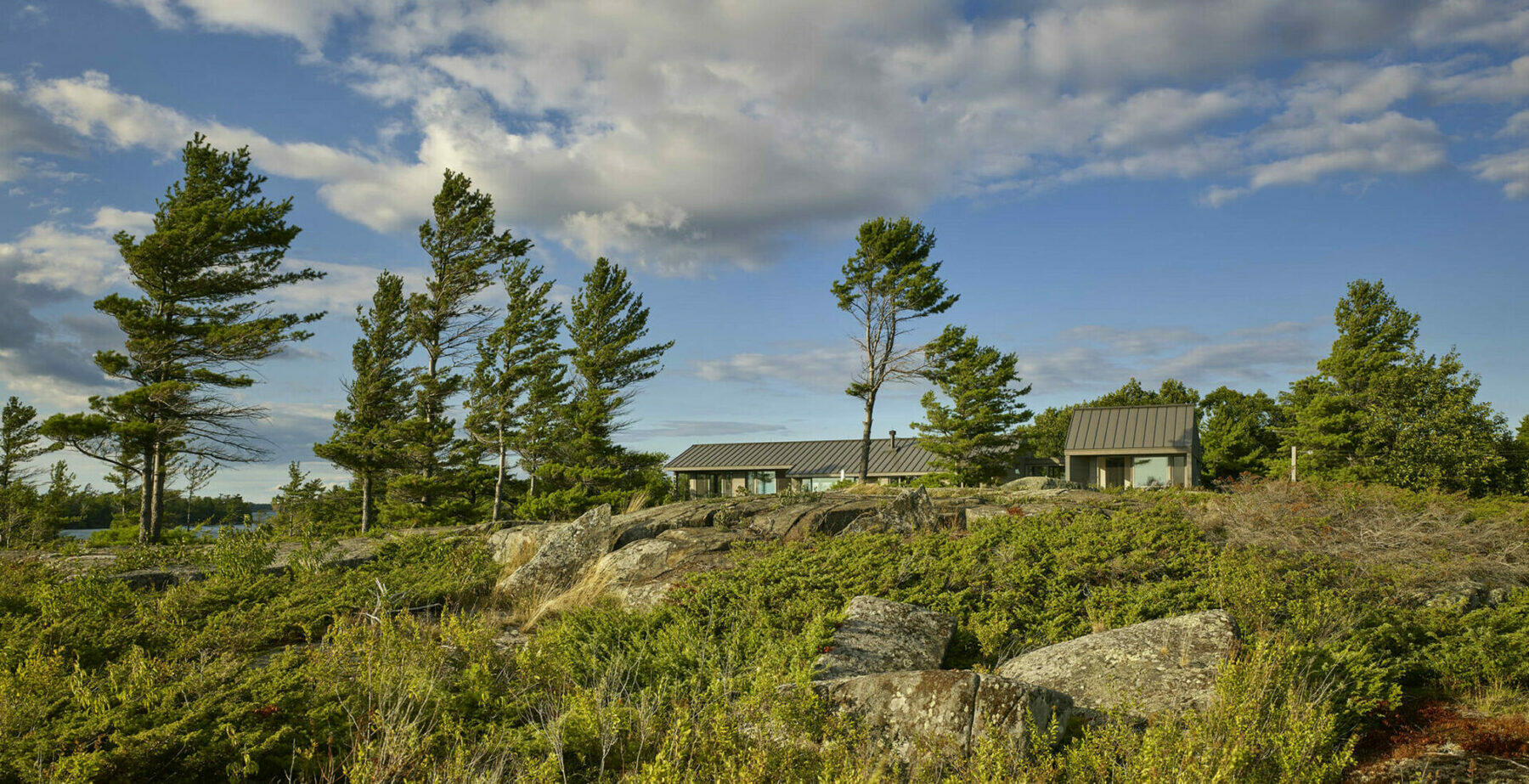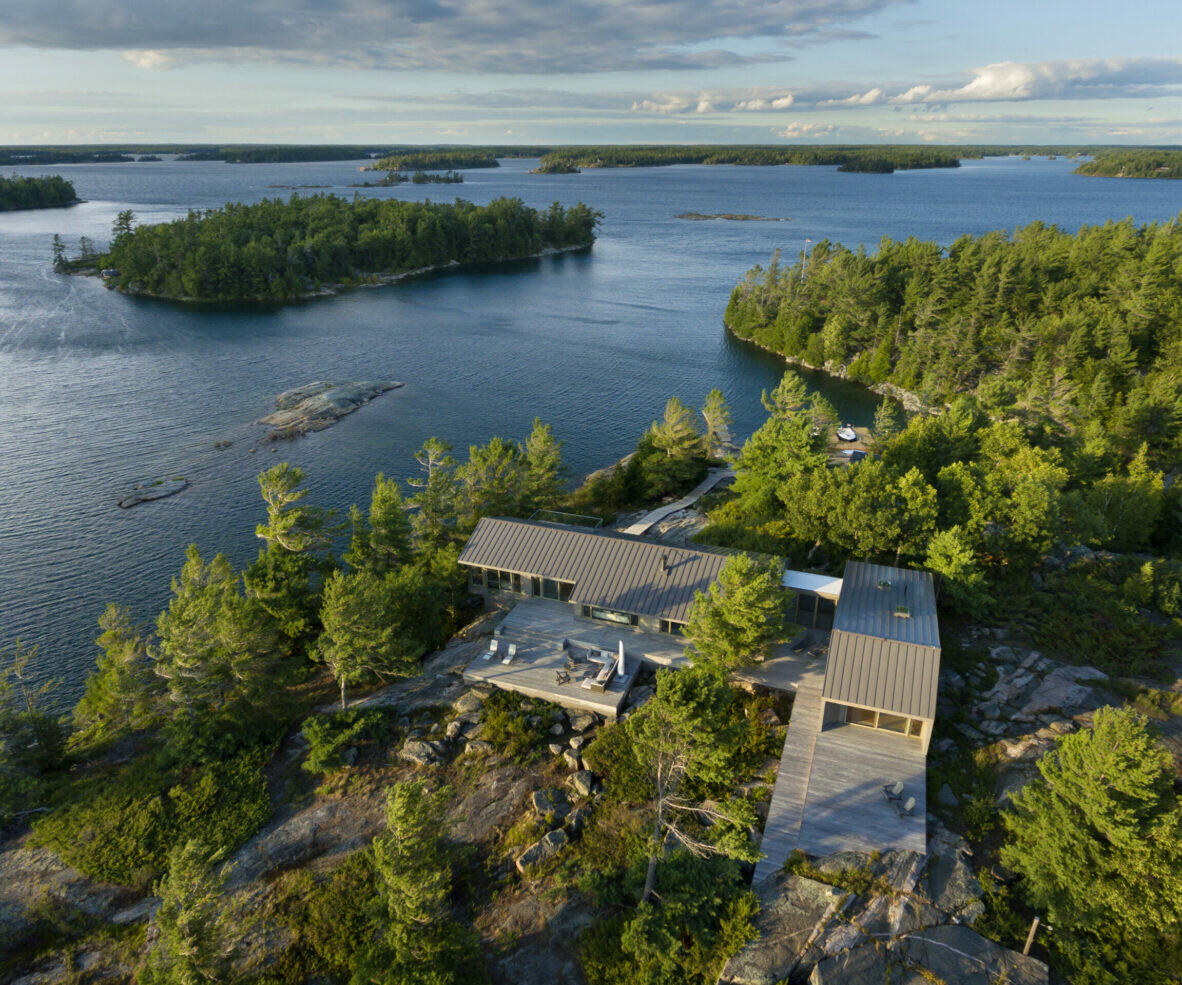 Sited at the northwestern tip of one of the "30,000 Islands" defining the eastern shores of Georgian Bay, the House on the Archipelago sprawls across the dramatic bedrock landscape of the Canadian Shield, surrounded by placid waters. Clad in pale grey stained cedar and topped with a similarly hued standing-seam metal roof, the low-lying sprawling form appears to emerge organically from the ground, its colour and materiality reflective of the granite bedrock and the trunks of the surrounding windswept conifers.
Accessible by boat only, this seasonal family residence is well-used during temperate months. After several years of enjoyment, the owners commissioned superkül to design a full-scale renovation to the cottage to meet their evolving needs. Dating from the 1980s, the existing building is augmented with a sizeable new addition containing a master bedroom suite and office, linked to the main building by a widened glazed corridor that functions as a breezeway. This expanded conduit with sliding glass doors on either side opens up to newly created north and south decks constructed of hard-wearing ipe that further integrate indoor and outdoor living, enhancing appreciation of the site's natural qualities.
On the interior, rooms were reconfigured to accommodate three bedrooms and a bathroom in addition to the communal areas of living, dining and kitchen; a new sunroom addition at the western end of the cottage was constructed. Old and new are distinguished by subtle changes in the material palette. In contrast to the main house defined by existing elements of whitewashed pine, the addition is characterized by the warm, golden hue of natural clear cedar. Underfoot, the material complement of white-stained fir planks ties the two components together.
Complete transparency of views to and from the surrounding landscape is achieved via the abundantly glazed building envelope. Additional light is brought in through the considered placement of five skylights, which offer a more subtle quality of illumination from above to enhance the spaces in the home requiring supplementary lighting.
The provision of decks around the perimeter of the house underscores the raison d'être of cottage ownership: to be deeply immersed in the idylls of unspoiled nature. This engagement with the natural world is furthered by the meandering path of the wooden boardwalk to the water's edge to a boathouse and two separate docks, and the promise of all manner of aquatic activity and enjoyment.
Images: Tom Arban
Team
Tamarack North Ltd (Contractor)