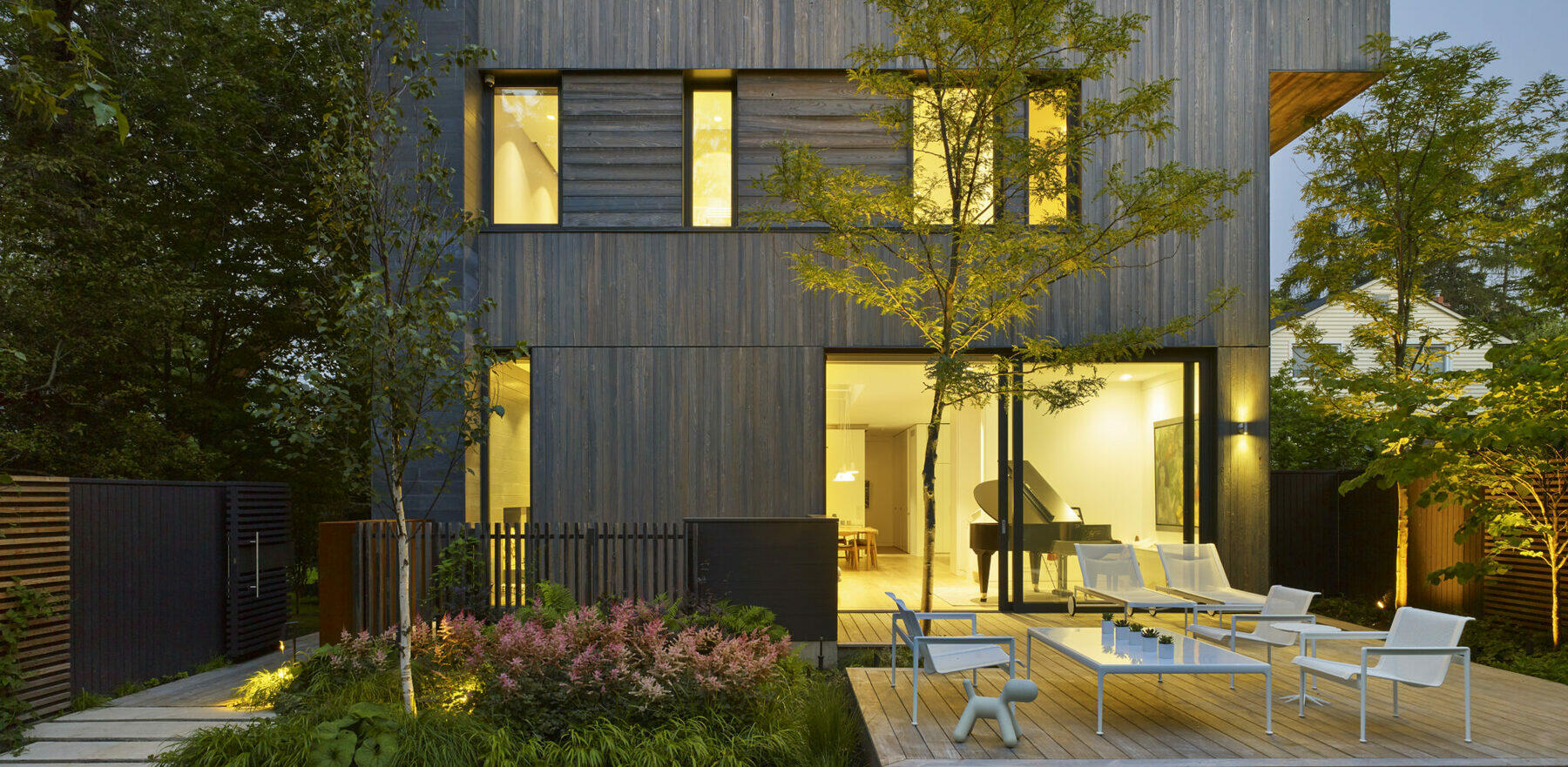 This renovated and expanded house for a family of five retreats into the landscape, inviting abundant natural light and views of the property's lush foliage directly into the home.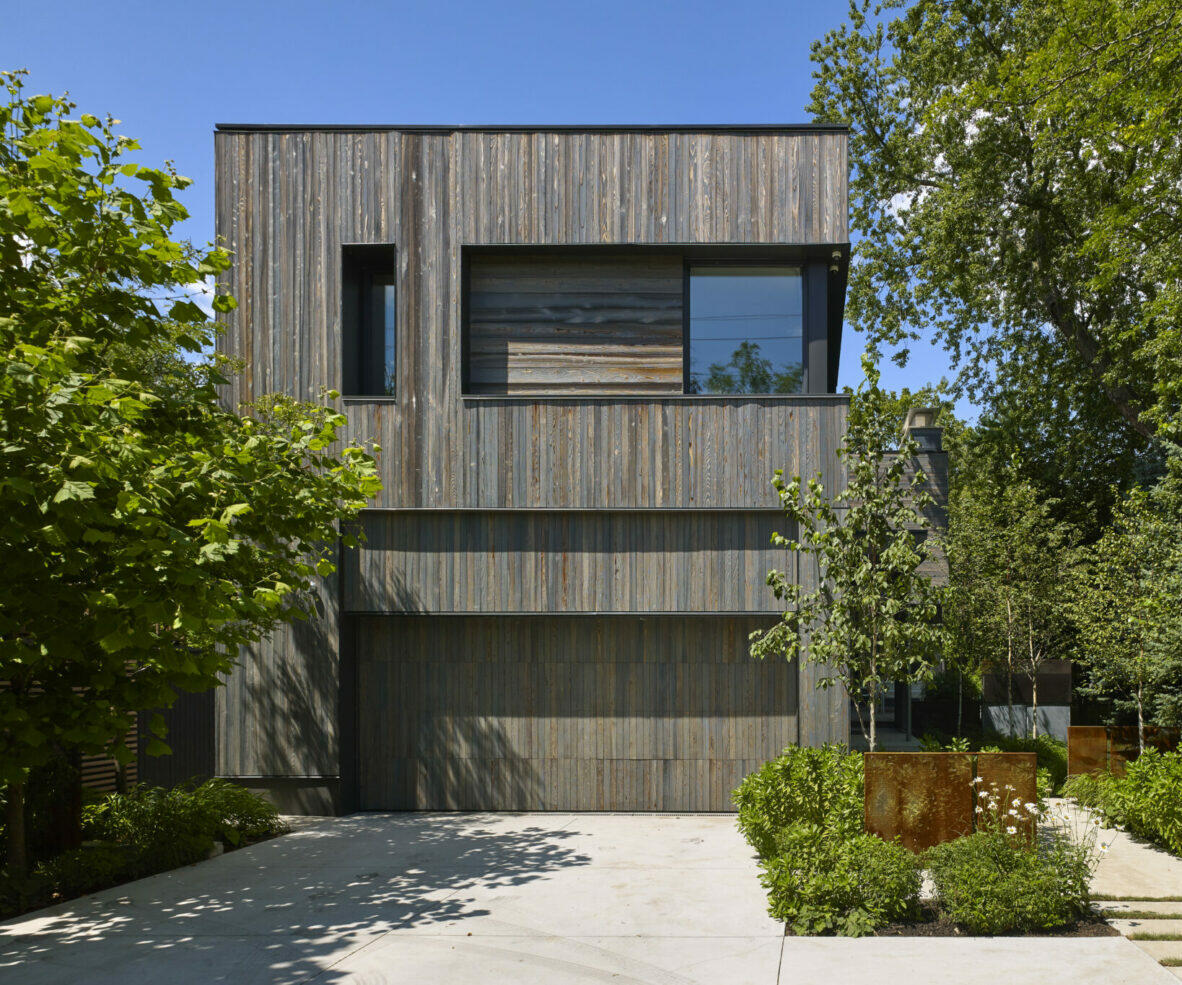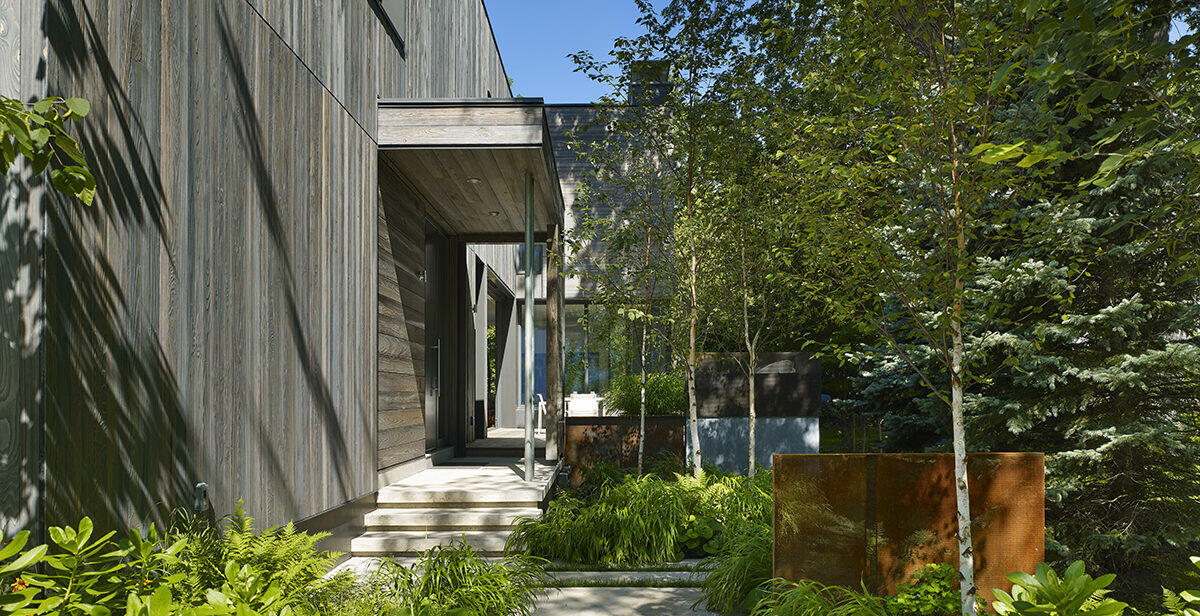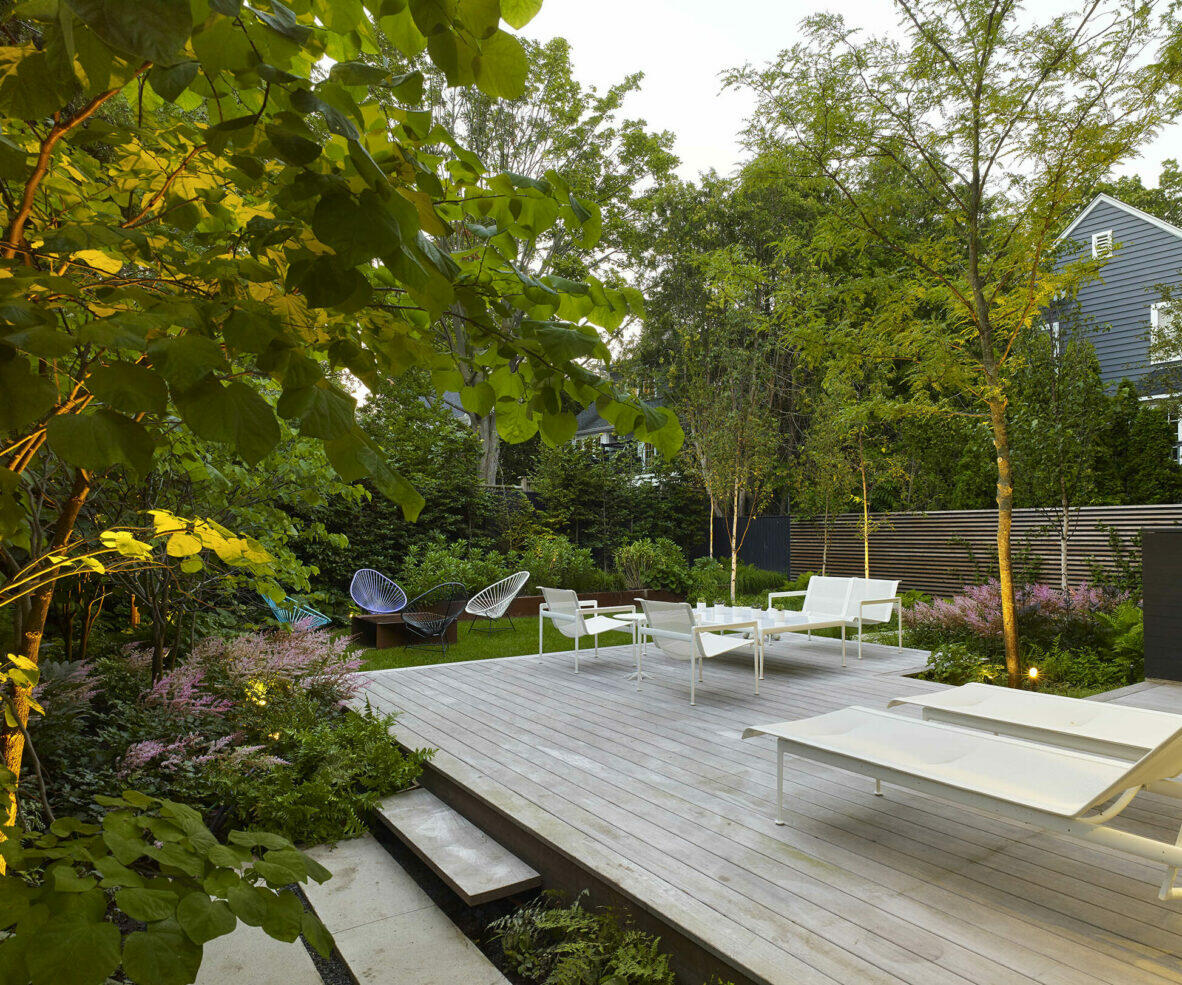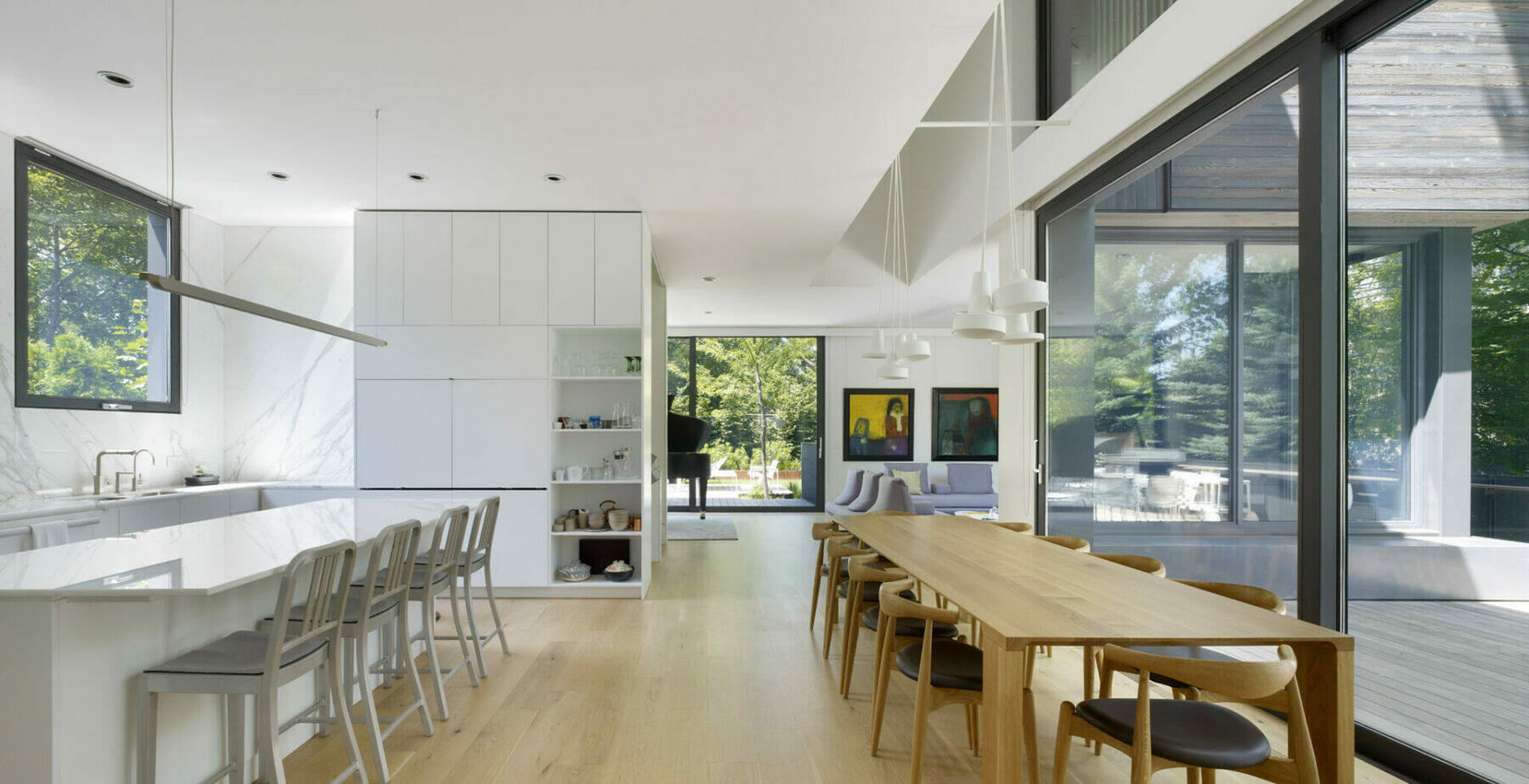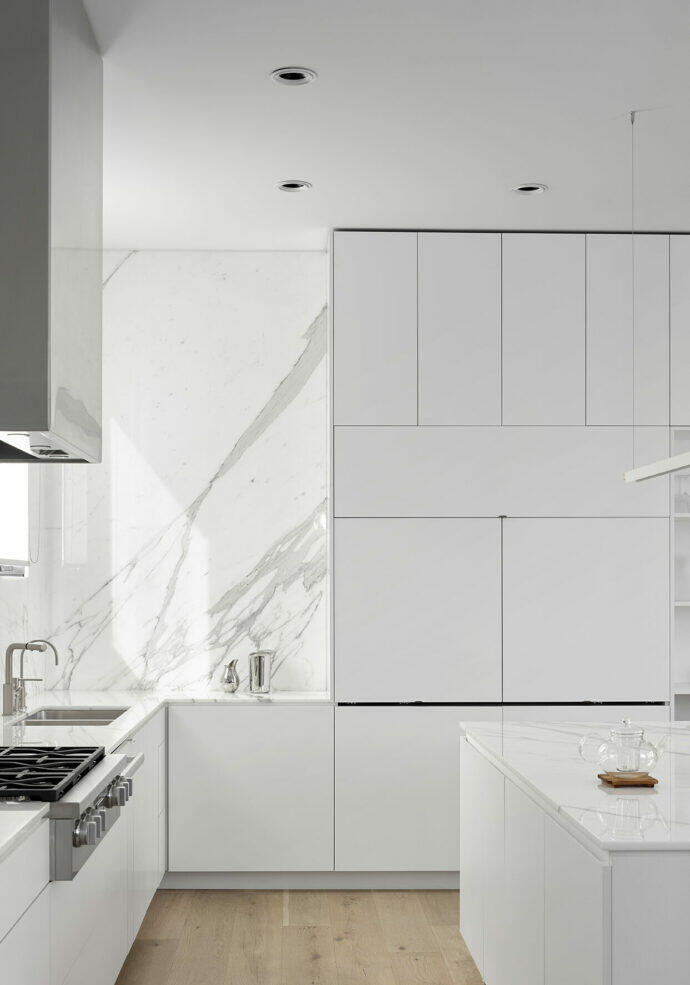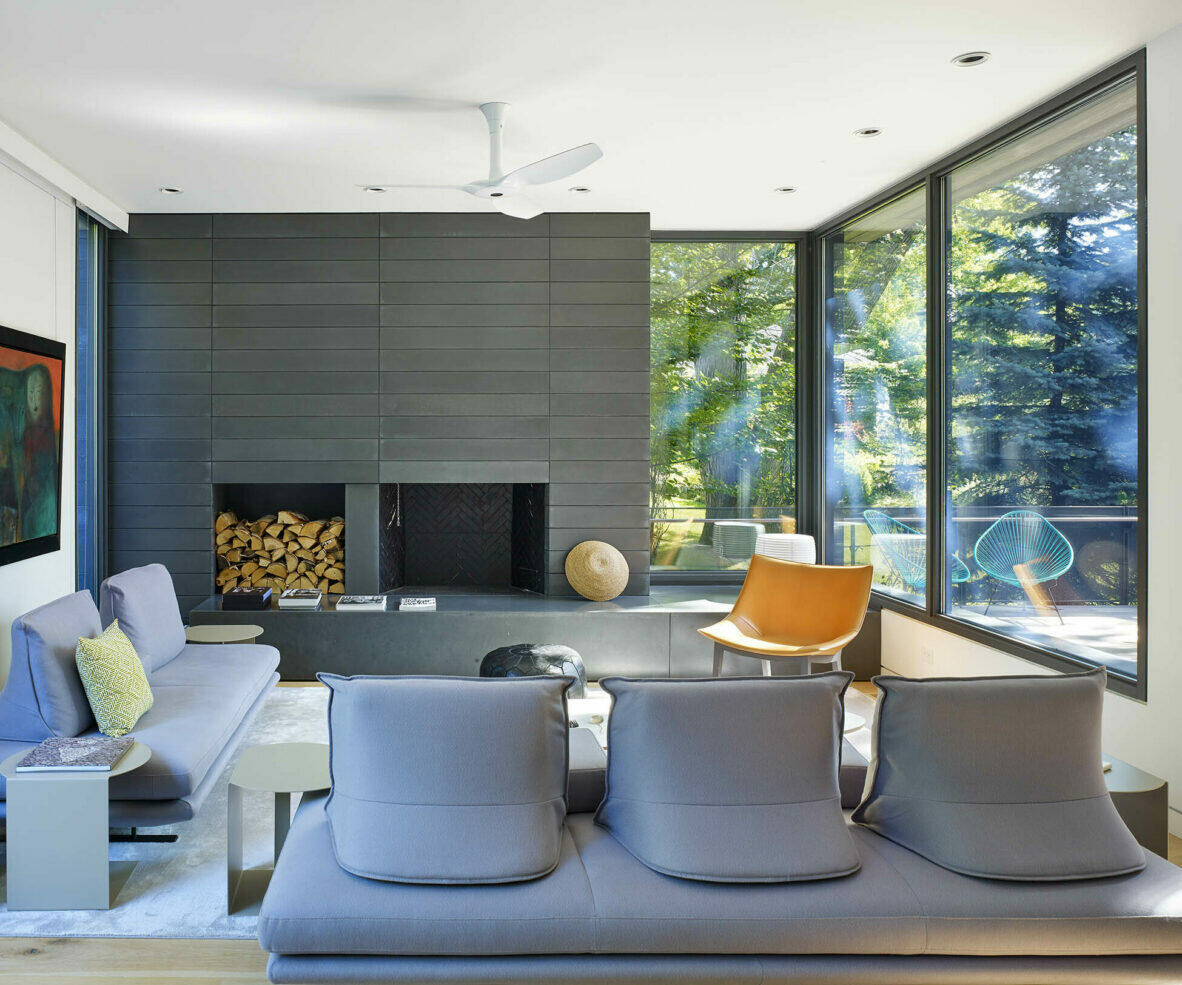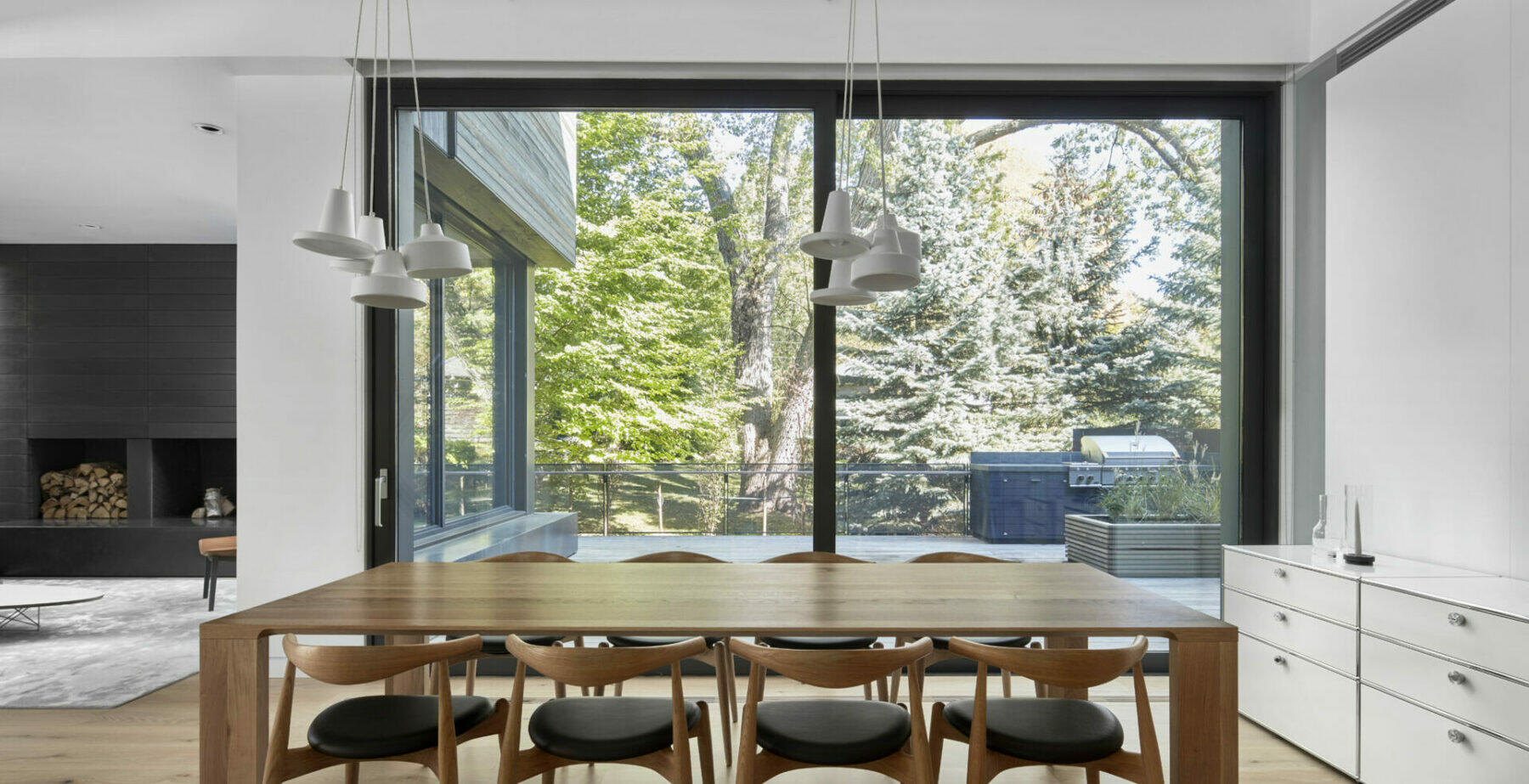 Located in Oakville, House in a Grove is a renovation and addition that retains the fabric and integrity of the property's original farmhouse while allowing the beauty of a contemporary new form to emerge. The connection between old and new is at once literal and metaphorical, establishing a dialogue within the site itself as well as with the larger Niagara Escarpment context.
The home nestles into its lot, giving precedence to the natural landscape through an amply fenestrated east elevation. A uniform cladding strategy of charred wood communicates an understated presence that integrates respectfully with the landscape; its colour and pronounced grain convey a texture and variegated quality that reflects the densely treed property. 
On the interior, a restrained material palette consists of white oak floors and millwork, white walls, brushed stainless steel handrails, and custom concrete panels in a deep charcoal that wrap the generously scaled fireplace. The kitchen features white lacquered millwork offset by countertops and a backsplash made from white marble with pronounced grey veins.
A striking linear form, the extension is clad in Corten steel panels and ipe wood siding, providing a rich counterpoint to the verdant landscape and echoing the deep red brick of the farmhouse. Framed in white oak on the interior and sapele on the exterior, the doors and windows are strategically placed: as apertures carved into the enclosure, they offer framed views out towards a garden, pond, forest, and rolling hills that extend far beyond the property's 17 acres.
Featuring 10-ft glazed openings and an open plan, the house encourages fluidity between interior and exterior spaces and continuity between the kitchen and dining areas and the outdoor courtyard deck. Off the living room, an additional deck faces the beautifully landscaped backyard, promoting even more active engagement with the natural attributes of the site. These discrete zones of activity encourage the inhabitants' continual exploration and discovery of special moments within and between both home and nature.
We prioritized a robust natural lighting strategy throughout every floor of the home. A double-height atrium rises above the dining room, and the adjacent window wall encourages light to flood both the first and second floors. Adjacent to a sunken walk-out patio featuring an outdoor shower off the guest bedroom, the basement-level garden suite is likewise bright and airy.
The two-storey, five-bedroom house is efficiently designed to maximize opportunities for natural light, engaging site and landscape through the provision of a generous courtyard and two outdoor decks. Respecting the footprint of the previous house, the home features setbacks that accommodate an underground water course and meets stringent requirements related to municipal stormwater management. 
Images: Shai Gil, Tom Arban
Team
Halsall Associates (Structural), Excel Heating & Air Conditioning (Mechanical Design), Bowser Technical Inc. (Mechanical Quality Assurance), Fabian Papa & Partners (Civil), Fox Whyte Landscape Architecture & Design (Landscape), Derek Nicholson (Contractor)