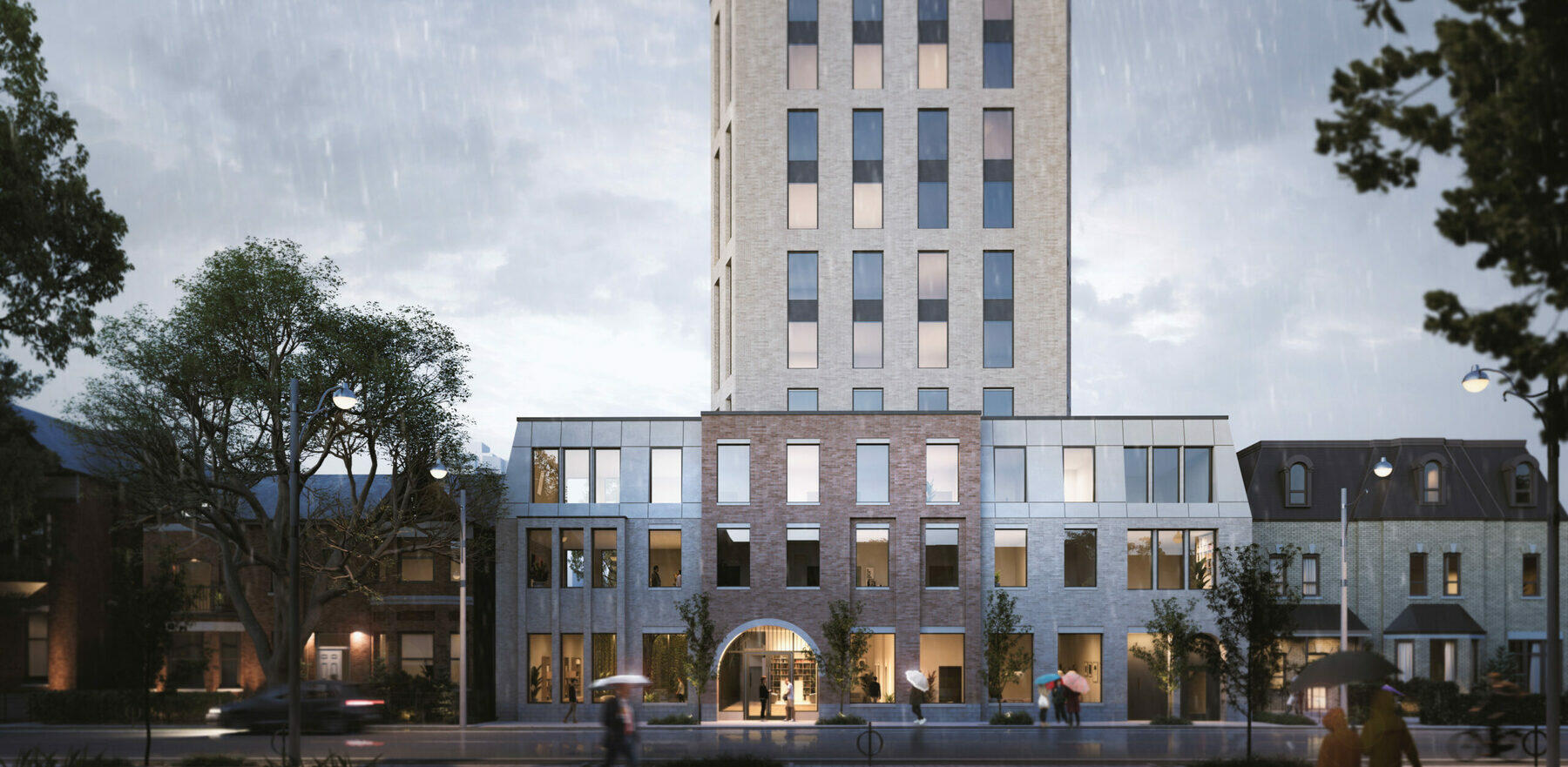 Taking its aesthetic cues from the neighbourhood's historic context, this new ten-storey student residence meets robust sustainability targets and provides amenities conducive to contemporary study, living, and community.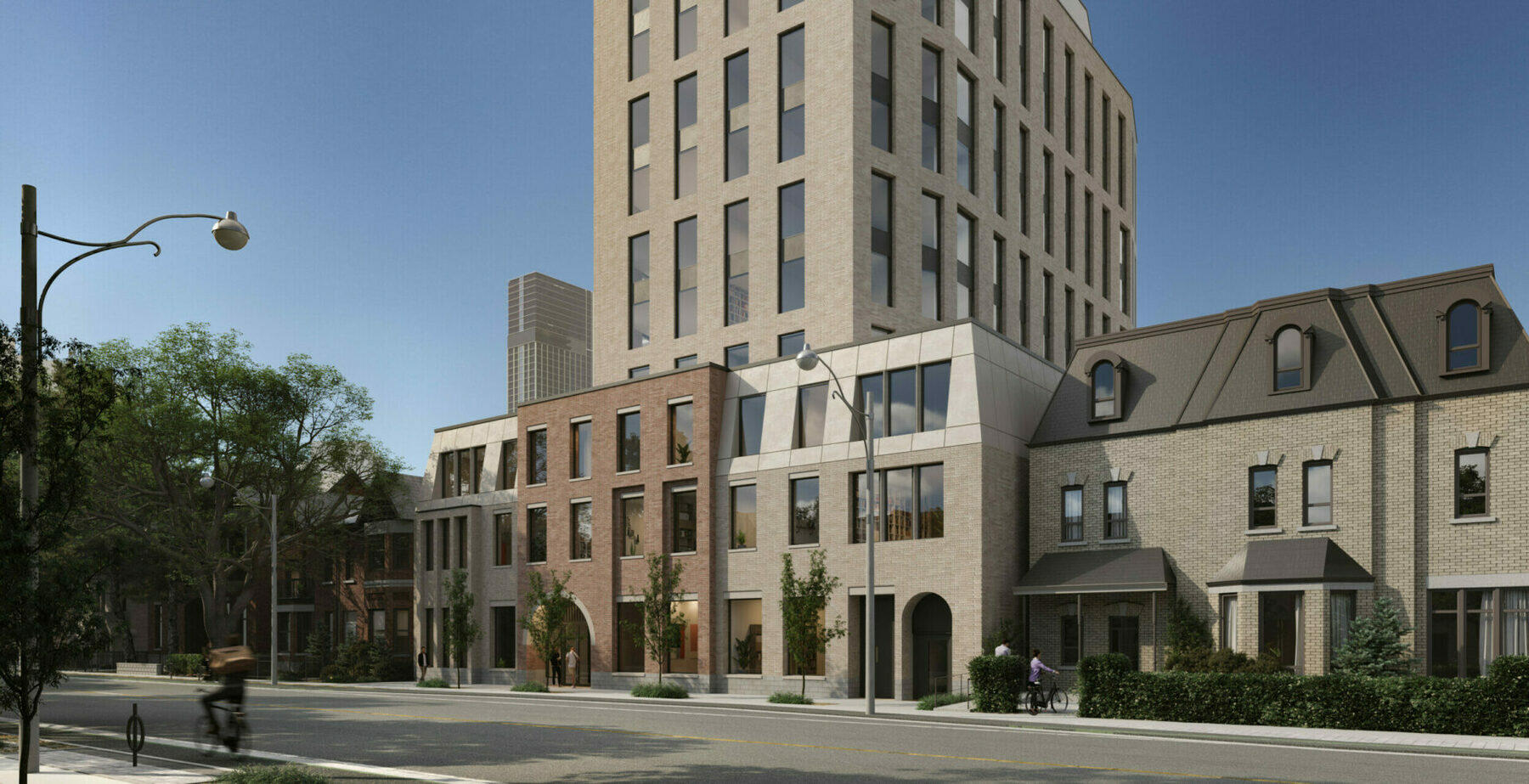 HOEM2 is a new purpose-built, ten-storey student residence commissioned by MPI Group to serve the larger community of post-secondary students attending school downtown, and graduate students in particular.
Located just south of Toronto's Allan Gardens in a heritage district characterized by low-rise buildings, HOEM2 offers a modern reinterpretation of the surrounding built context to provide 21st-century amenities that facilitate contemporary student lifestyles. The podium, which accommodates three levels of residential units and amenity areas with access to outdoor terraces, features a façade that integrates heritage cues using a subtle and respectful contemporary language.
Because the development requires building tight to the lot lines, our design team was challenged to recuperate as much natural light and outdoor space as possible within the confines of the structure itself. By carving out a notch on the south side of the ground floor, we integrated an interior courtyard, clad on one side by a green wall, that is open to the sky and brings light deep into the main level. The scheme ultimately creates sightlines that run the length of the entire ground floor, from the windows that line Sherbourne Street right through to the courtyard at the rear.
Residential units were designed with the efficacy of sailboat living quarters in mind. Everything is thoughtfully positioned — beds, desks, shelves, closets, kitchens, bathrooms, large windows — to optimize space and maximize experience. We prioritized the creation of a tenant-focused atmosphere that encourages spontaneous interactions as well as quiet contemplation. From furniture layouts for informal gathering, to ample outlet locations and acoustical considerations, to greenery and outdoor access, our design anticipates the gamut of lifestyle needs. Students will also enjoy a range of amenities, including a gym, rooftop study lounge and BBQ, coworking space, laundry room outfitted with study carrels, screening and games room, conference room, various living rooms, and bike storage. 
Our sustainability targets will meet or exceed the Toronto Green Standards Tier 2 Version 3 (TGS2 V3), which mandates building energy performance that exceeds the Ontario's Building Code requirements by 25% (at minimum) and low-to-zero greenhouse gas emissions. The design incorporates a high-performance envelope with increased insulation, premium Energy Recovery Ventilators (ERV), and enhanced construction detailing to achieve optimal air tightness, increased stormwater retention via green roofs, and reduced heat island effects.
Images: MOT+ Superkül
Type
Multi-unit + Mixed-Use
Team
Fabian Papa & Partners (Electrical), NAK Design Strategies (Landscape), ERA Architects (Heritage), Bousfields Inc (Planning), LEA Consulting (Traffic)