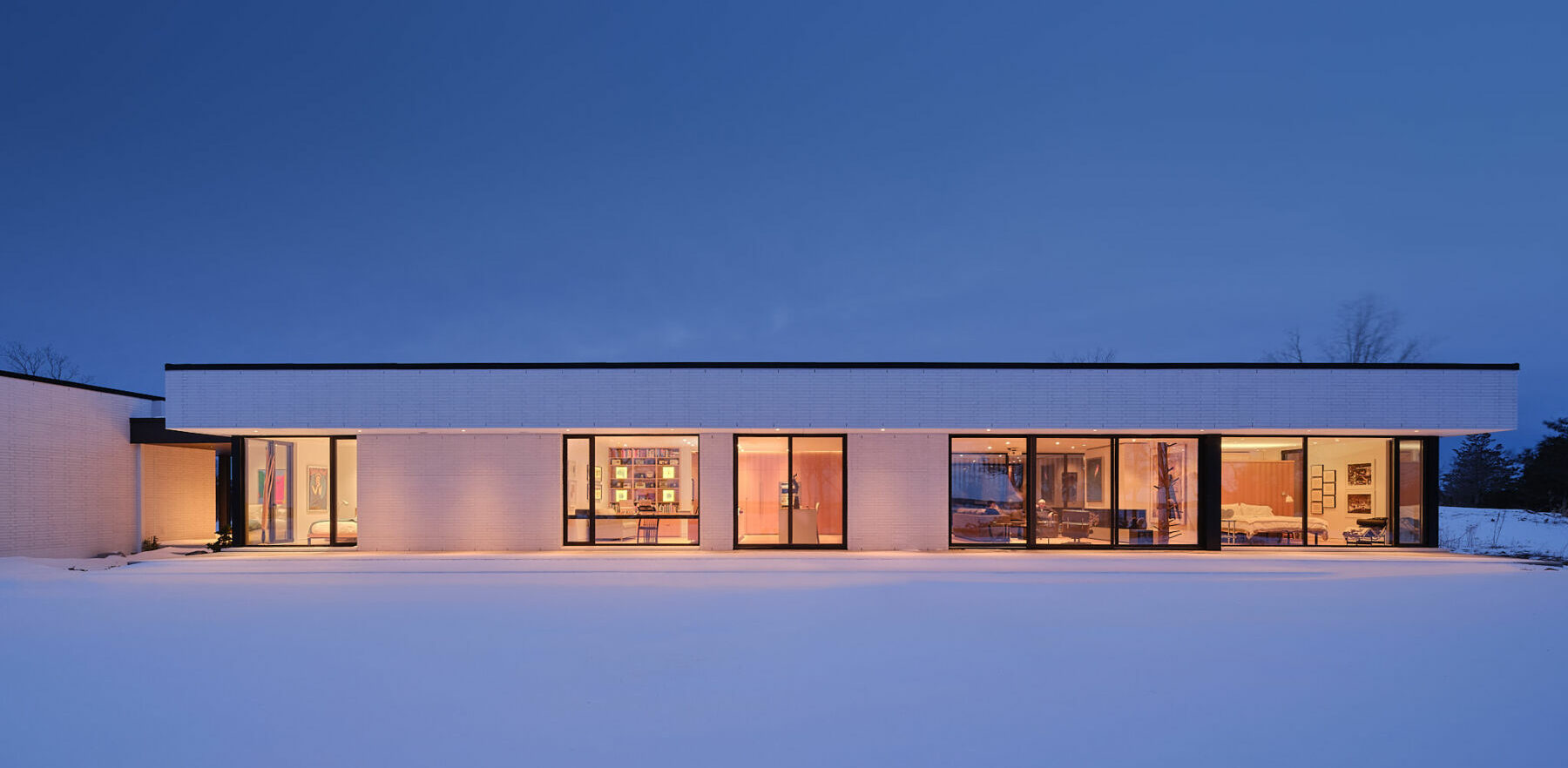 Snug to the land with expansive views to Lake Ontario, this Prince Edward County home hides in plain sight, its deceptively straightforward modernist proportions inviting continuous discovery and communication with the elements.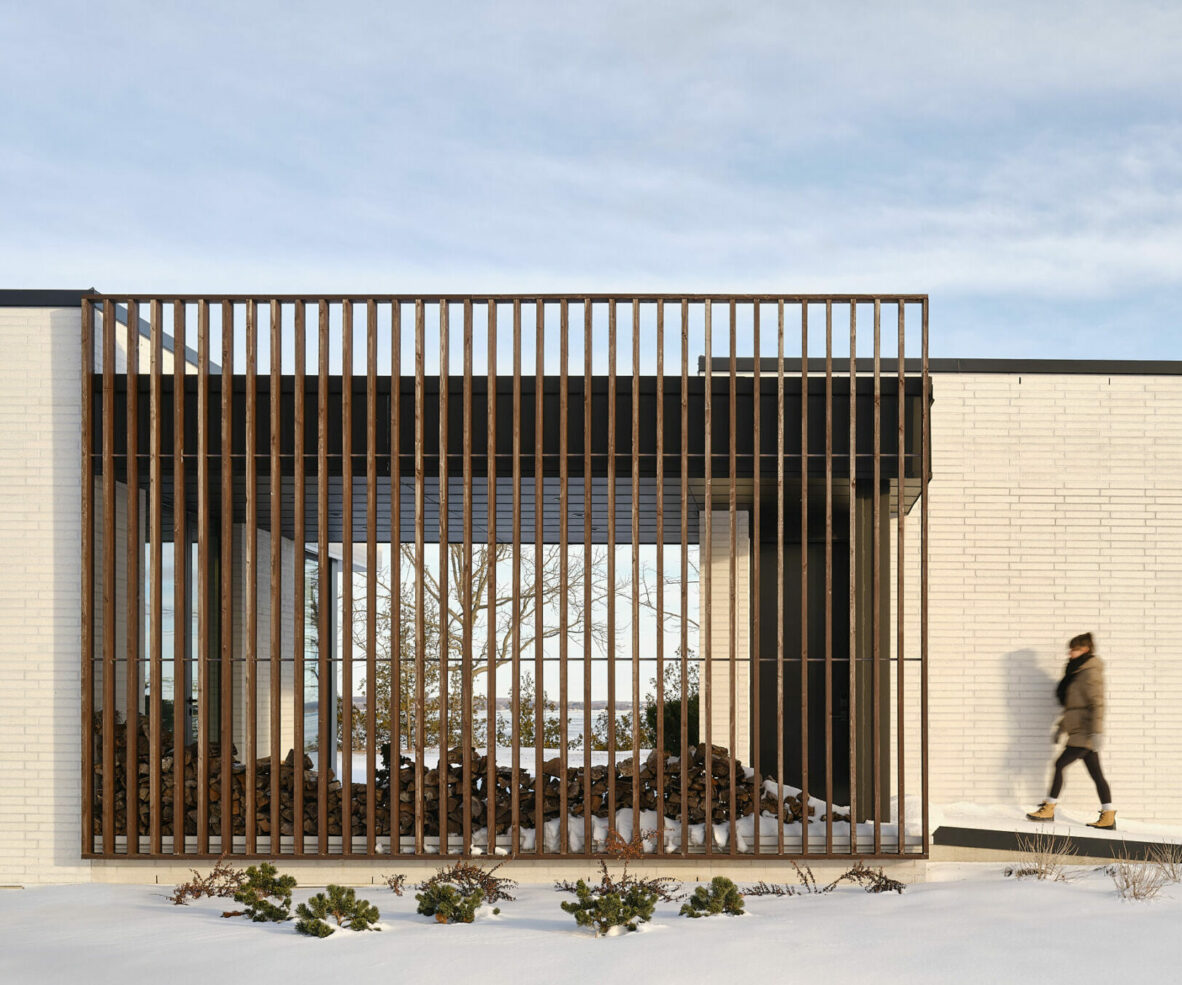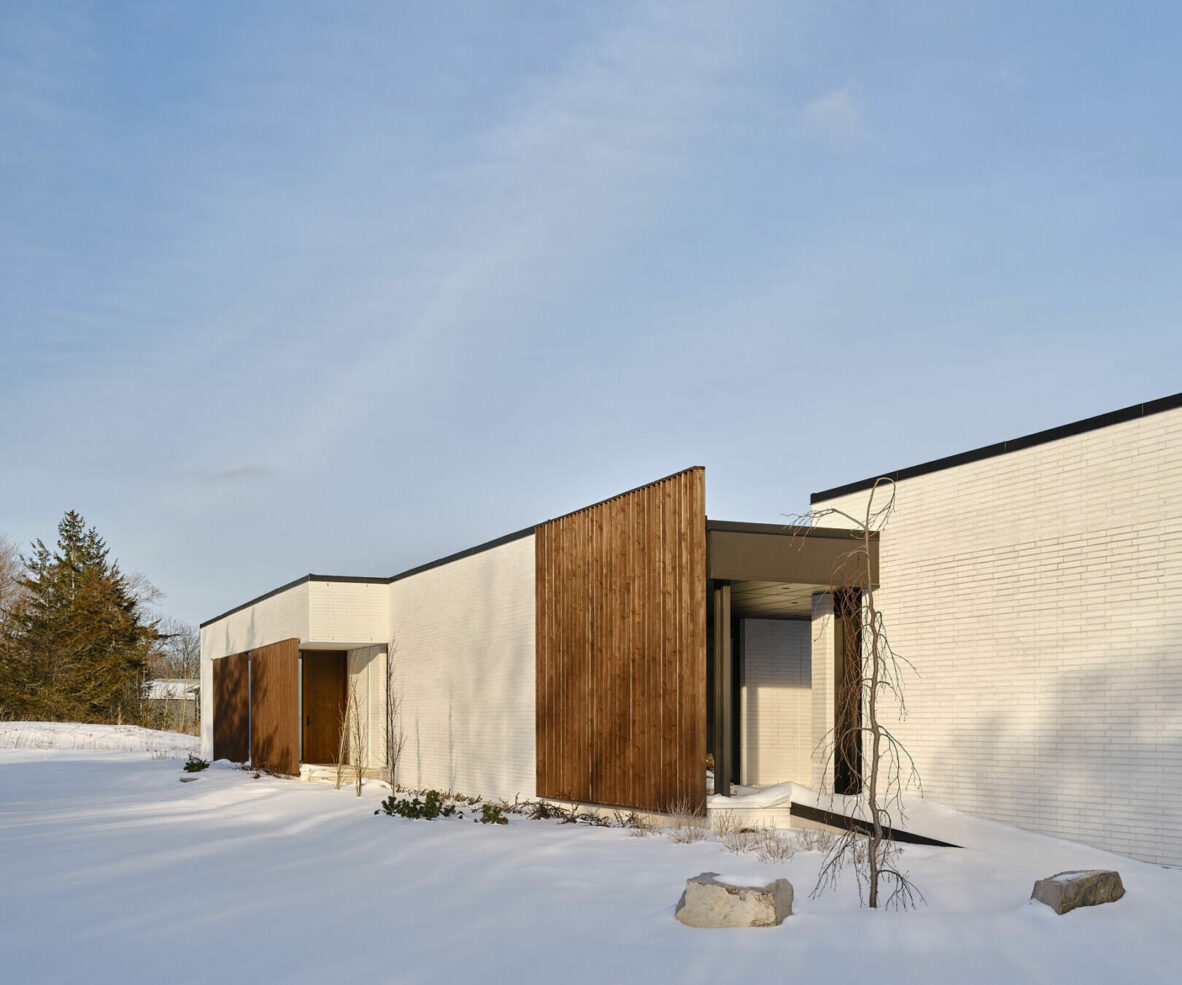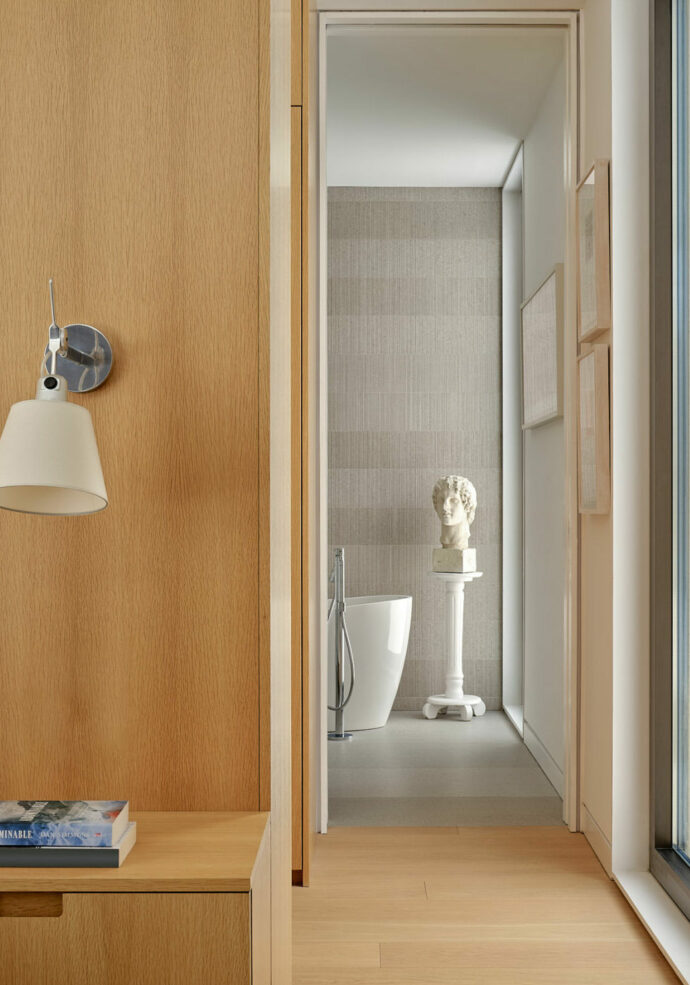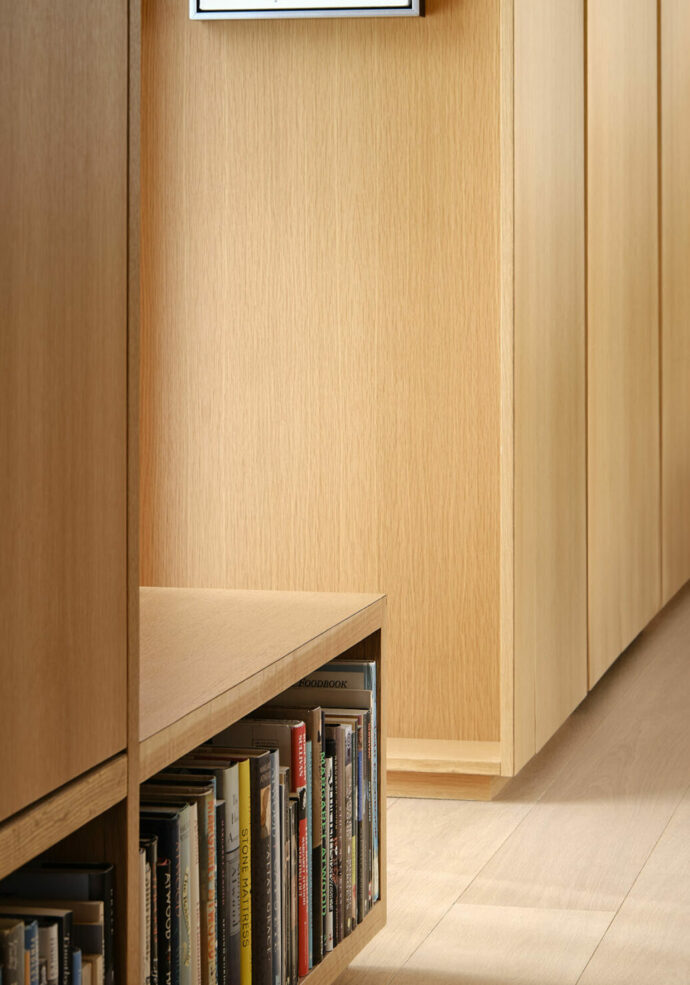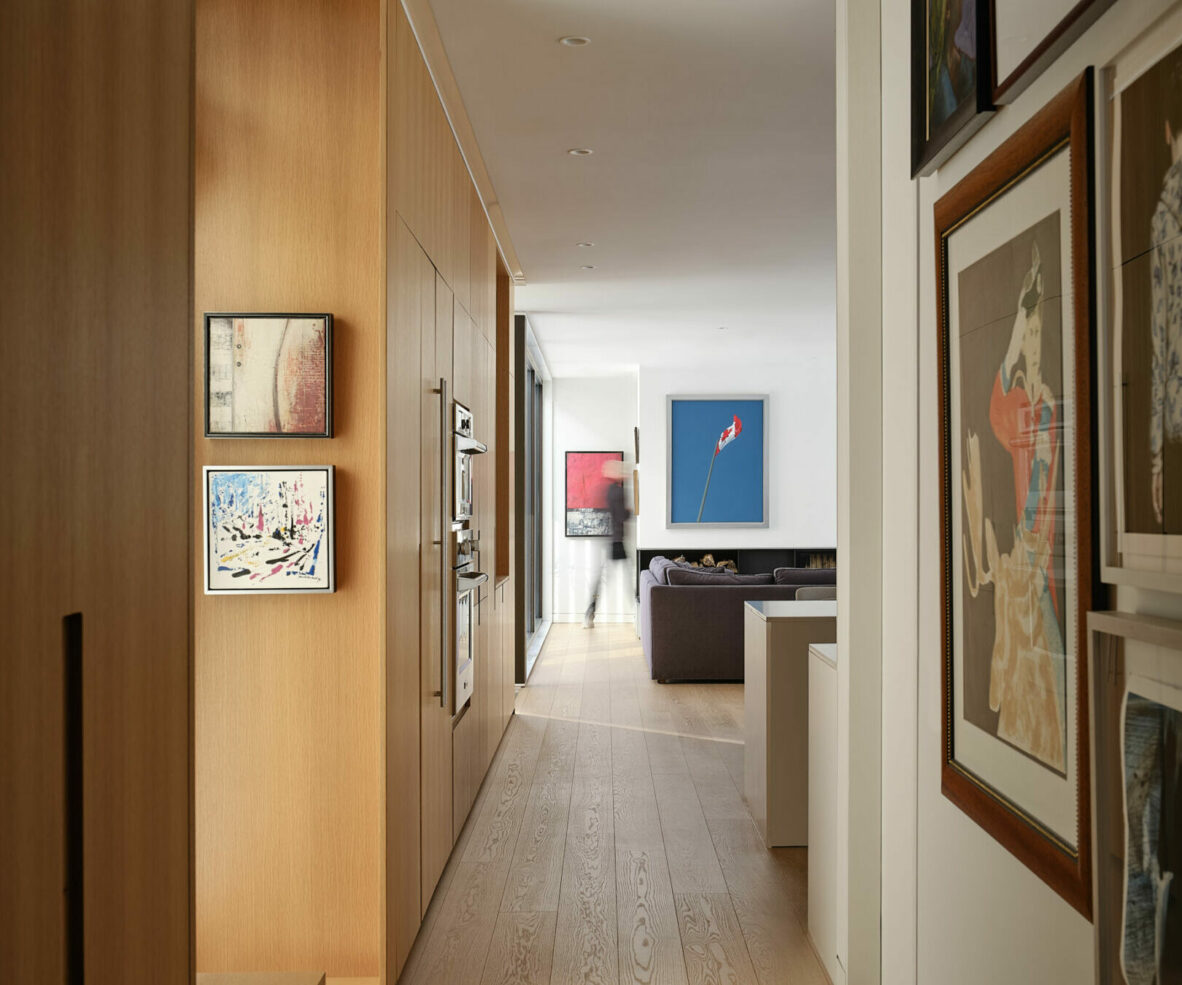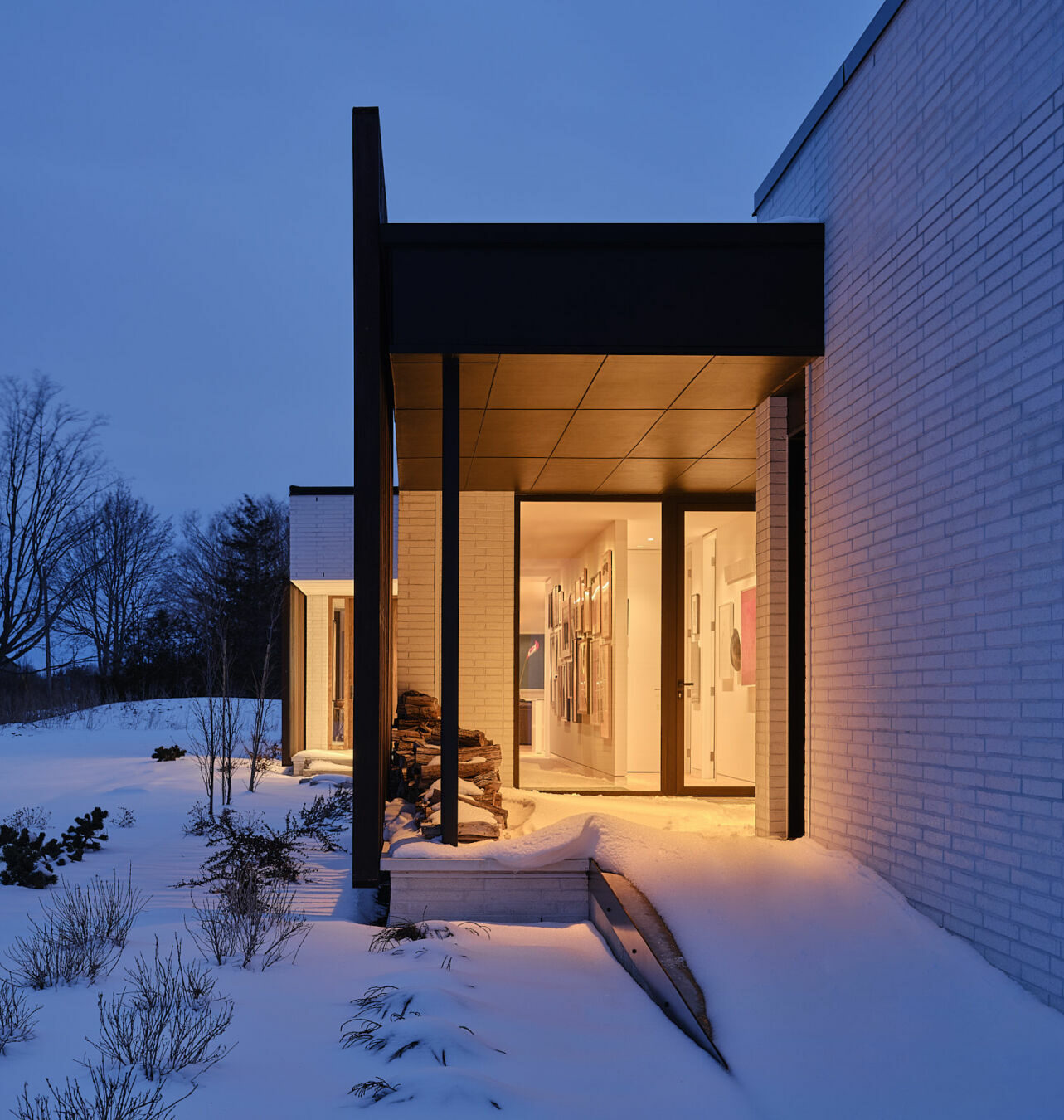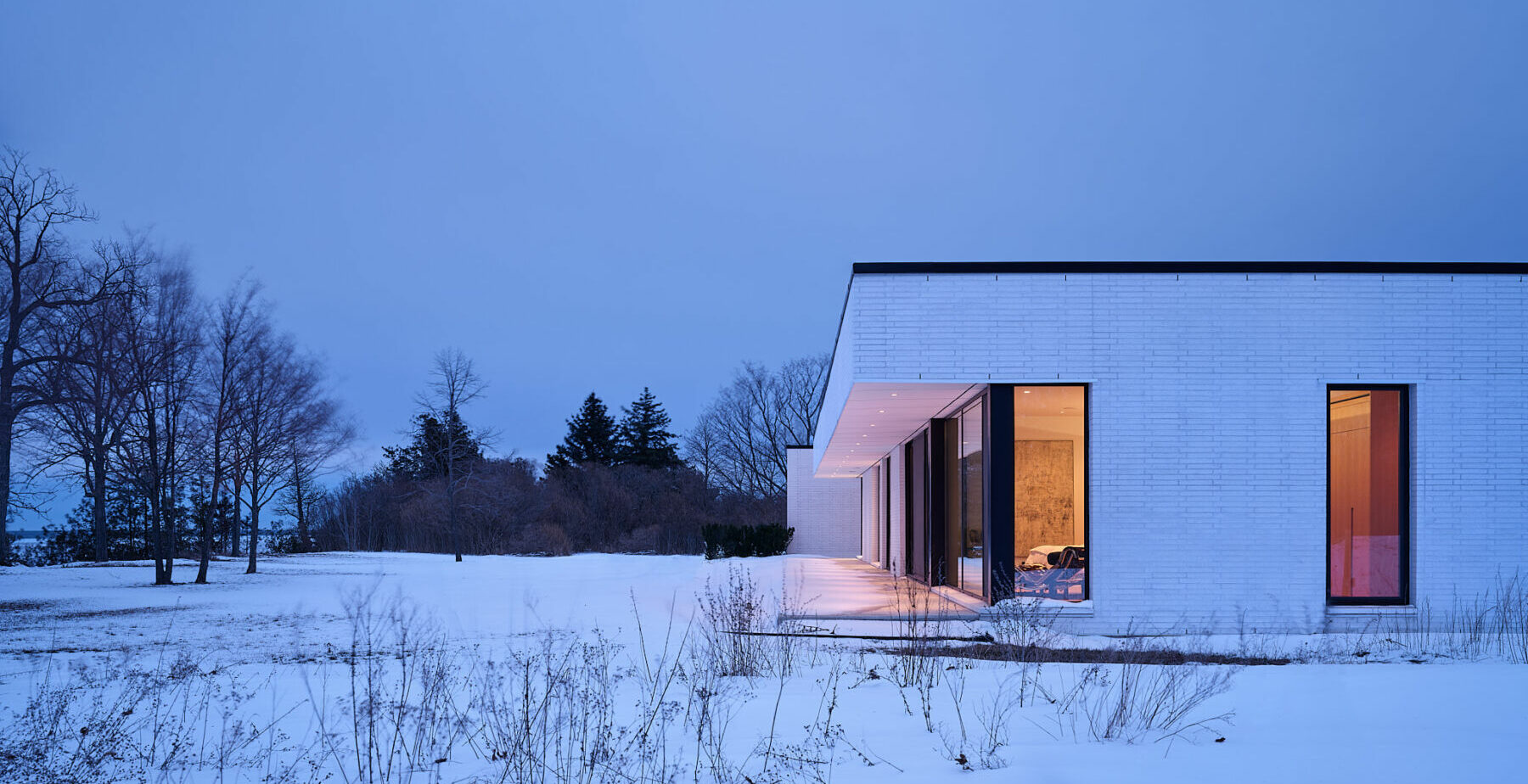 Bluff House is named as much for its cliffside topography as its beguiling design. Low-slung and linear in form, mirroring the long and narrow piece of land upon which it sits, the milky white single-storey home is as forthright as it is intriguing.
From the road, the structure appears monolithic, refusing to disclose any programmatic details and eclipsing the lake that lies beyond. Inky steel trim traces the rectilinear contours of the white exterior, creating a simple and elegant frame around the brick structure that coordinates with the dark bronze anodized finish of the aluminum window casings. Two sets of vertically slatted wood screens on the south-facing side of the house offer a tonal contrast and visual counterpoint to the horizontal concrete masonry. Paying formal and material homage to the surrounding trees, the slats help moderate solar gain and protect the courtyard that sits between the garage and the house. They also strategically sheathe the front door as well as the secondary entrance from the garage, creating partially enclosed passageways that camouflage both points of entry. 
Once inside, the house enacts a progressive unfolding, by turns contracting and expanding to unveil more of itself — and its vistas — even as certain areas and perspectives remain partly eclipsed or just out of sight. Guests cross the threshold into the home through a vestibule that places them in media res or "in the middle of things," that is, directly into the central action where the communal spaces — living room, dining area, and kitchen — all converge. 
The interior choreography prioritizes flow, efficiency, and comfort, with rooms that are designed to feel both spacious and intimate. Although the program is linear, the home is configured to promote exploration while maintaining distinctions between spaces for congregation and those for refuge. Sleeping quarters bookend each side of the house: the principal bedroom and bathroom are tucked behind the fireplace wall on the west, whereas the office and guest room sit behind the kitchen, filling out the eastern section of the residence. The north face of the house features uninterrupted glazing that faces the lake and a deep overhang that offers a protected vantage point from which to contemplate the views and host al fresco meals in the warmer months. 
The secondary entrance gives way to what is affectionately referred to as "gallery hall" — a corridor expressly conceived for showcasing artworks. Avid collectors of art, books, and vintage objects, our clients were keen to use walls and open cabinets for informal display, without incurring clutter or compromising the floor-to-ceiling panoramic views. We designed the custom white oak millwork to both reveal and conceal, multiplying surfaces for exhibition and maximizing opportunities for discrete storage across the home, as well as delineate space across the one-storey layout.
Images: Doublespace
Location
Prince Edward County, ON
Team
Kieffer Structural Engineering (Structural), Bowser Technical Inc. (Mechanical), McGrath + Cubit (Millwork)