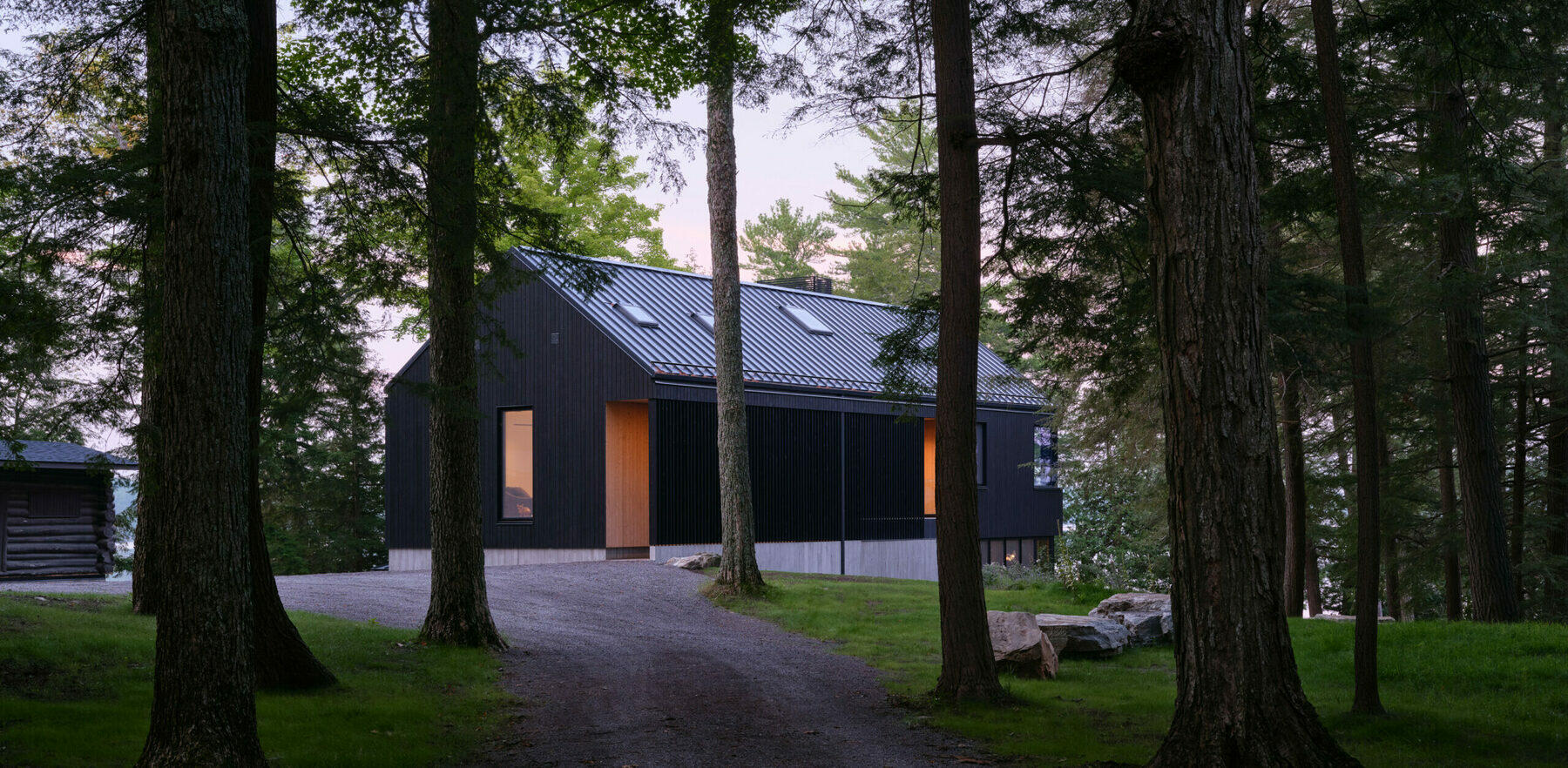 Nestled into the edge of the Canadian Shield, Birdhouse aspires to a purity of form whose power lies in flawless proportions, monochromatic materials, and exquisite modesty.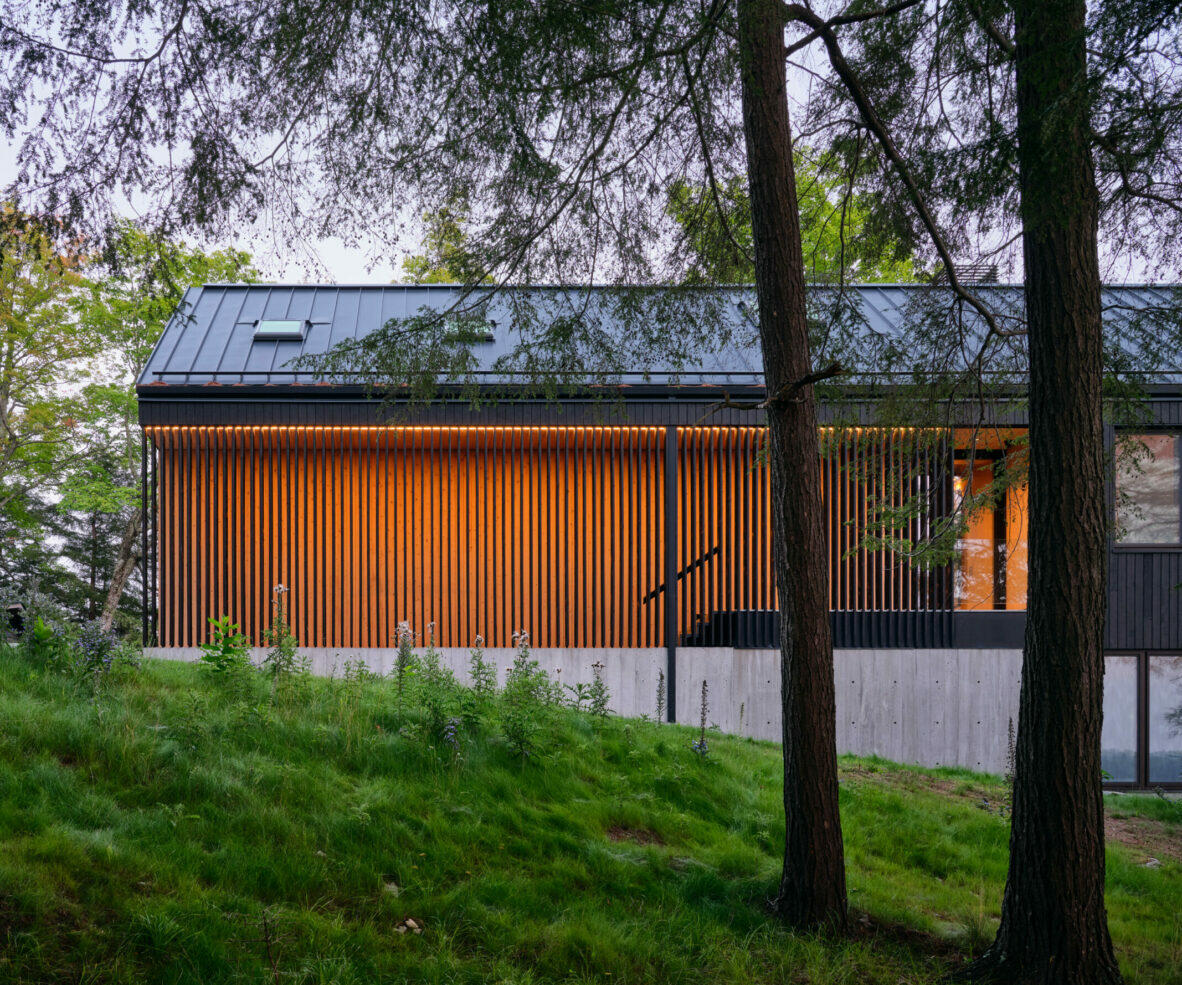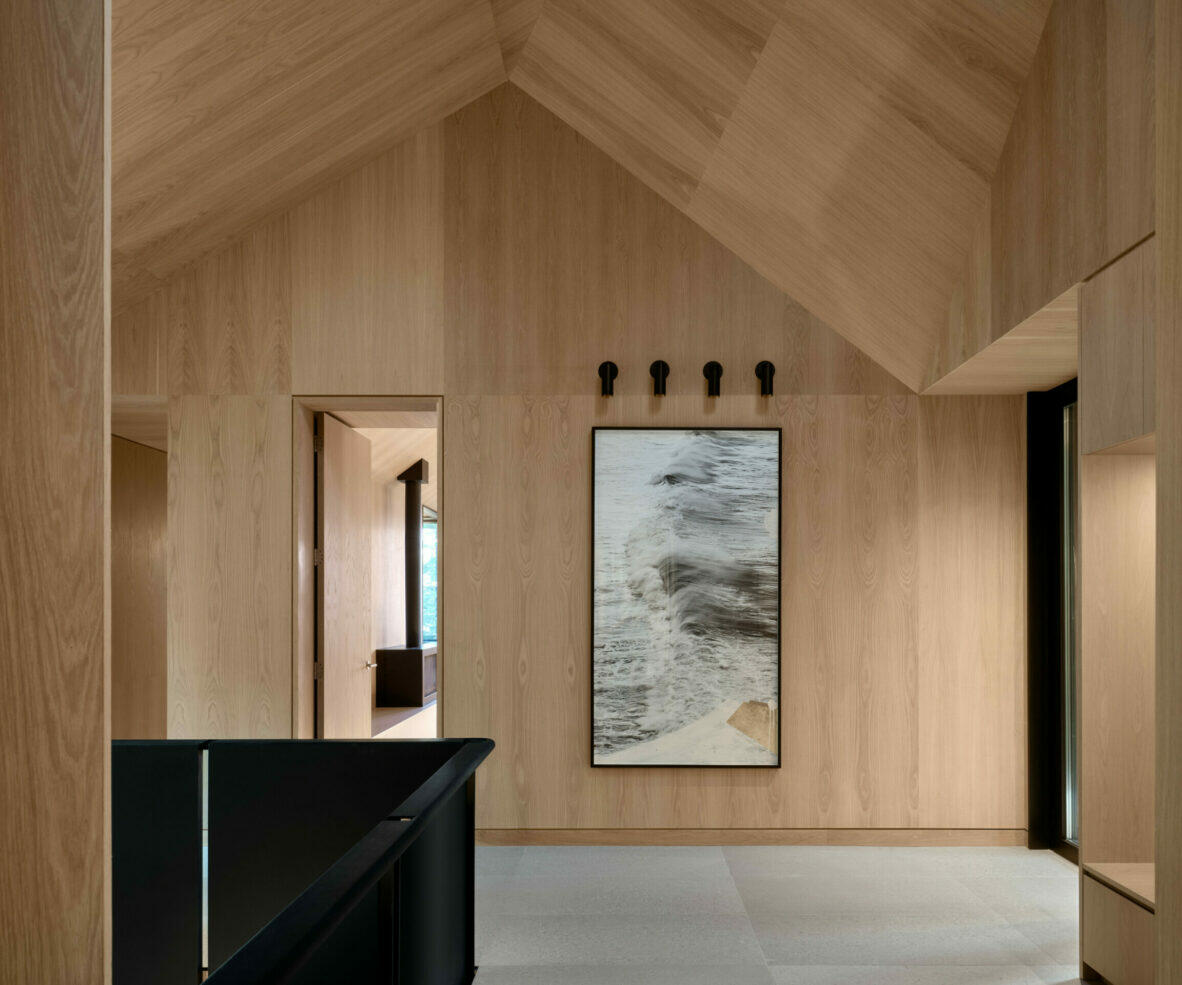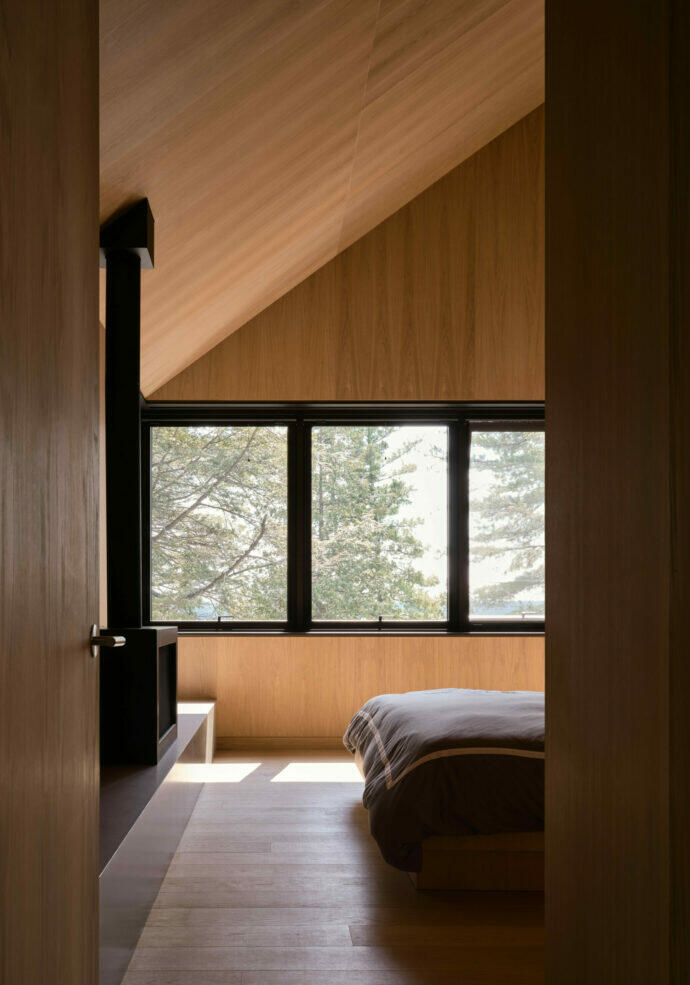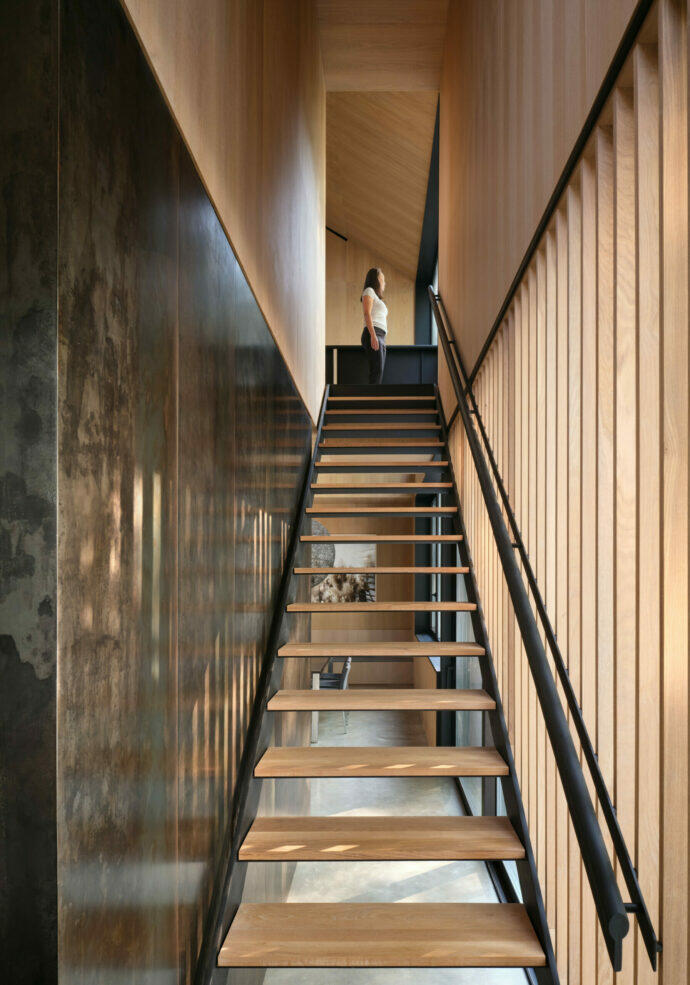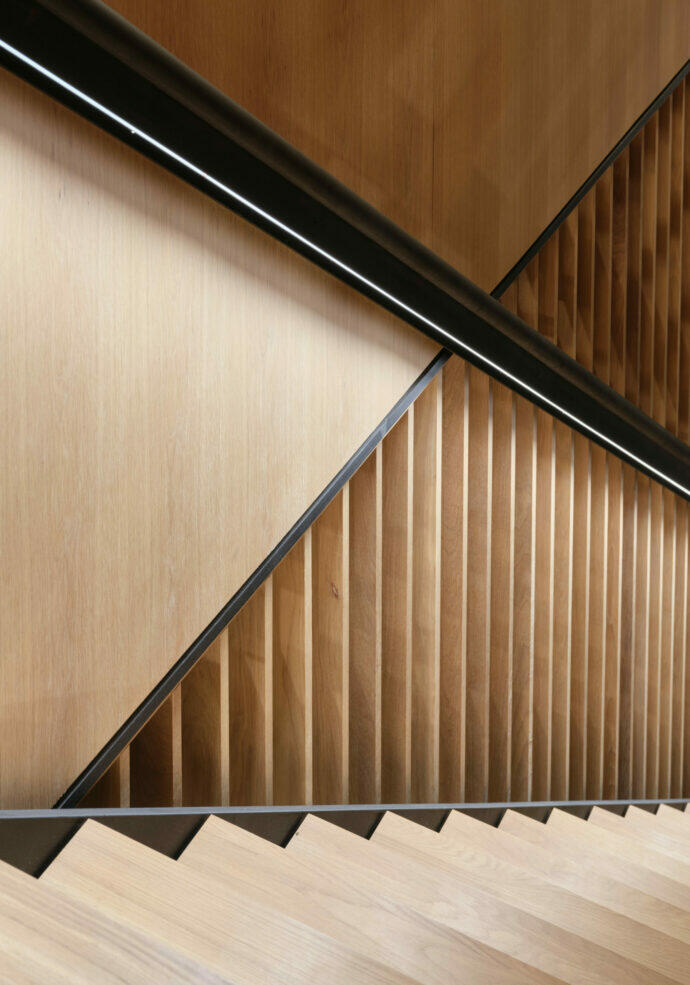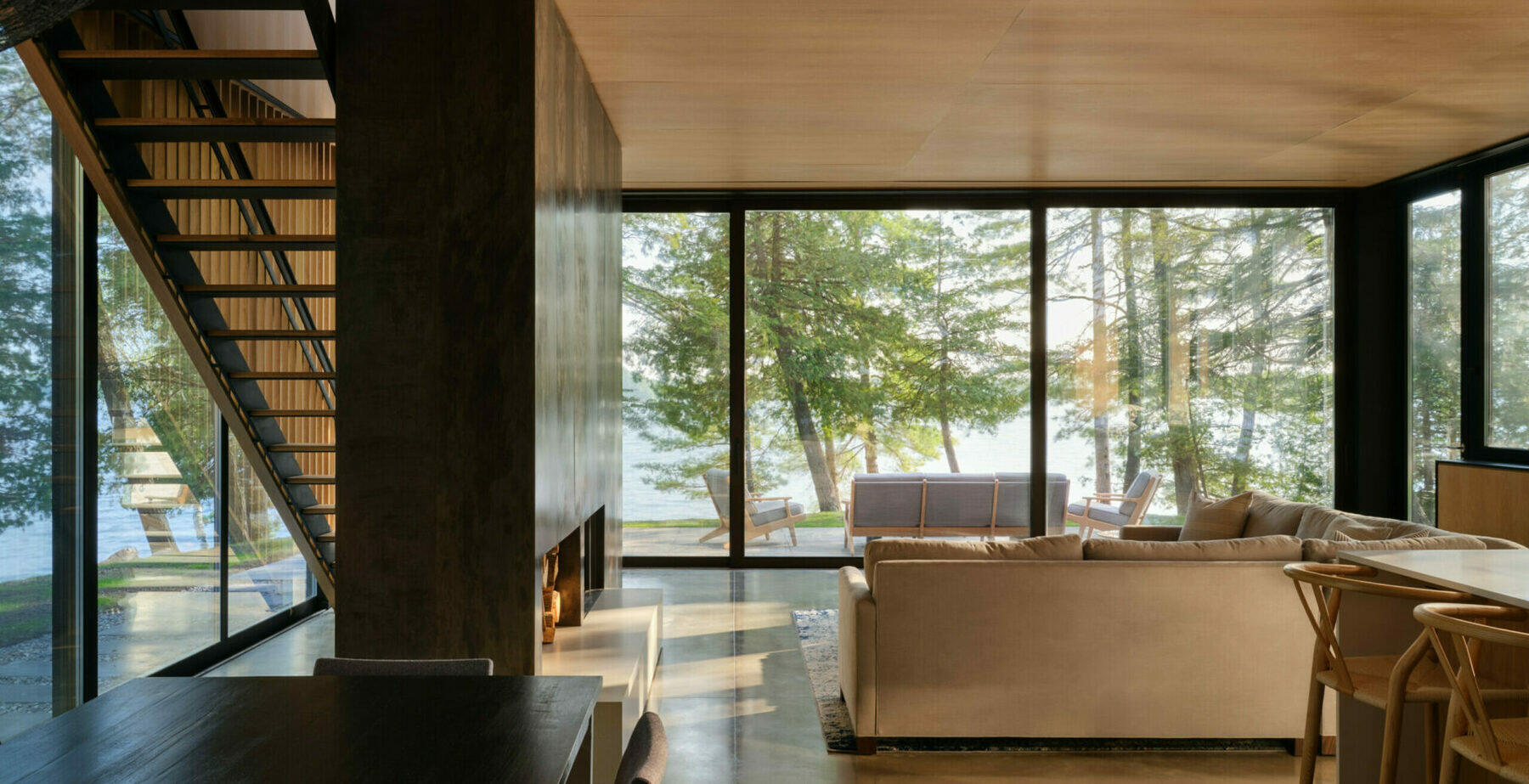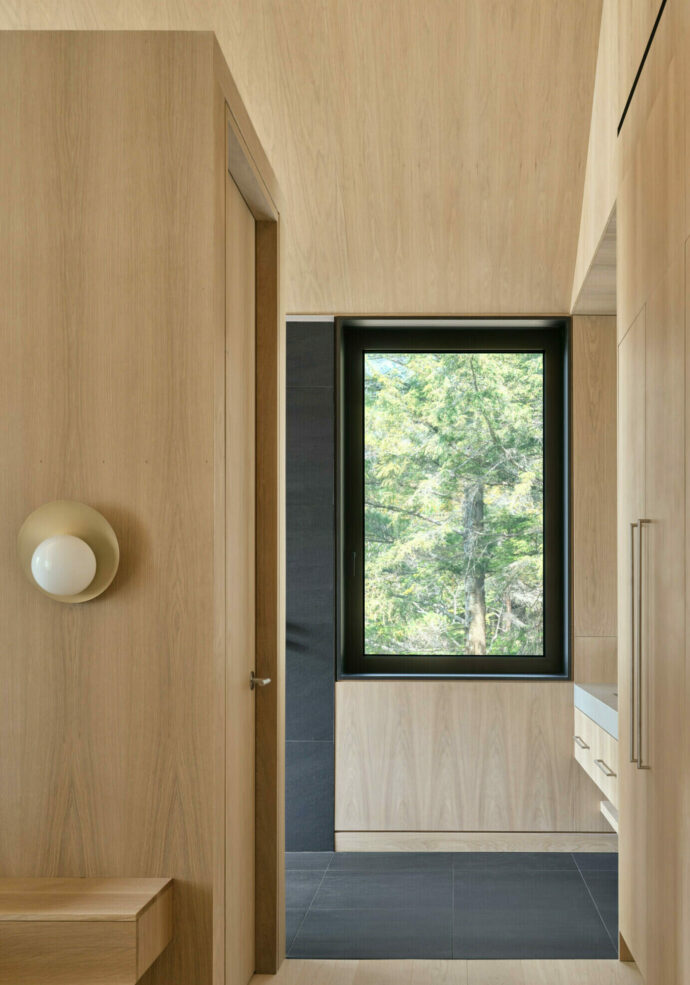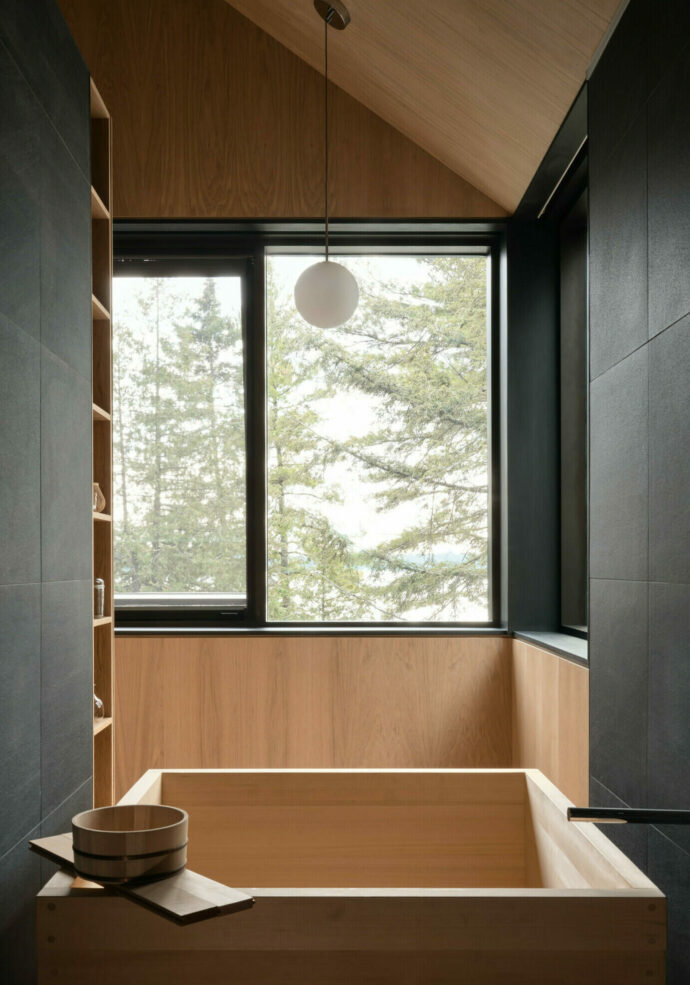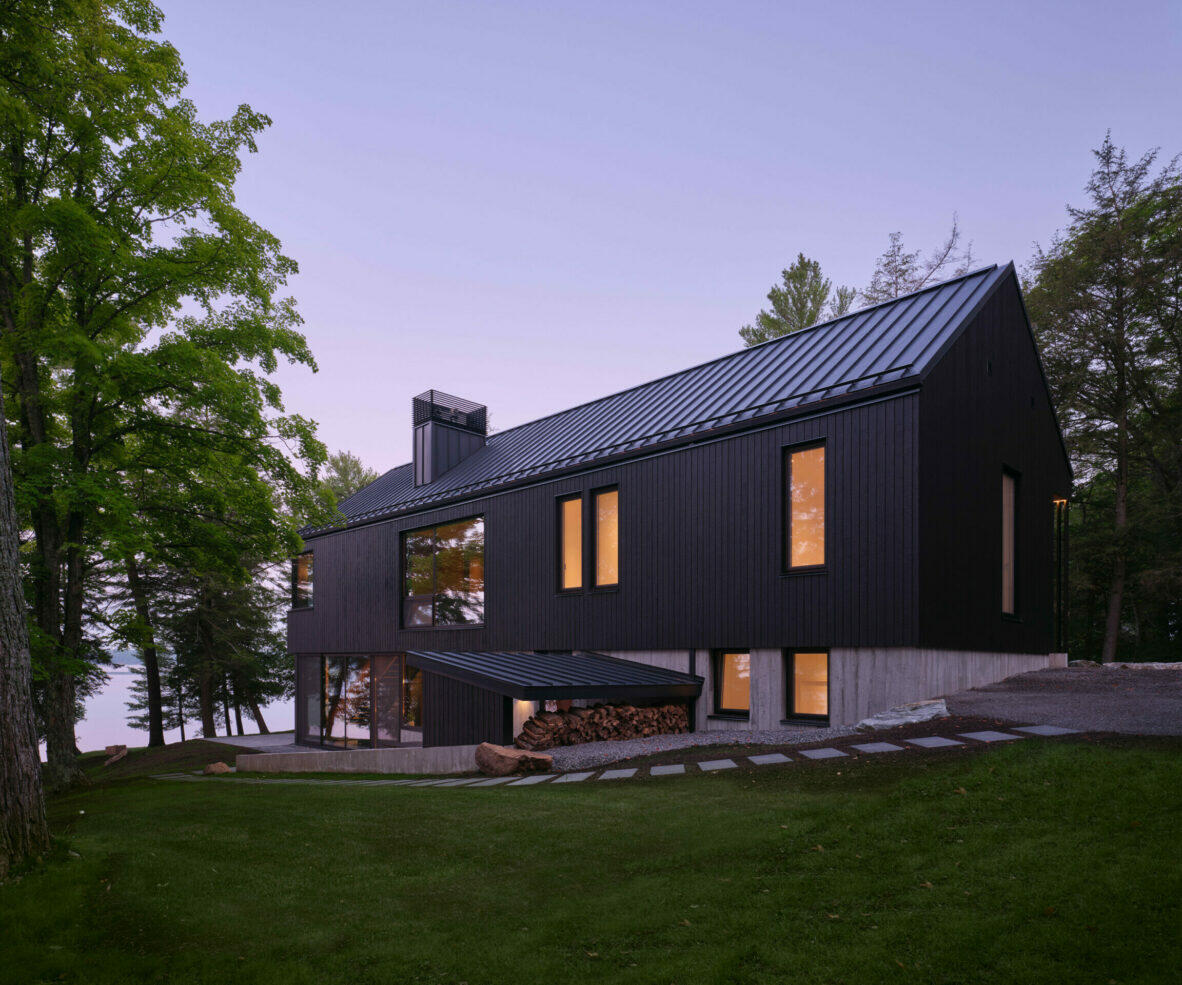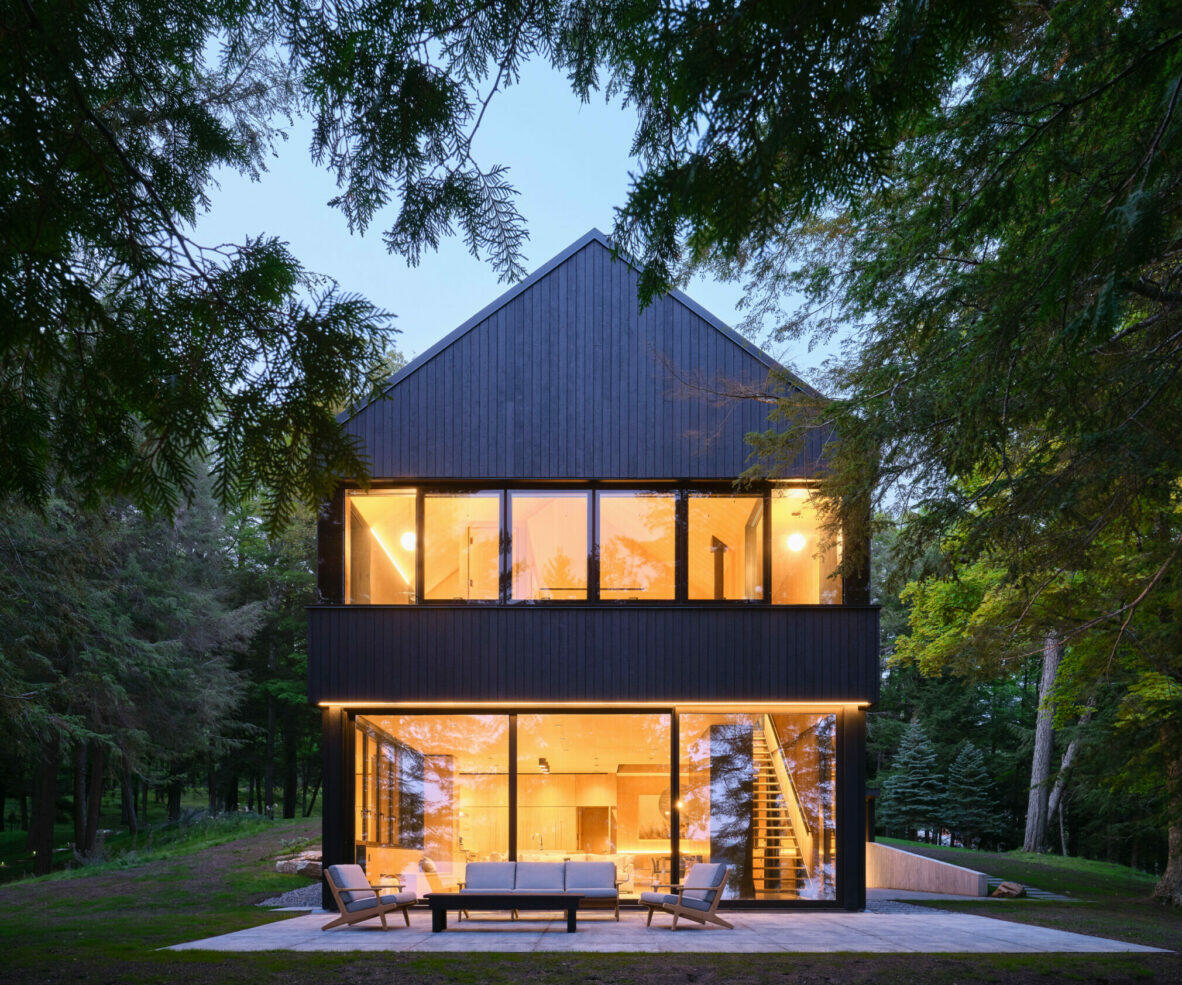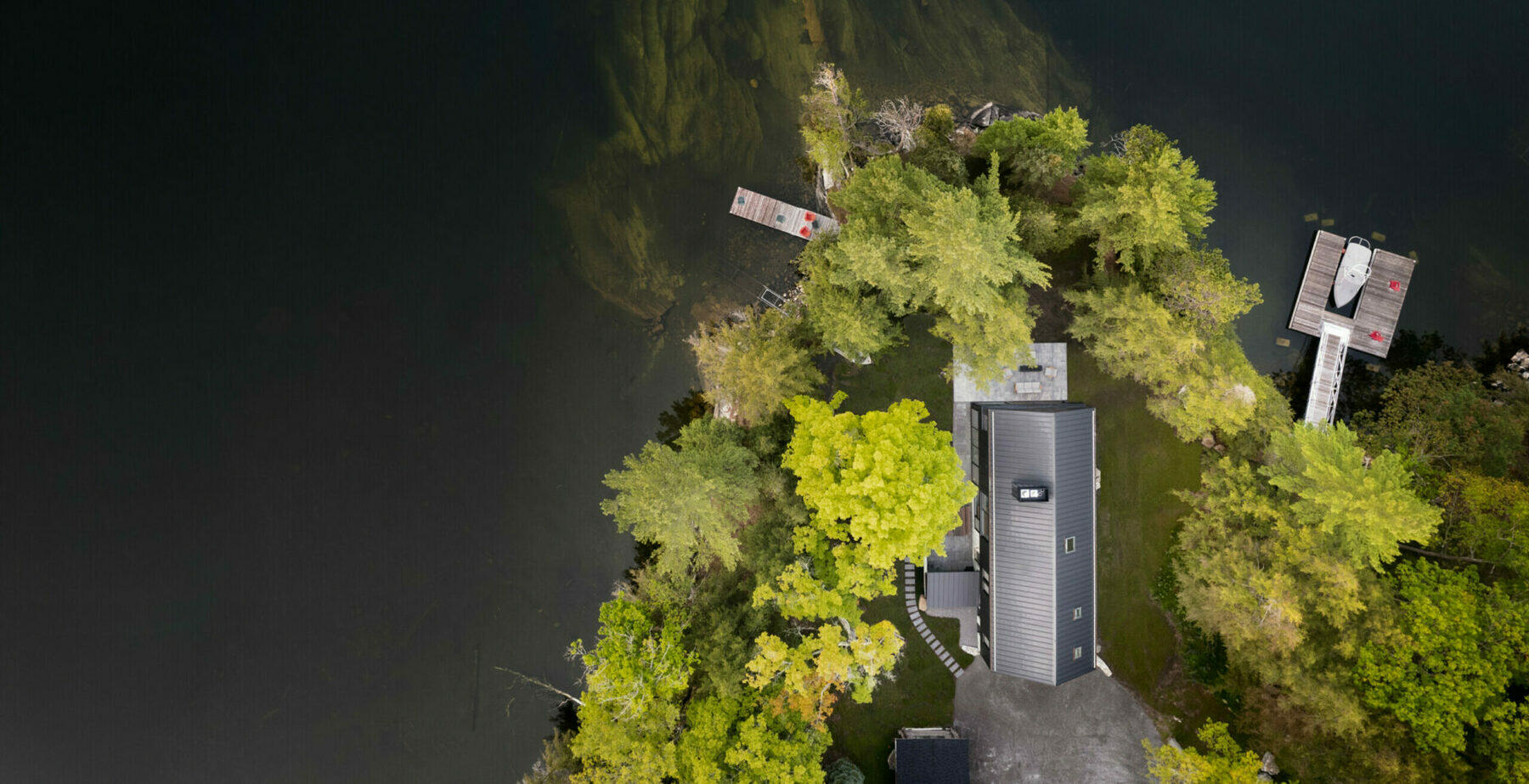 Birdhouse is a marriage of quiet contrasts between nature and built form, verticality and horizontality, exterior and interior. Early inspiration was drawn from birdhouses that had been found throughout the property. These nesting cavities — simple in shape and purpose — informed our objectives: to create a refuge for spiritual nourishment and social connection, forthright in form and function, that communicates directly with nature while protecting from the elements.
The charcoal-coloured, pitched-roof design comes into view through a procession of trees, many of which have been denuded at their base by deer. Offering clear sightlines through an otherwise dense copse, the arboreal landscape is central to the overall architectural choreography, working to both conceal and reveal the home.
The windswept property offers extraordinary views and lake proximity; however, working from the existing, smaller footprint posed challenges related to weather mitigation and achieving the desired program. Leveraging the topography, we inserted a compact, two-storey family cottage into the Precambrian outcropping, which enabled us to optimize the home's layout, resilience, and ability to provide shelter on a blustery site. 
The house is clad in locally sourced Shou Sugi Ban cedar — a weather-proofing technique that prevents decay and promotes longevity. As the receding structure steps down from the driveway at grade to reveal a lower lake level, the exterior finish correspondingly segues from charred cedar to unique board-formed concrete manufactured locally using richly textured rough-sawn lumber. 
Inside, white oak millwork unfolds seamlessly across the soaring double-height space, belying the complex planning, detailing, and craftsmanship that was required to achieve this clean, continuous effect. One of the greatest challenges and accomplishments of the project was in fact achieving the "disappearing act" of minimalist design. The fabrication and installation of the oak panels emphasizes formal integrity while discreetly optimizing functionality: all storage and mechanical and electrical systems were effectively camouflaged, with the placement of every vent, grill, and outlet painstakingly considered and the integration of light sources to cast ambient illumination strategically concealed.
Our approach to sustainability included a combination of technical and passive measures. The home's compact form maximizes surface area-to-volume ratio, minimizing heat loss and gain, while the high-performance envelope reduces energy usage and increases occupant comfort. Zoned mechanical and in-floor radiant heating systems, combined with the thermal mass created by the concrete floor, promote targeted temperature control, supplementing passive and cross-ventilation strategies. The triple-glazed, lake-facing windows can be opened to take advantage of seasonal wind patterns, while skylights create a stack effect, drawing air up through the double-height space. A high-efficiency wood stove offers supplementary heating in the winter and maintains excellent indoor air quality.
Images: doublespace photography
Team
Blackwell (Structural), Bowser Technical (Mechanical), Brinkman Construction (Contractor), Endeman's Iron Craft (Metalwork)