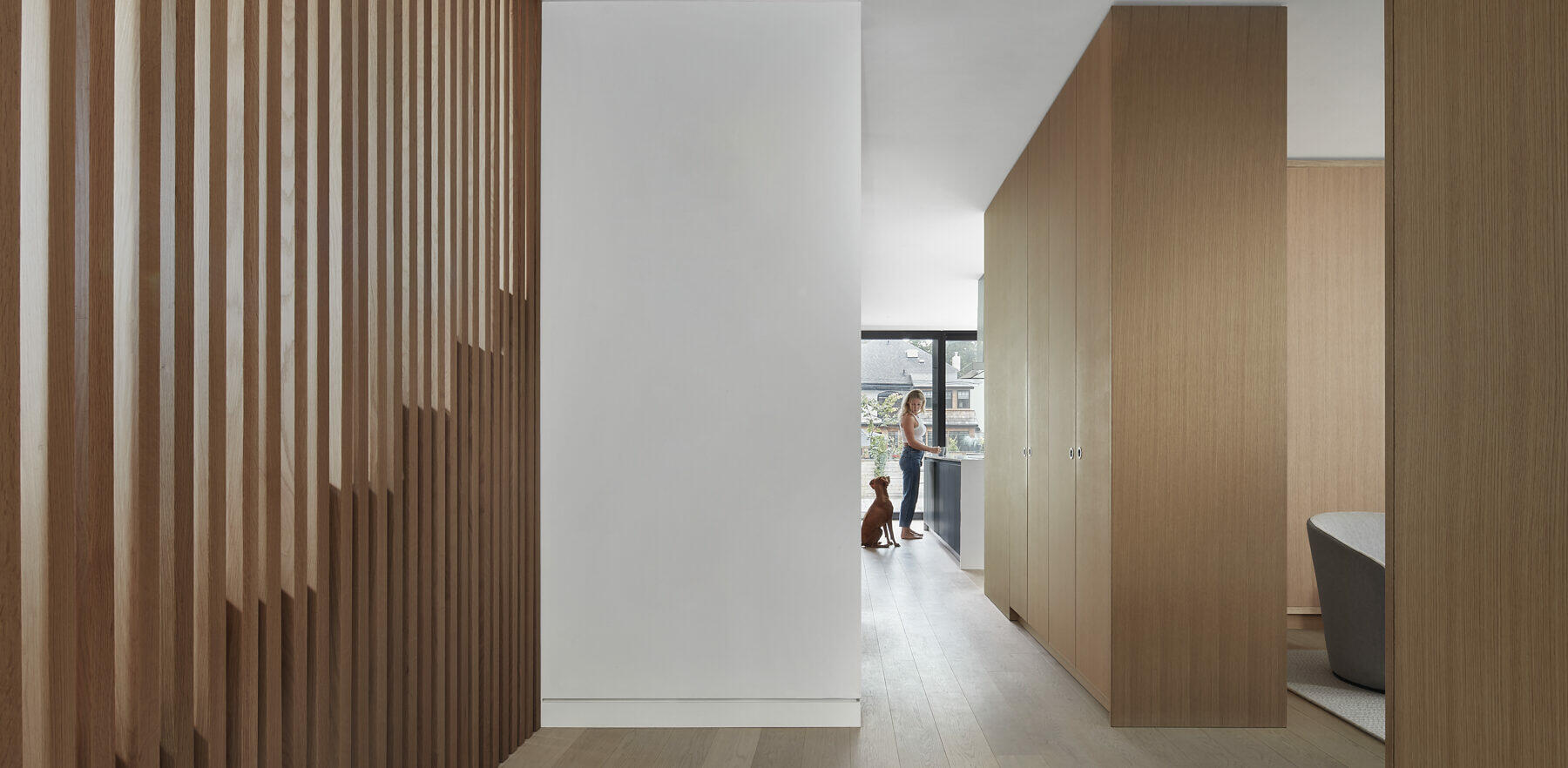 This project defies the conventional logic of renovations and expansions by reducing the home's overall footprint to enhance connection, functionality, and access to nature and daylight.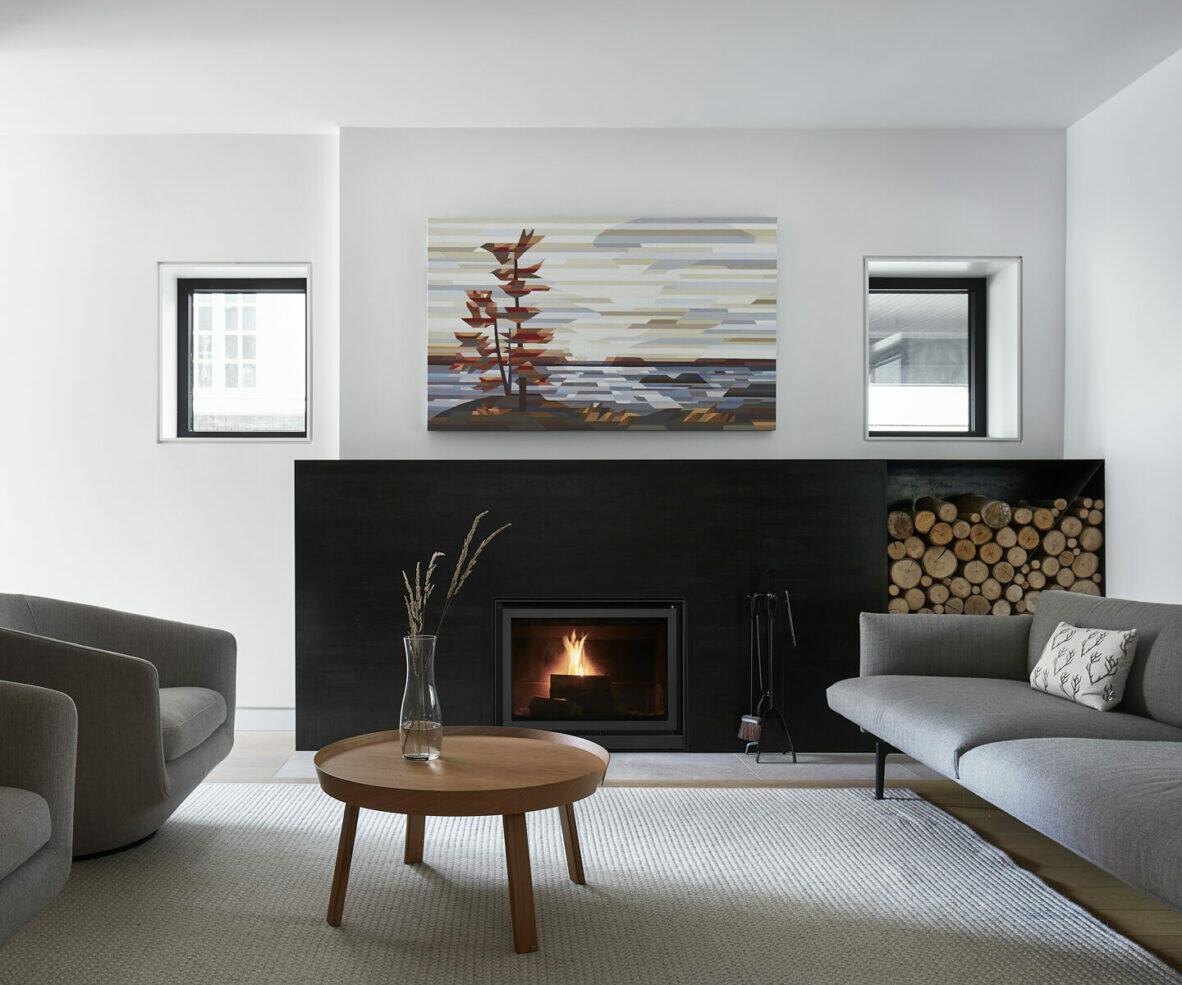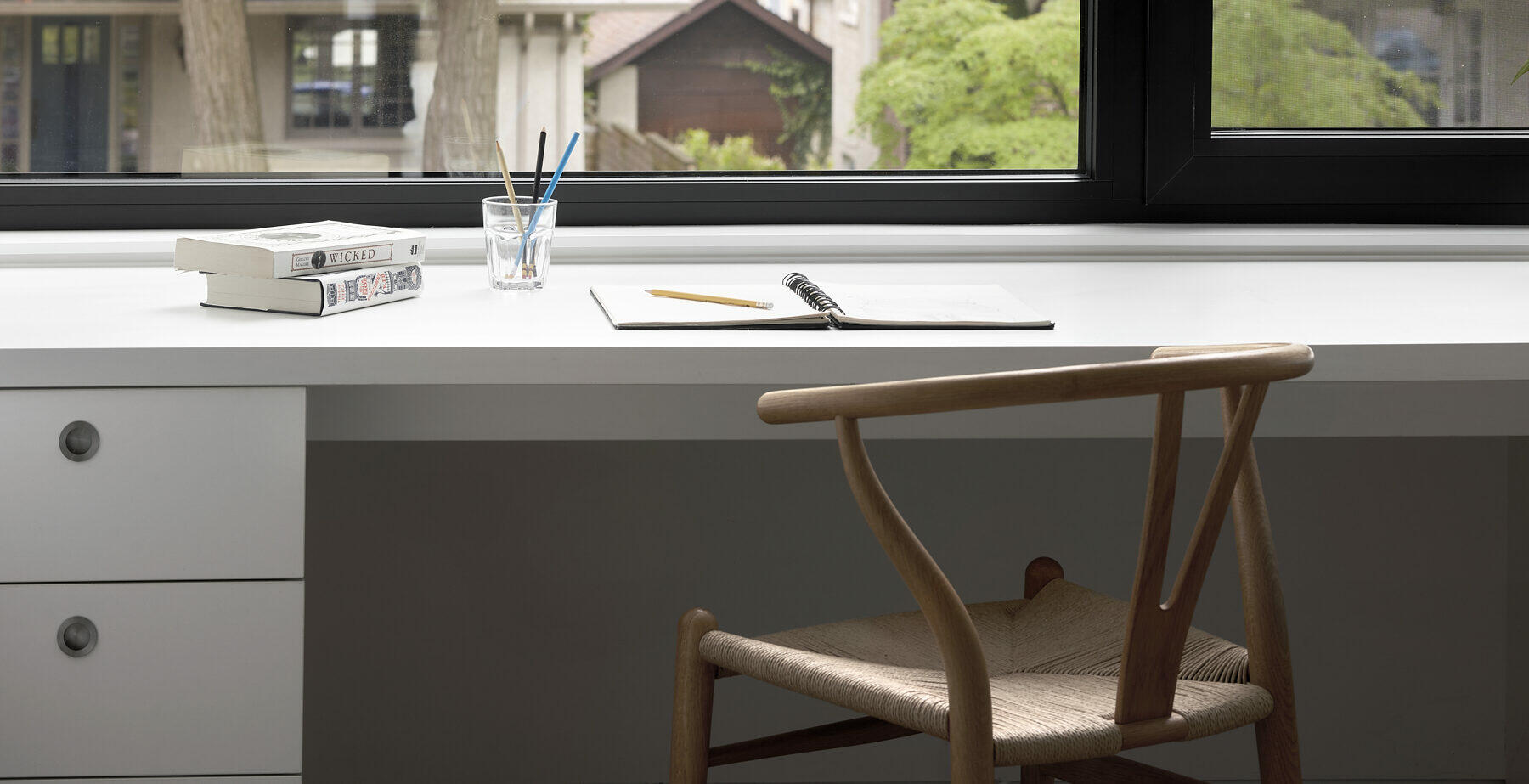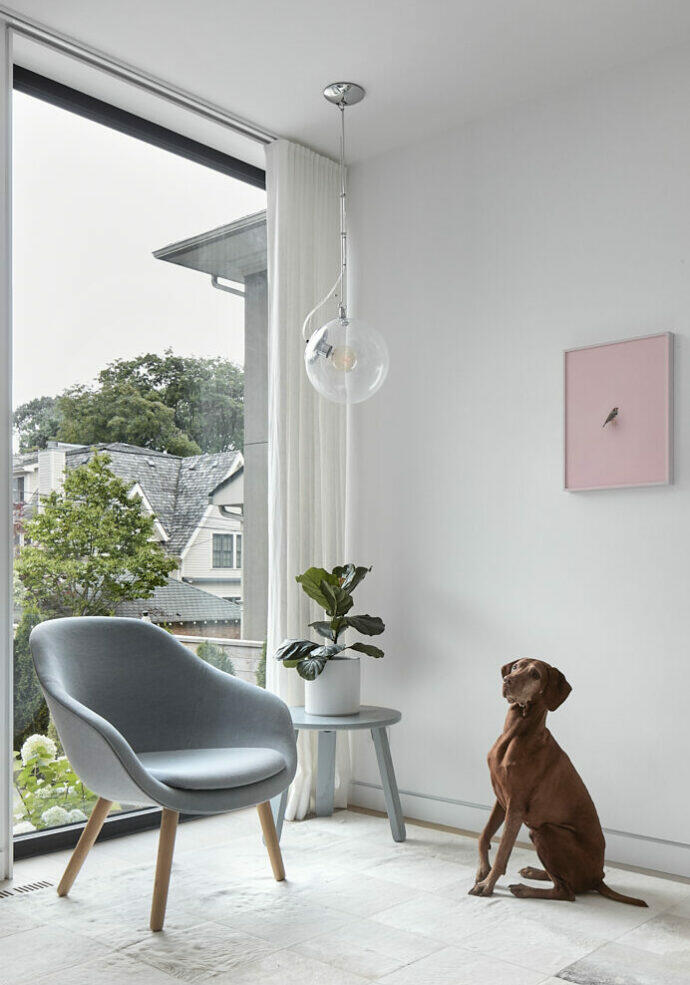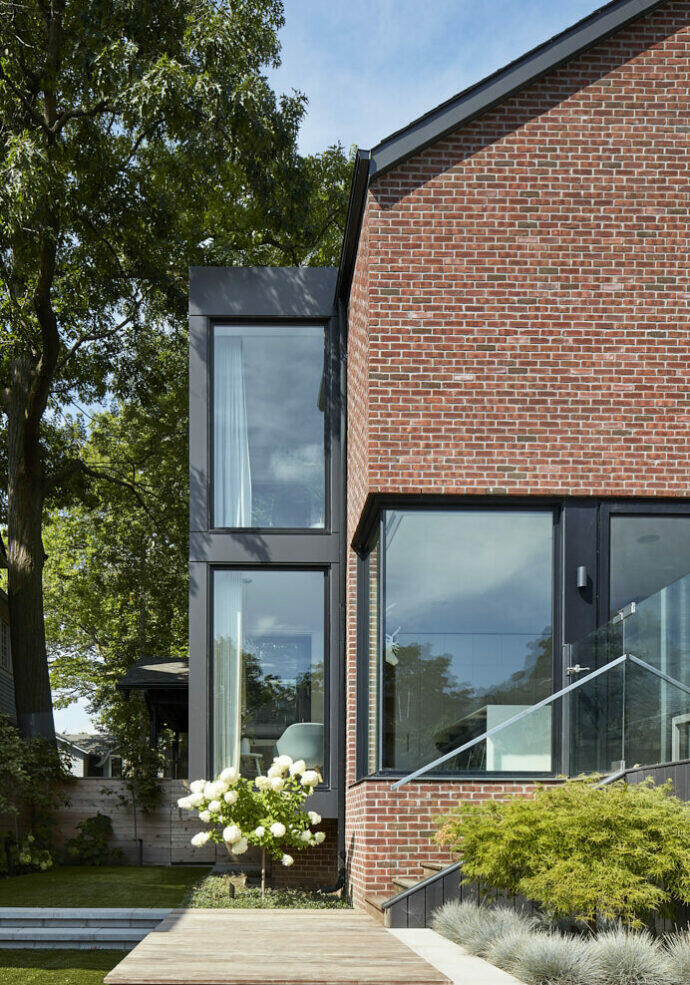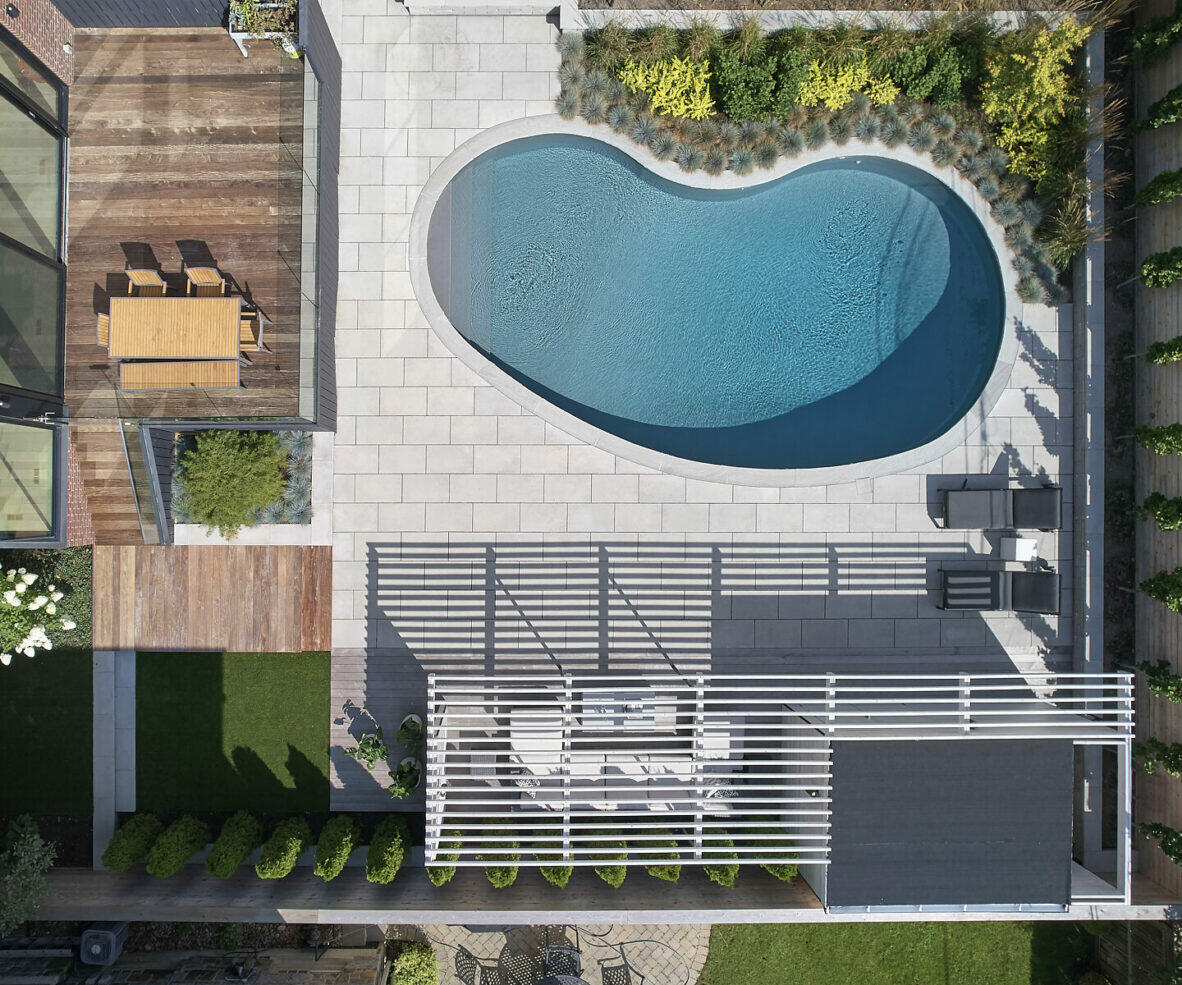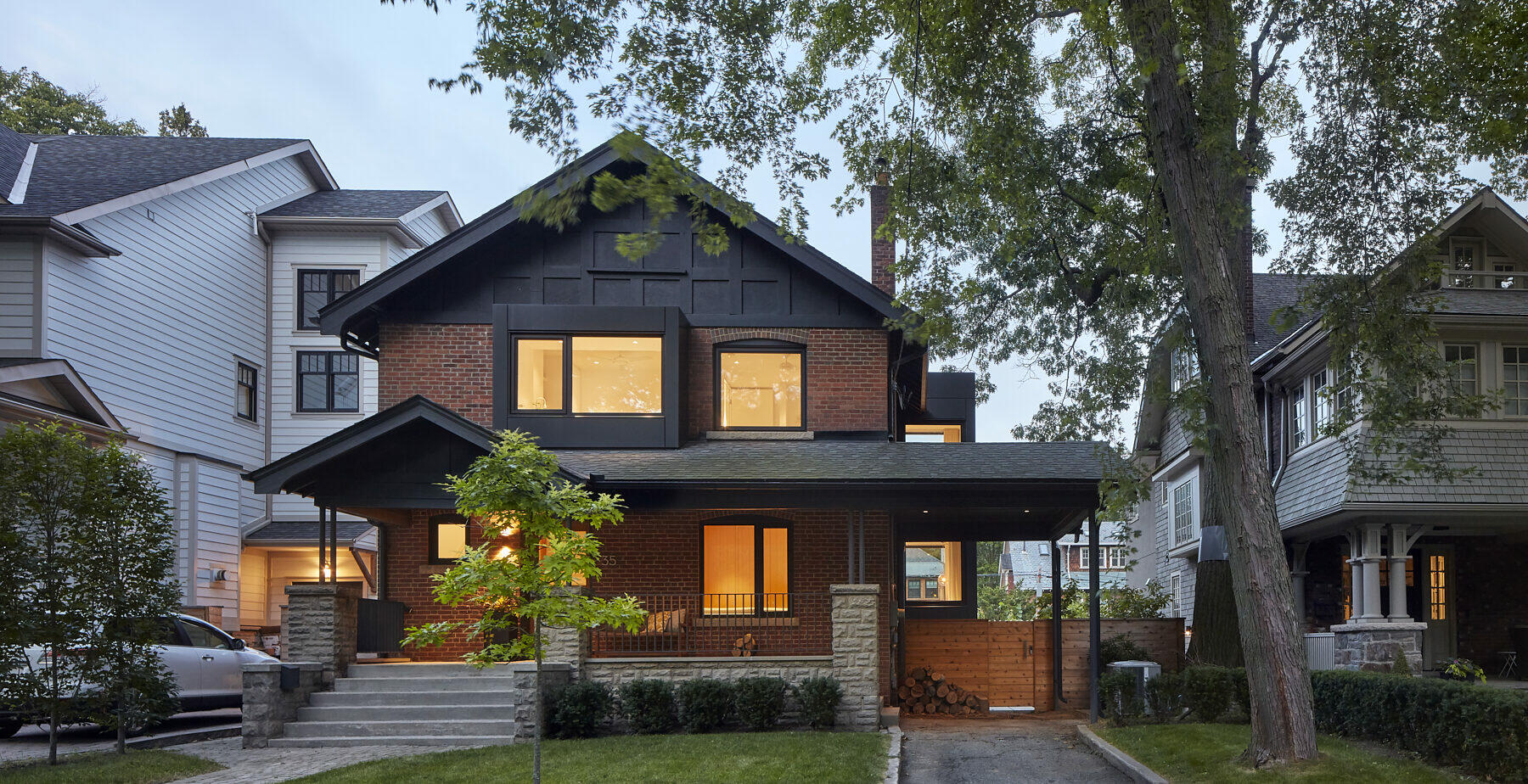 Balmy House is named for nearby Balmy Beach, which sits just south of the property in Toronto's Beaches community. The objective was to modestly scale the residence and introduce more generous, seamless, and efficient connections and spaces. To do so, however, entailed a surgical, if somewhat unorthodox or "balmy" (madcap) approach.

We determined that by decreasing the length of the house by two meters and redistributing volume to the side of the home, we were not only able to extend and maximize the backyard, but also create a more fluid layout and luminous living experience. Our glazed addition on the south flank provides entirely new usable spaces: a den adjacent to the kitchen at grade and a home office off the main bedroom on the second floor. The extension not only ushers in more daylight and views to nature, but does so while enhancing the family's privacy. 
Ultimately, even though the architectural strategy resulted in an overall net reduction in square footage, it yielded — in a twist of conventional logic — greater fluidity and functionality across the home.
The upstairs includes small yet hyper functional bedrooms that were highly customized — through millwork, rationalized bay windows, and optimized layouts — to maximize utility and meet each family member's individual needs. In a poetic yet practical gesture, one child's room, which faces out to the Arts & Crafts homes that line the street, features a long desk that doubles as her workspace for crafting and jewelry-making. The work-from-home office space is open to views toward both the street and the backyard, and can be conveniently sealed off from the rest of the house by a barn-style door. 
By rescaling the original dormer windows, we turned previously decorative nooks into functional spaces that added critical usable area to the bedrooms while extending the formal and material language of the addition on the exterior. We also replaced the windows across both floors with operable ones, in addition to reinsultating the home, thereby engendering better passive ventilation and significantly improved energy performance.
While the family spaces on the main floor, which were previously severed, remain distinct, they nevertheless communicate with one another in novel and thoughtful ways. Partially enclosed by oak panelling and a statement wall that features a blackened-steel-finished fireplace, the living room is both intimate and open on one side to the expanded kitchen that lies behind it. 
The dividing wall between the living room and kitchen transitions from a rich oak finish to a white, ethereal kitchen that includes different zones of activity for prepping, cooking, dining, reading, and lounging. Unique for its accommodation of two separate islands and a harvest table, the efficient design enables easy circulation, provides ample storage, and integrates appliances directly into the architecture.
Images: Shai Gil
Team
Blackwell (Structural), Bowser Technical Inc (Mechanical), Fox-Whyte Landscape Architecture (Landscape), WND Associates Ltd (Planning), Derek Nicholson (Contractor)